[Closed] RWS Circuit Tiki Review: A Sentosa Go-Kart Track Fastest Lap Guide
It's taken way too long but Singapore finally has an indoor go-karting track, albeit a temporary one. The people behind the KFI Kranji track opened Circuit Tiki in the car park of Resorts World Sentosa (RWS) on 2 April 2021. What's it like to drive there? Let this Circuit Tiki review take you on a lap.
Note: After an increase in COVID-19 cases in Singapore in May 2021, Circuit Tiki stay was extended by one month to 1 August 2021. Do seriously consider letting your children get their jabs first.
Circuit Tiki: Review of the Track Experience
Being a temporary set-up within a car park, you can expect the Circuit Tiki to be low-grip, given that there are concrete and painted surfaces. However, there are no more excuses for setting a slower lap time than your friends. The temperature stays relatively constant and you can't claim you had a green track after a rain shower. That said, it will keep rubbering in as more driving takes place. The map below shows that there are plenty of corners to lay down rubber.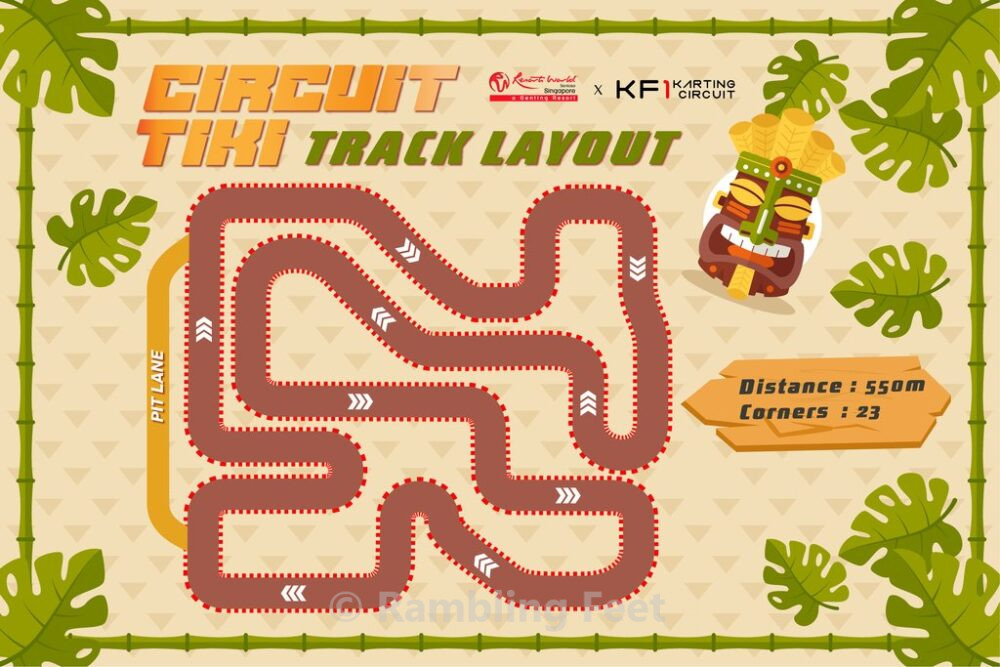 If you want to avoid queuing for more than an hour, go to the track when it's not a holiday or a weekend. My other half and I got there on a Saturday morning at 10 a.m. and there was already a line, and we waited an hour for our turn. It could have been worse because we joined at the point where a sign said the wait would be 90 minutes long. Alternatively, you can try calling or emailing to pre-book a slot, but this is only for weekdays. You can also book at the track if you want to do a repeat visit.
The queuing process was simple enough: get in line, show your driving license if you want to drive an advanced kart, pay using cash or credit card (the fees are listed at the bottom of this post) and head to the holding area to watch the safety briefing video. You and your friends can't drive a mixture of novice and advanced karts in the same session due to the speed difference, though. Full-face helmets are provided, as are hairnets. You can use your own helmet and balaclava if you have them. Masks stay on at all times during the track session. There is also a closed cupboard for personal belongings but these are not segregated.
From the holding and queuing area, there isn't a good place to take photographs but you can see the lap timing screens. If you have a partner to hold your spot in the line, head to the first corners, where you can take some shots like the ones in this post.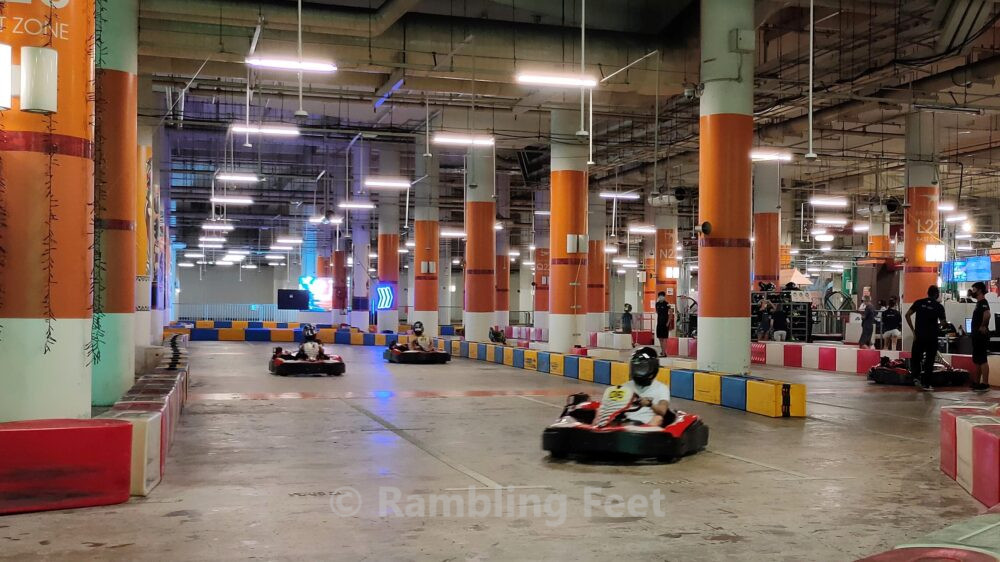 Once the engine of your kart fires up and you head out of the pits, your arms will be working non-stop, especially if you want to go fast! I took every corner without lifting, even in an advanced kart, so cornering lines and techniques are important. Check out Shane Ang's onboard video to see what it's like in reality.
Once you pass under the arch at full speed, quickly bring the kart to the right for a double-apex left-hander. It's followed immediately by a tighter double-apex right. Stay wide for the next hairpin (a slight jink left after the pillar helps), hug a late apex before aiming for the 90-degree left turn that launches you into the infield section.
A right-hand kink precedes two fast left-hand turns. They are closer together than the map shows; hold the steering wheel to keep a constant radius through them. You have a couple of seconds to prepare to straight-line the right-left chicane, then place the kart in the middle for a double-apex right.
You can run out wide on the exit of the hairpin, but you have to bring the kart to the right and concentrate on what I think is the trickiest corner, a sharp left-hand turn over very slippery concrete. It makes the tyres squeal and if you slip too much, it will bog you down. The next 90-degree right-hander is straightforward; string the two that come after that together, then swing right for the last left-hand hairpin. It's just as slippery as the previous left but a good exit rewards you going into the final two right-hand corners and the next lap.
When the red flag is shown at the end of the session, the marshals will open the entrance to the pitlane before the last hairpin. Don't forget to check your best lap time on the board before you leave; I got a lap in the high 57s, but as Shane showed, a sub-53-second tour is achievable!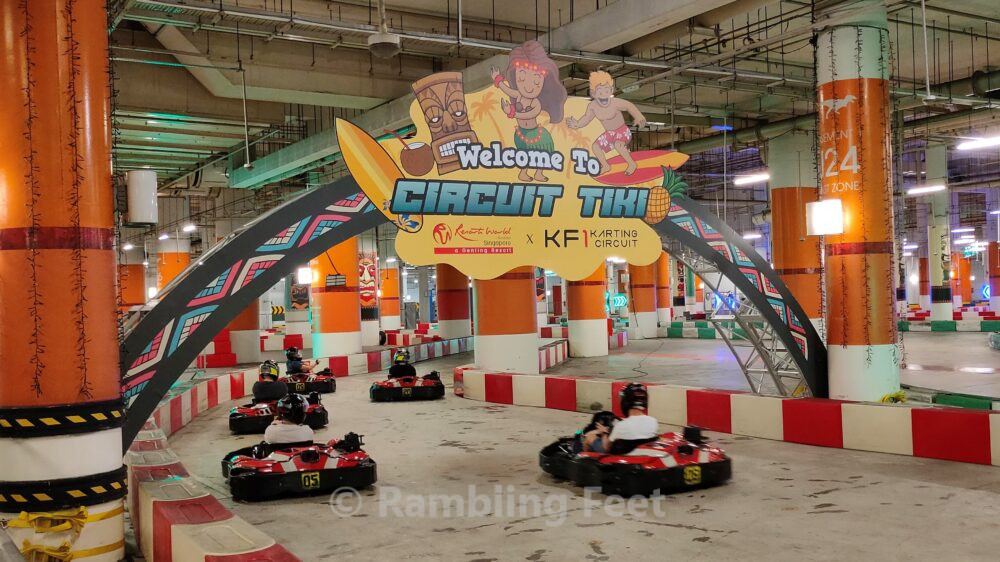 The Basics
Circuit Tiki hours
Circuit Tiki is open from Monday to Wednesday from 1 p.m. to 10 p.m.. On public holidays and from Thursday to Sunday, opening hours start at 10 a.m.. The last entry is at 9.30 p.m..
Getting to Circuit Tiki
Drive to Resorts World Sentosa, park in the carpark and walk to the Orange Zone of RWS East. If you walk across the Sentosa Boardwalk bridge or take the Sentosa Express to Resorts World station, head to the Bull Ring and go down either of the escalators to the carpark. Follow the signs, keep walking straight and you will reach the track entrance in about seven minutes.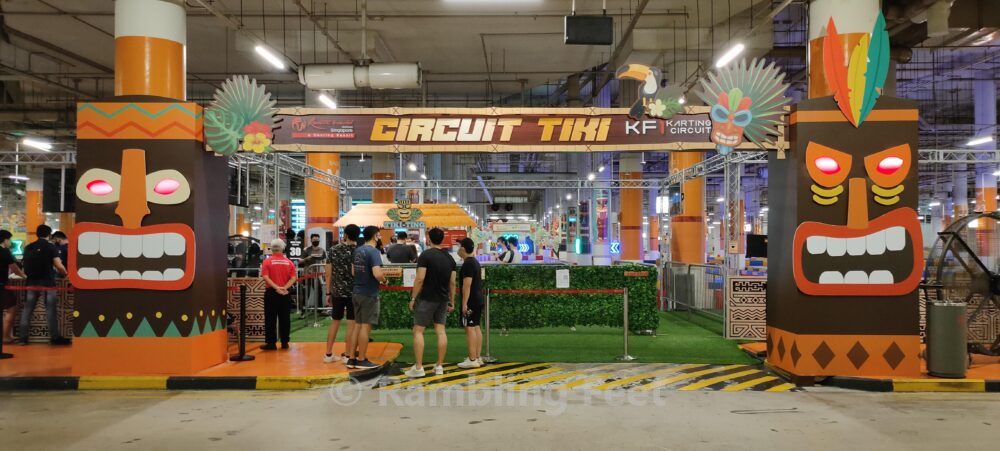 Circuit Tiki Sentosa go kart prices
Novice karts cost $28 for each 10-minute session, while advanced karts are $35. RWS Invites members get $10 off the admission fee for both categories.