The Brewlander Brewery Tour: 2 Hours Inside an Amazing Singapore Craft Brewery
Do you miss visiting breweries, wineries and distilleries on your overseas travels? I know I do, especially since I packed them into my South Africa, South Korea, Sydney and Vietnam itineraries. The leisure travel shutdown gave me a chance to get to know the craft beer in Singapore a bit better.
Now that Brewlander, one of the pioneers of the local craft beer wave, has shifted its production home, the Brewlander brewery tour offers the public a look behind the scenes. They have a taproom now too, so you can literally drink at the source–so what is it like to visit?
About Brewlander and their beers
I'll keep this section brief because it's covered during the tour and the reps do a fine job of filling the gaps. Brewlander is one of the more highly regarded craft breweries among the Singapore craft beer community and even in overseas circles. When founder John Wei's homebrewing hobby became something much bigger in the mid-2010s, he had Brewlander beers brewed, kegged and bottled in Phnom Penh, Cambodia, then shipped back to these shores.
The decision to shift production to Singapore was made well before the COVID-19 pandemic struck and delayed the process, but the shiny new facility finally got up and running at the start of 2021. Core beers* (all named after emotions), seasonals and one-offs are all made under one roof.
The Brewlander brewery tour: What to expect
The Brewlander brewery tour begins in the clean and airy taproom, where the staff show you to a designated table and give you tokens to redeem for 200-ml beer samples. There's also a welcome drink on top of that, and for that, you are given one of the lower-ABV core beers*. Enjoy it with some complimentary snacks (you may want to email ahead if you're allergic to nuts or prawn crackers). Use the tasting notes on the menu to help you decide, but if you're still stumped, you can get the staff's recommendations,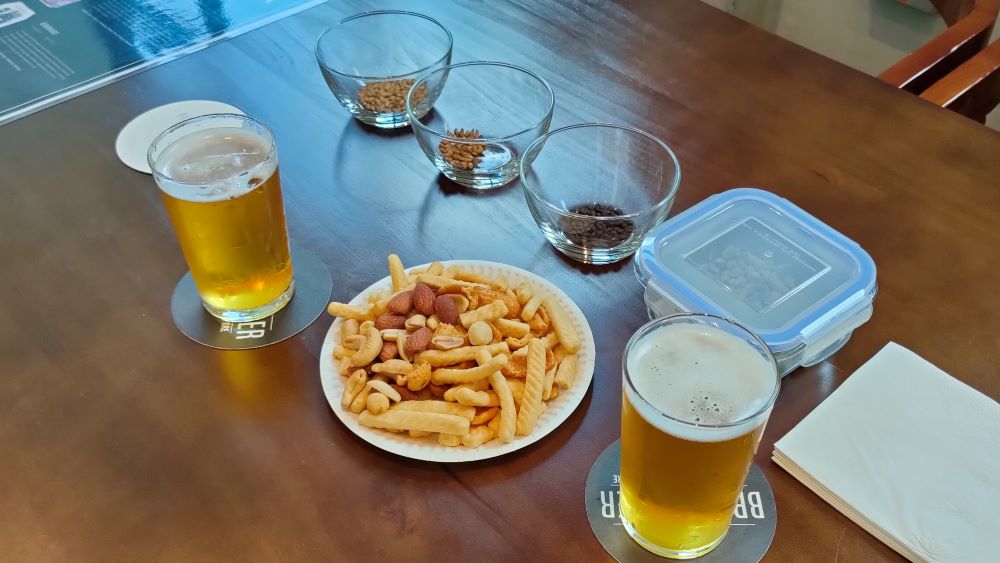 Introduction to craft beer
As for the programme proper, it starts with the staff introducing themselves (we got Peishi and YQ), the company's short history and the beer brewing process. The latter two with the help of a presentation on a TV screen. No, you won't find elaborate museum props and interactive displays like those at the Tiger or Heineken breweries–not when the beer speaks for itself the moment you taste it.
If you wonder how it gained that step up, the answer is in the samples of malted grains and hop pellets on your table. They don't make nice snacks in that form (just ask for more crackers and nuts if you finish them) but do give them a distant, gentle sniff. They may look similar to Tiger's and Heineken's samples, but you won't get the Citra T90 hop pellets' intensity of aroma in a generic mass-market beer. That also happens to make it a handy COVID smell test.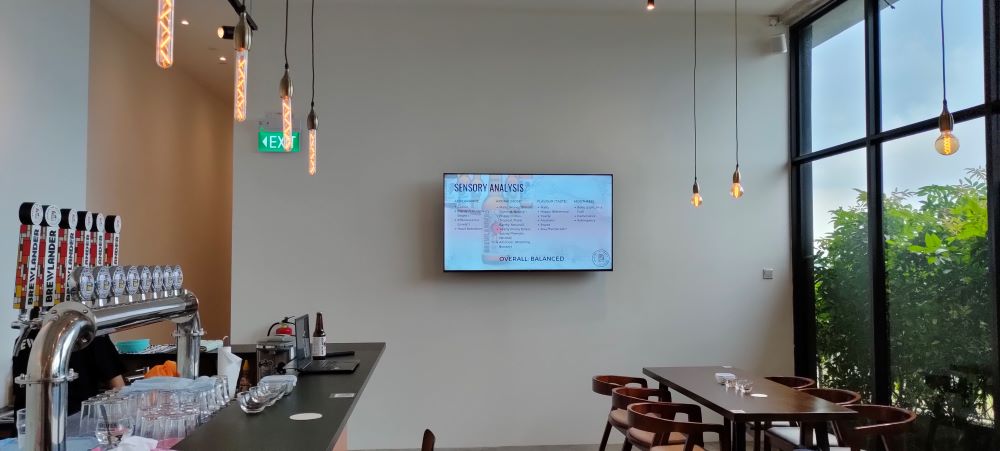 Inside the Brewlander brewery
The next stage of the tour takes visitors inside the brewery's production facility. Photography is forbidden in this zone, so you're going to have to imagine how big all the equipment to brew and package thousands of litres of hoppy, juicy or roasty booze is until you get there yourself. It's even harder to imagine how it was put together without specialist help from abroad due to the travel restrictions, making its existence something of a miracle. This is especially true of the canning line, which has been introduced for their seasonal beers. Do ask your reps about why craft beer lovers prefer canning over bottling.
And just to rub that point about not being travel in, if you look out of the right window, you can see the doomed Forest City development across the Strait of Johor.
Drinks at the Brewlander taproom
When the group returns to the taproom, the rest of the time on the Brewlander Brewery tour is used for–what else–drinks. Everyone gets to use his/her allotment of samples to try any of the available seasonal and core beers on tap until the next tour begins. The seasonal selection changes regularly and so you may not get what appeared in past reviews.
When we were there, we had the Cherry Sundae stout and Courage double IPA, but since then, the likes of Grace (a tea-infused Kolsch), John's pet Mango Salad Gose (a sour beer brewed with mangoes, Thai basil and chilli) have taken over. He also brews mean renditions of farmhouse ales like saisons, but no funky Cantillon-style wild ales yet. Never say never, though.
*As for the core beers, these are my thoughts on what you and a partner could try:
Don't go without ordering their flagships, Love IPA (moderately bitter but lots of tropical fruit accents) and Respect porter (chocolatey and full, and I especially love it from a cask)
For a welcome drink, Joy session IPA is fruity without being overwhelming or bitter for newcomers, while Hope is a clean and blond ale. Freedom lager is a good malty starting point for those who like German lagers
Peace is a hazy pale ale with a full pulpy mouthfeel and the hop prescence to match it
The maestro, John, is a busy man but you might see him and get to say a quick "hello". The staff are knowledgeable and passionate people too who have many years of experience in the industry among them, so they are great to chat with when the situation allows.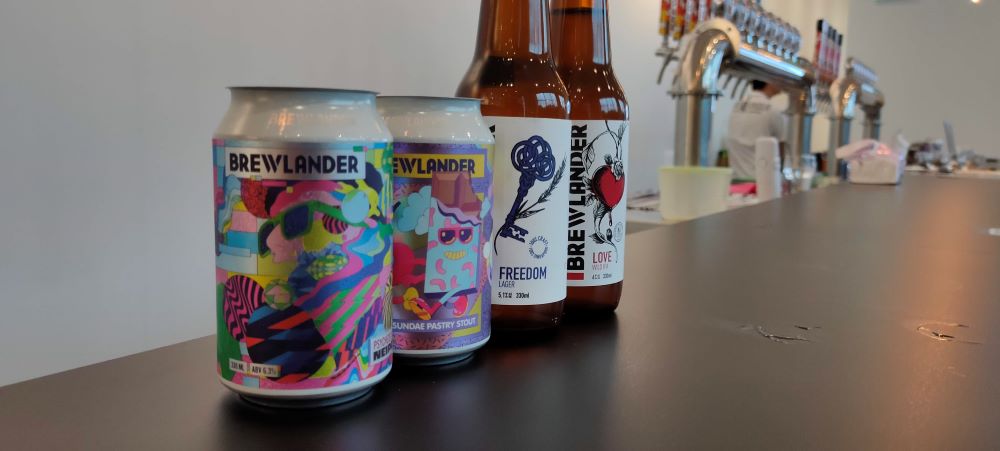 All in all, the Brewlander brewery tour is a fun way to spend an afternoon with like-minded people who aren't afraid to spend a little more to explore and enjoy a quality Singapore product. The timing of the tour makes it difficult to complete a cross-island microbrewery crawl that ends at Little Island Brewing Co., but someone is probably reading this and already getting ideas!
Brewlander tour details
Booking process and house rules
Go to the Brewlander brewery tour webpage. From there, you can pick a date up to four months in advance as well as one of three timeslots (Saturday afternoons only): 12 noon, 2 p.m. and 4 p.m. Each tour is about 1 hour and 45 minutes long.
Tours cost $53.50 per person, inclusive of a welcome drink and six 200-ml samples. People under 18 are not allowed to drink the beer–their allocation goes to their accompanying adult. (Sorry, children!)
Tour group sizes and movements are dictated by the Singapore government's prevailing Safe Management Measures.
Covered shoes are required.
After the tour, look for a discount code in your inbox that you can use to purchase Brewlander beers and merchandise online.
How to get to Brewlander brewery tour
Take the MRT (East-West Line) to Tuas Link station. Go to Exit A, take the escalator to the street, keep walking straight, parallel to the tracks. Cross the junction and keep going in the same direction, then turn left and enter Logos Food21. Take the lift to Level 2, turn left, go through the door and press the buzzer next to the double doors on the right.
If you're getting a ride, find this location:
Address
21 Tuas West Drive
LOGOS FOOD21
#02-02A
Singapore 638411