Eat a Pufferfish in Korea: My Unforgettable 1-Hour Meal
When I'm on holiday, I usually seek out dishes that I can't get back home in Singapore. I didn't expect Korean pufferfish to corner me in Busan, however. It could've killed me, but the fact that I'm writing about it now doesn't ruin the fun of writing about what I went through.
You mean there is pufferfish in Korea?
Yes, the dish known as fugu is not limited only to Japan. I was aware that the critters, also known as blowfish, also inhabit Korean waters and are a delicacy there. I didn't go out my way to look for it in Tokyo, and I wasn't keen on dicing with death on my first trip to the peninsula either. Fate had other ideas, though.
What's wrong with eating blowfish?
See, parts of the pufferfish such as the skin and the liver contain tetradotoxin to deter predators. It's deadlier than cyanide and it can make the lucky victim violently sick. If you're unlucky, your respiratory system stops working and you stop breathing. All it takes is a couple of milligrams.
There is plenty of literature on how pufferfish as food is heavily regulated in Japan, on places that breed pufferfish without the toxin, on facilities that process it to remove the poisonous organs (migaki fugu). Unfortunately, as for pufferfish in Korea, there seems to be woefully little information in English on what Koreans do to minimise the risks. I'll be happy if someone can share it.
But the fact I'm recounting this now perhaps shows that I shouldn't have worried.
So, what's the story?
There was a standee showing a chicken sticking out of a pot outside my hotel in Busan (the lovely Hotel Kyungsung), and it belonged to the fugu restaurant next door. Walking past it multiple times during my stay worked up a craving for samgyetang (ginseng chicken soup) in me. Sure, there were pufferfish decorations, but no fins were sticking out of the said pot. They had to have chicken soup, right? I mean, just look at the shopfront below and tell me you get the same impression: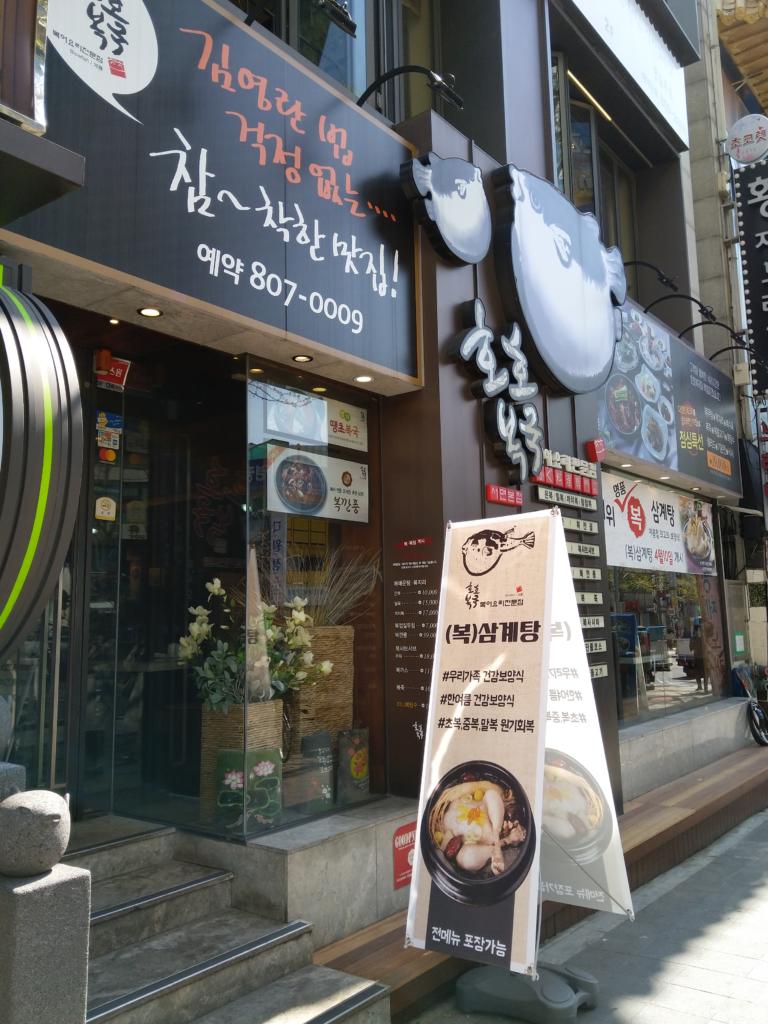 I asked the hotel receptionist if it was a good restaurant. I needed to rephrase the question a couple of times but she recommended it. Nothing about her body language betrayed anything sinister.
When I walked through the restaurant's screen doors, it seemed to be doing alright. The lunch hour had just begun and just a few tables were occupied. Dark lacquered wood dominated the interior but the warm lights and large windows made it more welcoming. A middle-aged waitress found me a seat – a cushion on the heated wooden floor – laid out a lot of banchan (side dishes) and handed me a menu.
The variety of blowfish dishes was amazing, and thanks to the English translations, I understood everything. There was pufferfish in soup, pufferfish bibimbap, even pufferfish cutlet. That wasn't all; one could even choose from brown, green, spotted and striped fish., with the latter being the most expensive.
I flipped and scanned the pages back and forth several times, searching for other kinds of flesh. Chicken appeared in a single dish: a soup with blowfish. Page after page, every item had fish unless it was a drink. No sign of ordinary ginseng chicken soup.
'May I have just a chicken soup?' I asked the waitress. Okay, I didn't exactly ask – flipping back to the fish-and-chicken soup, I covered the fins sticking out of the pot, and pointed to the poster outside.
'No chicken today,' she seemed to indicate. My heartbeat started to quicken. Dicing with death wasn't supposed to be the plan.
'Can I have just a beer?' Nope, I had to order food. There was no easy way out. Were I more thick-skinned, I would've got up and walked out. The lunch crowd had arrived and a few salarymen stole a glace at this mute lone diner. The banchan on the table and the waitress, who was by now getting impatient, made sure I didn't. With the banchan getting old, I caved in.
I settled on the least expensive option, the brown-backed toadfish in soup. I had to keep some money in reserve, you know, just in case. At 10,000 won (S$12), eating pufferfish in Korea was a steal compared to anything that the fugu restaurant in Singapore offered.
The scariest bowl of soup
Somewhat reassuringly, all the banchan seemed normal. It was the usual delightful mix of spicy kimchi, sweet and crunchy anchovies, steamed greens, beancurd and more. Getting them all the time while dining solo in Korea meant that I ate somewhat healthily throughout the trip.
The toadfish soup arrived before I finished reading the symptoms of pufferfish poisoning on my phone. I had to dig under a layer of chives and bean sprouts to find four small bone-in fillets about 10 cm long. Sorry about the stray bean sprout.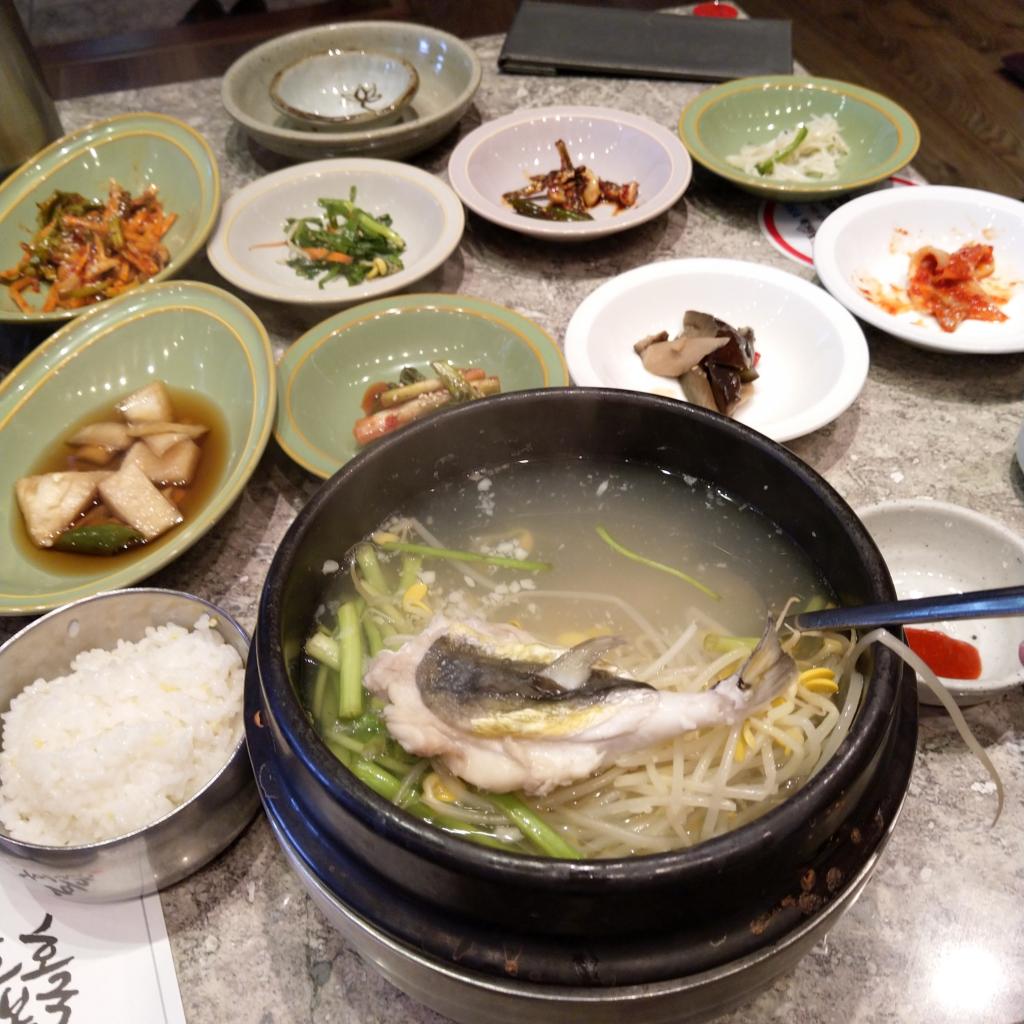 There was a surprising amount of skin on it. Wait, isn't that one of the places where the toxin is found? Pig brain and turtle soup have a greater visual impact, but neither can claim the potential to kill someone in three hours.
I swear my chest tightened a little as I scraped off and chewed on the flesh. It was delicate and quite tasty, not unlike a cross between chicken and mackerel, and not as fatty as either. Maybe it was the cooking method. The herbs only complemented the flavour. Despite my initial apprehension, I ate the whole thing and drank the soup.
Still, I put the photo above on my Instagram Stories with the message, If I stop breathing, thanks for following.
Also in Busan: Where to find cherry blossoms in Busan–and avoid the worst of the crowds
The aftermath
At the end of my meal, there wasn't time to linger and wait for my lips to tingle. I had a train to catch. I paid, picked my bags up and headed for the station. The ride to Seoul was three hours, with no hospital stops; if I was unlucky, I would've been literally dead on arrival. That wouldn't have been funny if I wasn't around to laugh about it too, so thankfully that didn't happen.
[Insert some diatribe about othering, racism and me being a hypocrite for making jabs at this Korean delicacy] Once the period when blowfish poisoning symptoms would set in passed, I enjoyed the dish a whole lot more in retrospect than I did while eating it. Having more information on the web for tourists about restaurants serving pufferfish in Korea would've helped, though! Undoubtedly, it made my experience dining out in Korea much more colourful.
Rather belatedly, I learnt that it was possible to farm pufferfish in Korea and Japan without the toxins. In the wild, they eat deadly shellfish and macrofauna and store the toxins in their bodies; by removing these from their diets, it becomes entirely safe to eat the whole fish. Knowing that now, if someone wants a recommendation for where to eat pufferfish in Korea, I'm definitely citing this place! There's no room on holiday for accidents like these guys in Jeju.
Elsewhere: A less scary memory of eating local seafood in Kaikoura
Korean fugu restaurant details
Bada Hoho Bokgook (호호복국)
26 Seomyeonmunhwa-ro, Bujeon 1(il)-dong, Busanjin-gu, Busan, South Korea
부산 부산진구 서면문화로 26
Nearest metro station: Seomyeon (Lines 1 and 2, Exit 9)