(Closed) Maximum Drift: Live Your Drift Karting Fantasy in Yishun
I never understood the popular fascination with Initial D and drifting. Drifting's useful for rallying on gravel and other wet and loose surfaces; in high-grip situations, it's a spectacular way to destroy tyres. Seeing how Maximum Drift Karting Arena still seemed to be doing well after two years, however, I had to find out what I was missing.
Jump to Maximum Drift address and opening hours
The Maximum Drift karting experience
Getting to Maximum Drift
Remember Bottle Tree Park? There's where you need to go, only now it's called ORTO. It's is a 10-minute walk south of Khatib MRT station and you only need to follow the main road. As a "multi-recreational park", there are other family-friendly facilities like cafes, prawning and fishing ponds and a trampoline park. The Maximum Drift track occupies a tennis court-sized space here; despite being in Yishun, it's the most easterly of the permanent go-kart tracks in Singapore.
There aren't many amenities when you get there. Under the shelter, there are free lockers, an office with a fridge full of soft drinks, and metal tables and chairs for sitting (they're not comfy enough for relaxing). While the rest area is not elevated, you can see the entire track from there, and you can also walk around to the far end of the circuit. The course is marked out by the low tyre barriers and makes maximum use of the area, so every bend is either a hairpin or an 'S'.
Tickets are $18 per person, regardless of age, for a ten-minute session on weekdays and $2 more on weekends and public holidays. Show the stub at the nearby Ululato ice-cream stand for a $1 discount afterwards. If you enjoy it enough, membership is available and it reduces the price to $15. For $45 a year ($35 for those under 18), you also get the first ride and one ride during your birthday month free. Driving licenses? I wasn't asked for one.
Like the other tracks, you pay up, sit through a safety briefing, and then you're good to go.
Driving the track
As for the drift karts, if you've never been in one, imagine sitting on a dolly with a motor and a horizontal steering wheel between your legs. Power and steering inputs go through one big wheel underneath, while the plastic wheels at each corner rotate freely. There is only a throttle pedal but don't fear for your life. You know you won't be going fast when you're supplied only a bicycle helmet.
That said, it takes some time to get used to piloting these things. Worried that I'd spear off into the barriers, I squeezed the throttle gently and lifted off the loud pedal early before entering the first few corners. Every time I turned, the back end came around slowly, and it turned out that it's easy to just straighten out the wheel and let the kart do its own thing. Violent inputs were not necessary. However, one corner led straight into the next, so holding the ideal line was important. The surface was as smooth as concrete could get and there was absolutely no elevation change to mind.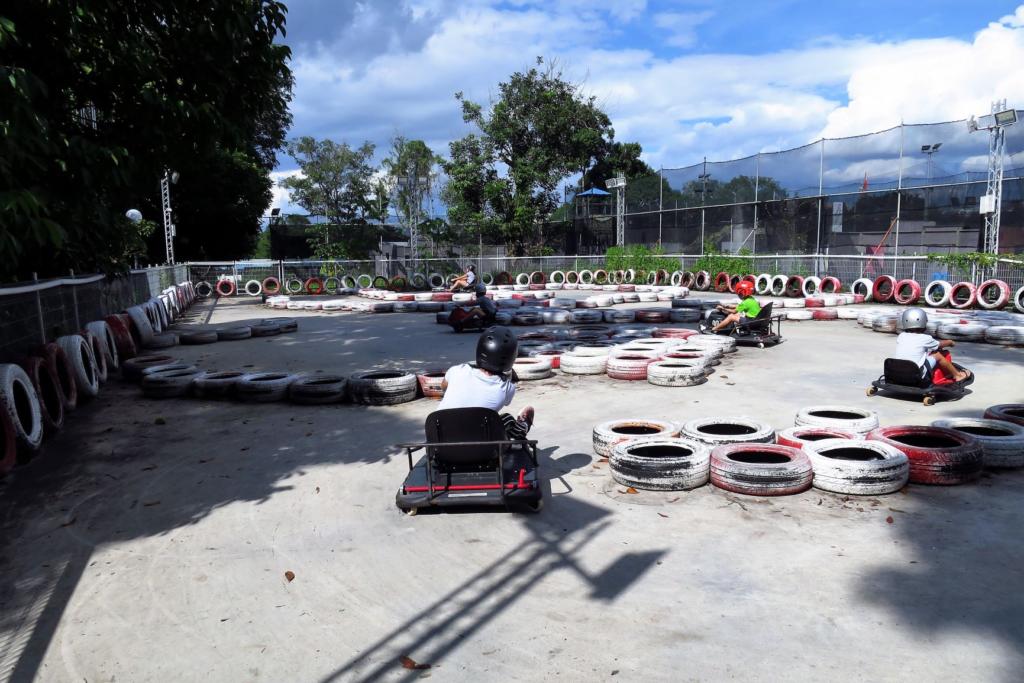 Once I got the hang of it, the goal was to drive flat-out through every corner. Things starting happening faster but no less predictably than at lower speeds. Soon enough, I was nailing it with about two laps to go. If you're in a drift race with friends, passing is difficult but possible; you've got to get a good exit, then compromise your opponent's line through the next corner. It's just a pity that lap times were not recorded. However, there's a big countdown timer and a good lap time is around 36 seconds.
Has it changed my mind about drifting?
There was nothing left to do when the chequered flag fell, other than returning the helmet and kart (by coasting into the pits), claiming my belongings and enjoying an ice-cream. My ears and fingers didn't tingle and there weren't any tyre marbles to brush off my legs. Drift karting in Singapore turned out to be a fun and accessible activity to able-bodied children and non-drivers. But even for serious race fans like me, I got joy out of obsessively trying to perfect every lap. It was a different set of skills from point-and-squirt racing, but still a skill nonetheless, and no tyres were harmed in this instance.
Address and opening hours
81 Lorong Chencharu, Yishun, #01-15, ORTO, Singapore 769198
Mon, Tue, Thu, Fri: 3 p.m. – 9 p.m.; Sat, Sun, public holidays: 10 a.m. – 9 p.m.
S$15 for members, S$18 – S$20 for non-members
https://www.maximumdrift.sg/