An Island Hopping Tour from Bohol: 5 Tips & True Thoughts
When V agreed to spend a long weekend in Bohol with me, there was no way I was going to keep the Piscean away from the water. We didn't travel to the Philippines just to sample only one beach and one reef at our doorstep, so, through our resort, we booked an island hopping tour from Bohol. It turned to be an eye-popping experience, in both great and not-so-great ways.
Island hopping tour from Bohol: Destinations
An early start
At 6 a.m., the tour guides were waiting for us on Dumaluan Beach, Panglao. Having arrived only the evening before, it was the first time we saw our patch of sand in daylight and it was beautiful. While having people sweep the seaweed away helped, the water was clean and clear. No ships were in sight, just a handful of white outrigger boats, including ours.
The guides provided snorkels, masks (I brought my own, which have corrective lenses) and life vests. What I wished they provided, however, were earplugs. I was unprepared and the boat engine left us hard of hearing for a while. Don't make this mistake.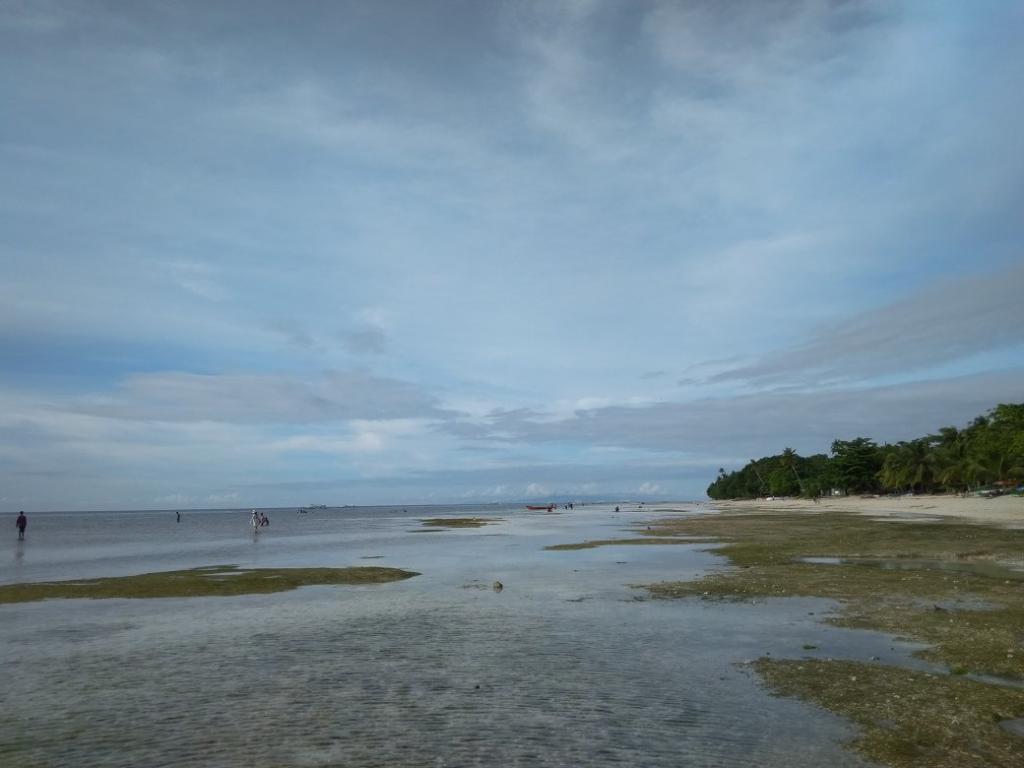 Balicasag Island
In the distance behind us, jungles covered the cliffs of Panglao, while white outrigger canoes dotted the shoreline along Alona Beach. They became a collective speck on the horizon as Balicasag came into view. It was clear that we were far from the only ones there, though – plenty more white boats had already gathered there.
The engine went silent and the boatmen brought out a pole to keep us moving forward. I was appalled when I realised where it was meant to go: into the reef below. Every jab the guides took felt like a stab in my heart.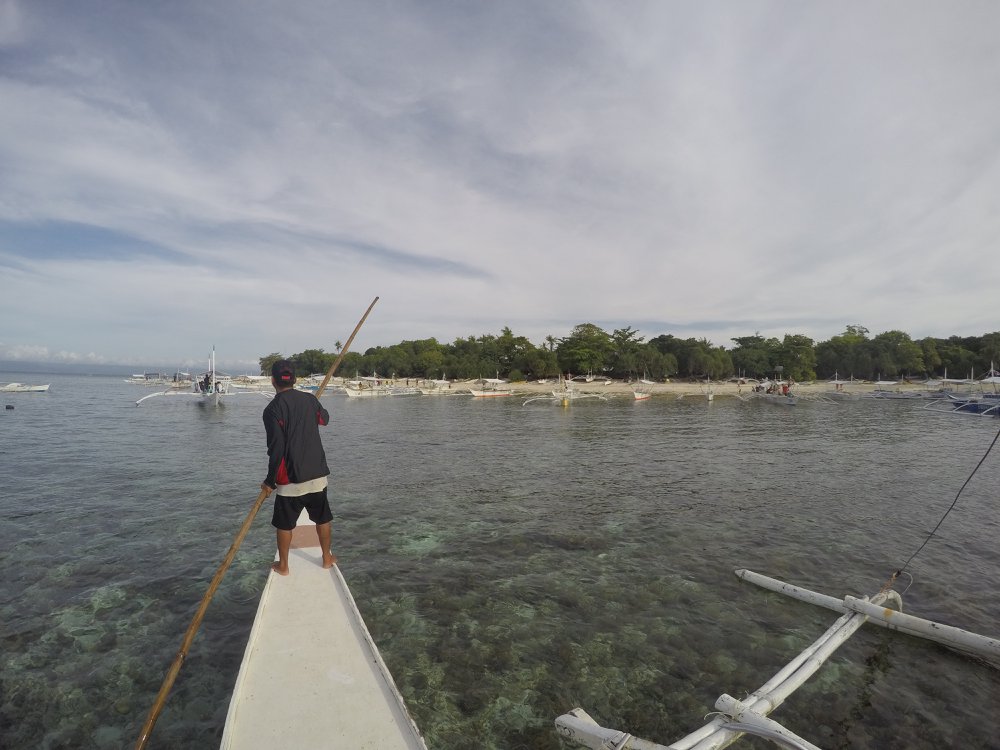 Another thing worth noting is the separate set of fees one has to pay on the island to the people who run the place. When we stepped ashore, the tour guide handed us and our equipment to them. They were the ones who took us to the snorkelling sites, and so we sat down with them to decide which sites and activities we wanted to do, and how much we had to pay on top of the "environmental fee".
Thanks to my prior research, I was prepared for this process, even if my initial estimate for visiting two sites was off. Once we'd paid (750 pesos for each of us), I was also grateful that the boatman we went with used oars to get us to where we wanted to go.
Balicasag's reefs
It's embarrassing that I'd never snorkelled in the tropics until now. Despite living close to world-famous dive sites in Indonesia and Malaysia, I'd been only to coral reefs in the Poor Knights Islands and La Jolla.
In Balicasag, the reef extended some distance from the shore before ending in a near-vertical drop. Our boat lined up with several others near this drop. It wasn't easy to tell them apart so I had to remember the boatman's appearance. All around, East Asians in fluorescent life vests (like ours) thrashed about on the surface; below it, some of them stood on the corals. I swam away while V held onto an outrigger.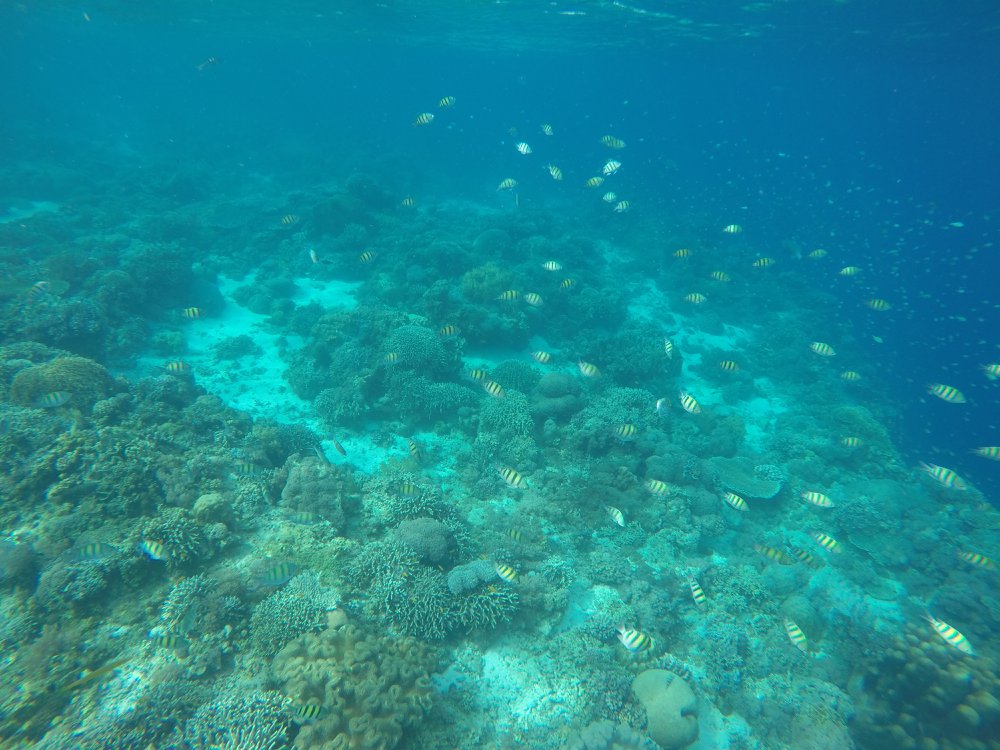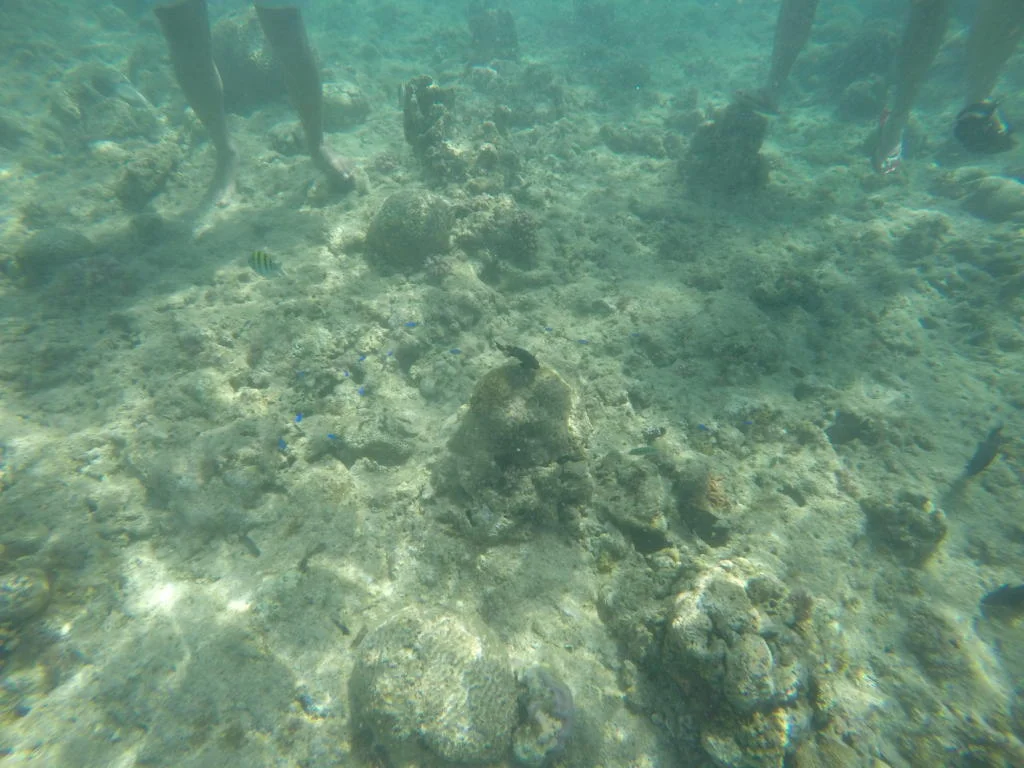 While there was plenty of hard coral, I didn't see as much colour as I did in the Poor Knights Islands. Wherever I looked, I saw green and brown. If it wasn't for the water or the fish, there wouldn't have been any other colour. I couldn't help wondering whether it was because of bleaching, sunscreen, the sheer carelessness on display or a combination of all three. The number of fish seemed to suggest, however, that, despite the state of the corals, they were capable of supporting life.
This being her first time snorkelling, V had a little trouble but she didn't want my intervention. We held onto the boat as it drifted to a second spot over the deep where we expected turtles. It didn't take us long to find a green turtle feasting merrily on jellyfish in front of us. I was stung a few times, though, and our boatman had to drag us out of the water to prevent more stings. Luckily, they were mild and I could carry on.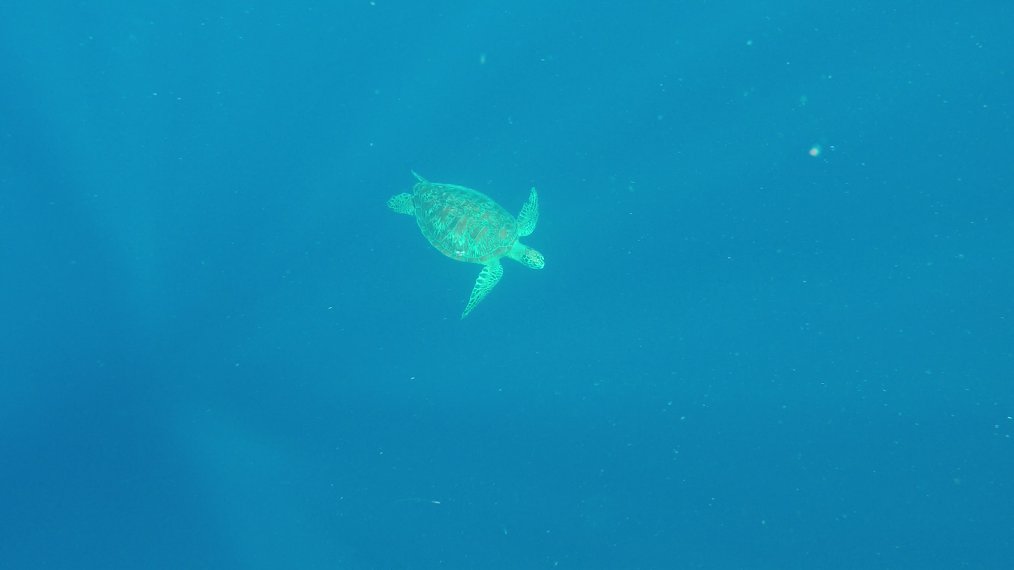 Pungtud Island a.k.a. Virgin Island
After an hour of snorkelling, we were reunited with our original tour guides. We got back onto the boat and, after causing a bit more damage to the reef with the pole, motored to our next destination. Our boat seemed to stop in the middle of nowhere – that was before we spotted the sandbar referred to as Bohol's Virgin Island not far from us.
The tide had receded enough for a short stretch of sand to appear above the surface. On it, locals had already set up a few temporary stands with bamboo poles to hawk snacks. A few locals wandered around to the visitors to offer souvenirs and freshly-cracked sea urchins, but they weren't too persistent. We shed our life vests and waded towards the sand.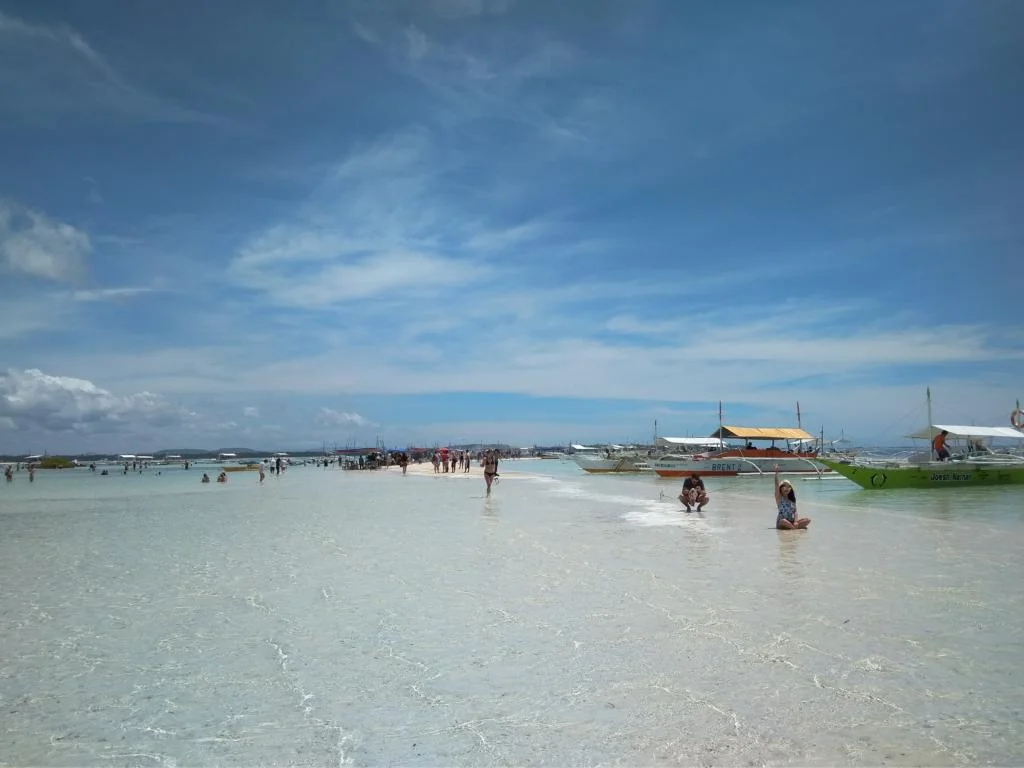 Looking down, I could see my toes in the thigh-deep water; in Singapore, they would have disappeared from view just under the surface. I thus had no qualms about taking a dip to cool my shoulders. We also saw a few scattered starfish – I couldn't be sure, however, if they were transplanted there by other tourists or had always been there.
While the sandbar hardly appeared virgin, it wasn't difficult to pretend it was. V found a spot on the water's edge; with the stalls behind me as I took her photos, there was nothing behind her except for the blue sky, the sea and the distant mountains of Cebu island. It ranks up there with Nasir al-Mulk and Tekapo as one of the most beautiful sights that I've had the privilege of witnessing.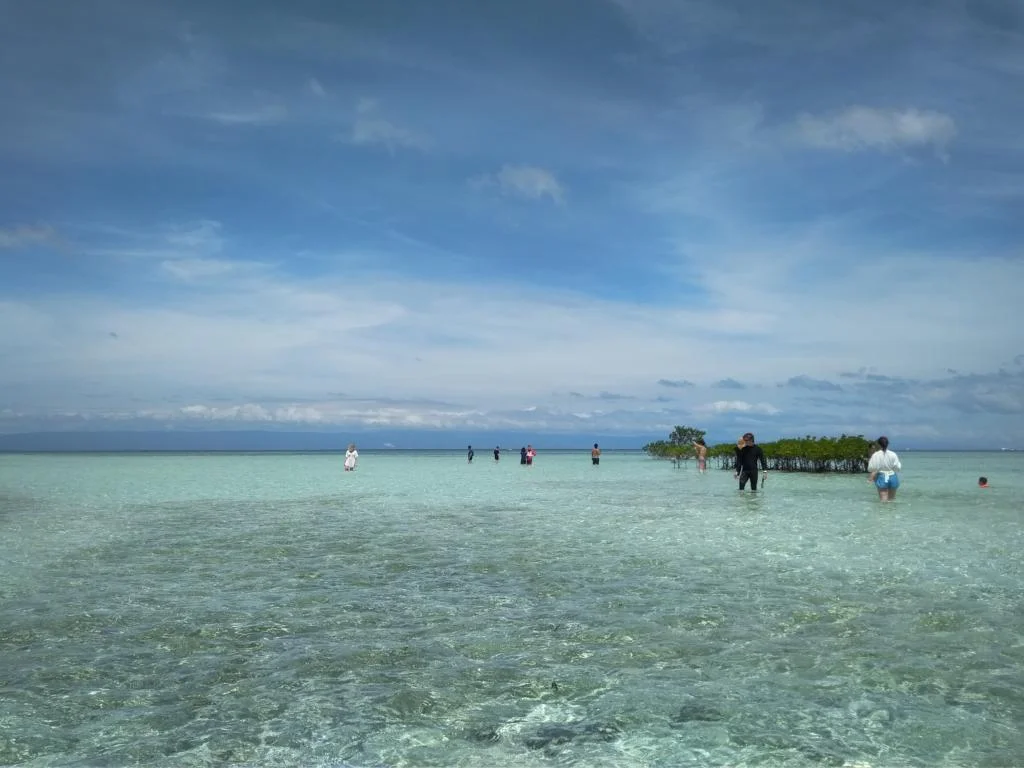 What we didn't do in the water
The sight of the Cebu mainland reminded me how close we were to a near-guaranteed whale shark sighting. Some tourists endure a two-hour trip (in an outrigger boat) from Bohol to Oslob to queue for a chance to swim with them. I didn't feel a twinge of regret, however. Even if my conscience forgave me for being complicit in altering the beasts' behaviour, my damaged eardrums would not.
If one is lucky, dolphins can be spotted during the trip. I must emphasise 'lucky' because, unlike in Kaikoura, there doesn't seem to be a network of tour operators telling one another where to go. Although we paid more to spend more time at sea to (hopefully) see a pod, it wasn't our day – and there were no rainchecks.
Where Sidewalks End has compiled a helpful checklist on island hopping to the other islands the Central Visayas. Click on it to see where else you can go and stay.
Some thoughts and tips
When it was time to return to Panglao, the weather was still glorious but the sea had turned rough. Despite bracing myself for the waves and being unable to hear anything other than the engine, I somehow managed to retain a few of the thoughts I'd composed:
What a pity Balicasag's reefs have come to their current state. Perhaps, once they have recovered, there should be stricter policies on anchoring, setting foot on the reefs, and the use of conventional sunscreen. I don't know which operators are more conscious of their impact and welcome recommendations in the comments.
The visit to Balicasag Island isn't the only instance where one pays different people separately for different components of a ticket. It certainly feels less efficient than paying one party the full price but take it as a learning experience.
Time your visit so that low tide occurs around three hours into your trip and the Virgin Island is exposed. If you'd rather not see the stalls (and the sand), then disregard this.
Operators who stock masks with corrective lenses are the exception rather than the norm. For short-sighted people, a personal mask is a bloody good investment. You never get those details you lose through blurred vision back.
If you treasure your ability to hear, take earplugs with you!
That said, we could not have asked for much more on our first morning in the Philippines. Click on the link to find out our itinerary for the rest of our weekend in Bohol.