A Food Allergy Sufferer's Essential Guide to Singapore
I had a close call with a food allergy abroad recently. I was craving a pork chop bun in Macau and managed to get hold of one in a neighbourhood shop. V, who was with me, saw how much I enjoyed it and got one for herself too.
I didn't think about the eggs that could have been in the batter, and V was allergic to eggs. By the time I realised my mistake, she had already taken three bites. She spotted the look of horror on my face.
'Don't worry; I've already taken a pill for that.' I breathed a sigh of relief.
I penned this post with that episode in mind. Asian cities are great for their street food, but the ingredients that go into these delicacies and their condiments may contain allergens that diners aren't aware of. For visitors with food allergies, staying satiated, comfortable and alive requires extra research and planning. I'm focusing on Singaporean dishes since I'm familiar with them. Hopefully, the knowledge translates into a less painful experience in the city-state for you and your guests.
Note: Please take this as a general guide to what goes into various dishes. It's not exhaustive, and I cannot guarantee that you will be alright if you follow this guide. I cannot account for individual recipe variations that include ingredients that you are allergic to.
Lasted updated: Jan 28, 2020 @ 1:32 PM
About Food Allegens in Singapore
Singapore's cuisine reflects the ethnic mix of its people; therefore, there are usually options if you're allergic to an ingredient that one culture frequently uses in its food. The cheapest places to get one's fill are the hawker centre, but there are also cafes and restaurants that serve up refined versions of the local cuisine.
However, awareness of food allergies here is low compared to America, Europe and Australia. Some restaurants mark the dishes that do not contain allergens on their menus; however, establishments that are completely free of (insert allergen here) are rare. There isn't a local agency that certifies such places or administers standards. Hawkers are much less likely to tell you what goes into your food, especially if there is a long line of people behind you.
The following six ingredients affect 90% of the world's food allergy sufferers. I've listed the dishes that you probably didn't know contain these allergens and, where possible, the establishments that omit them.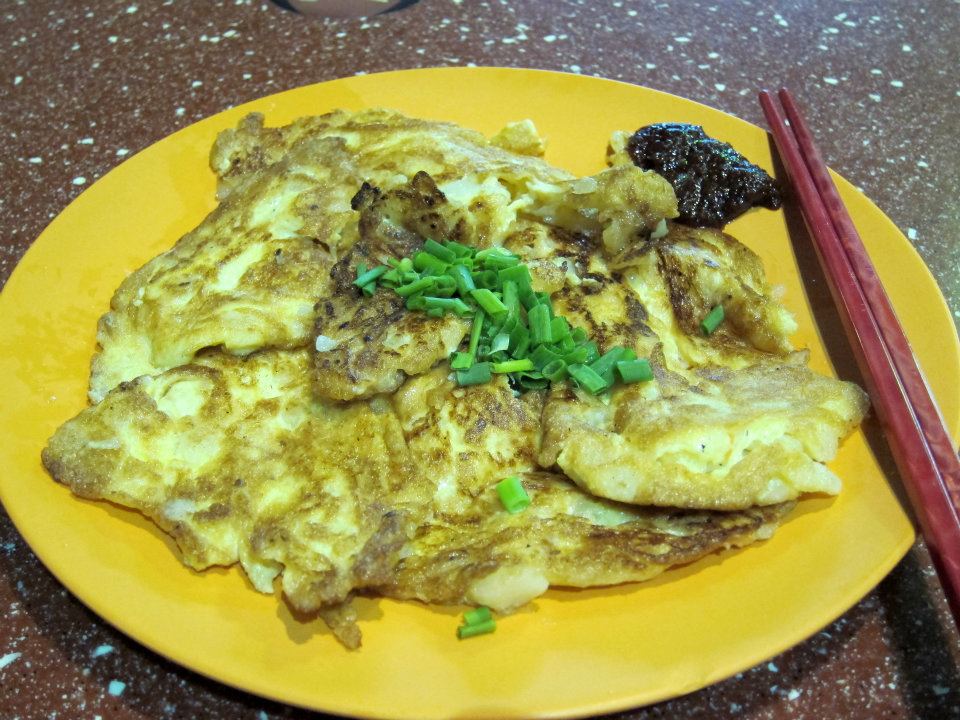 Eggs
Culprits: Any food that is battered and fried; some types of tofu; fried carrot cake; wheat noodle varieties such as u-mee/mee kia and mee pok; wanton and dumpling skins; egg wash on pies, bread and puffs; custard buns and tarts; fish soup (may include crispy egg threads); some mooncakes; murtabak (an Indian-style crepe filled with meat, eggs and onions–plain prata may be contaminated if prepared on the same griddle); fried rice.
Examples of relatively safe hawker dishes: Satay, chicken rice, Cantonese roast meats
Dairy/Lactose intolerance
Culprits: Fish and bitter gourd soup (milk is added sometimes); packaged coconut milk used in curries and desserts. Note that roti prata, murtabak and biryani are sometimes prepared with ghee.
Examples of relatively safe hawker dishes: Almost everything other than the above is fine since Asians usually suffer from lactose intolerance.
Fish and shellfish
Culprits: Fried carrot cake (there is fish sauce); many spicy Peranakan and Malay dishes (belacan, or fermented shrimp paste, is a common component of spice mixtures); cincalok (fermented shrimp-and-rice mixture); Penang-style/assam laksa (fish and prawn paste go into this sour and spicy dish); yong tau hu soup stock (anchovies are used); Hong Kong-style wanton noodles (the soup may include shrimp roe); the sambal that goes into Chinese noodle dishes may contain shrimps too.
The three allergens above can usually be avoided by dining at one of the island's vegan establishments, such as Brownice and Veganburg. You can use the HappyCow website or app to find others.
Examples of relatively safe hawker dishes: Cantonese roast meats on rice, chicken rice, popiah (without prawns), chwee kueh
Peanuts, sesame seeds and nuts
Culprits: Many spicy Peranakan and Malay dishes (candlenut is often an ingredient in the spice mix); the chilli paste of Chinese noodle dishes (candlenut sometimes); satay sauce, rojak (as a topping on the fruit salad); pancakes (e.g. mee chiang kueh); kueh tutu (a steamed cake); tang yuan (rice flour balls with a nut, sesame or bean filling); nasi lemak; dishes fried with peanut oil. Roasted sesame oil is often added to congee and chicken rice for flavour, while the light version is sometimes used to fry tempura. The seeds also appear on some Chinese, Japanese and Malay desserts. Some ramen shops also serve them as an optional garnish.
Examples of relatively safe hawker dishes: Mee soto, pork soup, beef noodles (some stalls add crushed peanuts to the gravy version, however), roti prata and murtabak
Soy
Culprits: Dishes that use soy sauce (chicken rice, dark carrot cake, fried bee hoon or vermicelli, char kuay teow or fried flat rice noodles, and some types of chilli dip), fermented beans like natto or tempeh (in mee siam, a tangy and spicy noodle dish) or kecap manis (in ayam bakar or grilled chicken); sayur lodeh (coconut-based vegetable curry) that contains tempeh; yong tau hu soup stock (yong tau hu refers to a mixture of fish-, vegetable- and tofu-based items); dishes fried with soybean oil.
Examples of relatively safe hawker dishes: Soy is such a big part of East Asian cooking that I will just suggest Indian dishes.
Celiac disease
Culprits: Things that contain soy or fish sauce (see above); wheat flour is sometimes used to thicken gravies. Note that "barley" drinks are usually prepared with Job's tears, which are gluten-free.
There are establishments which have gluten-free options on their menus, such as The Soup Spoon chain, Entre-Nous, HRVST and Super Loco at Customs House and Robertson Quay, but there's the risk of cross-contamination for very sensitive people. Then there is The Butcher's Wife, where the menu is gluten-free. All these places usually do not serve Singaporean cuisine.
Tips for Visitors with Food Allergies
Do your research. Reading this post is a good start, if I may say so. Search travel and expatriate forums and ask if you can't get the answers you're looking for.
Going to a restaurant? Call well ahead to reserve a spot and let them know your needs. They'll appreciate this far more than if you were to walk in unannounced and make your demands. If you have an allergen-free version of an essential condiment, bring it along for the restaurant's use.
Get a knowledgeable local to take you places and double up as an interpreter.
Be prepared to go without. Spice mixes are usually prepared in the morning and not a la minute. The cook may not deem it worthwhile to make a new batch to accommodate you. Ingredients may be sometimes prepared in an off-site kitchen.
Let me know in the comments if I've missed something so that everyone benefits! And if you're looking for things to do, have a look at my two-week Singapore itinerary. Feeling brave enough already? Here are five unusual dishes you can try.
This article was first posted on 27 January 2017.