How to Spend 5 Days in Luang Prabang in the Most Chill Way
I've been to many places but few of them are picturesque in the way that Luang Prabang, Laos is. The dense surrounding forest and the absence of high-rise buildings couldn't be more different from the urban sprawl of other Southeast Asian cities.
I spent 5 days and 4 nights there in May 2017, a couple of months after the peak tourist season, just before the arrival of the monsoon. While that doesn't make me an expert in any way, the following itinerary is perfect for first-time visitors and solo travellers. The must-see places can be covered within 3 days but you'll find the unhurried pace of life there infectious. Feel free to spread them out or extend your stay!
A 5-day Luang Prabang itinerary
Day 1 – Exploring the town
Assuming that you arrive and check into your accommodation in the afternoon, I'd suggest exploring Luang Prabang's old town first. It's just 1.5 kilometres from end to end; in between, you will take more than a few photographs of the colonial-era houses. Walk along the bank of the Mekong river in an easterly direction, then follow the smaller Nam Khan.
You'll pass the magnificent Wat Xieng Thong, which is open to tourists until 5 p.m. Admission is 20,000 Kip but if you forget to cover your shoulders and thighs, you'll also need to rent a sarong.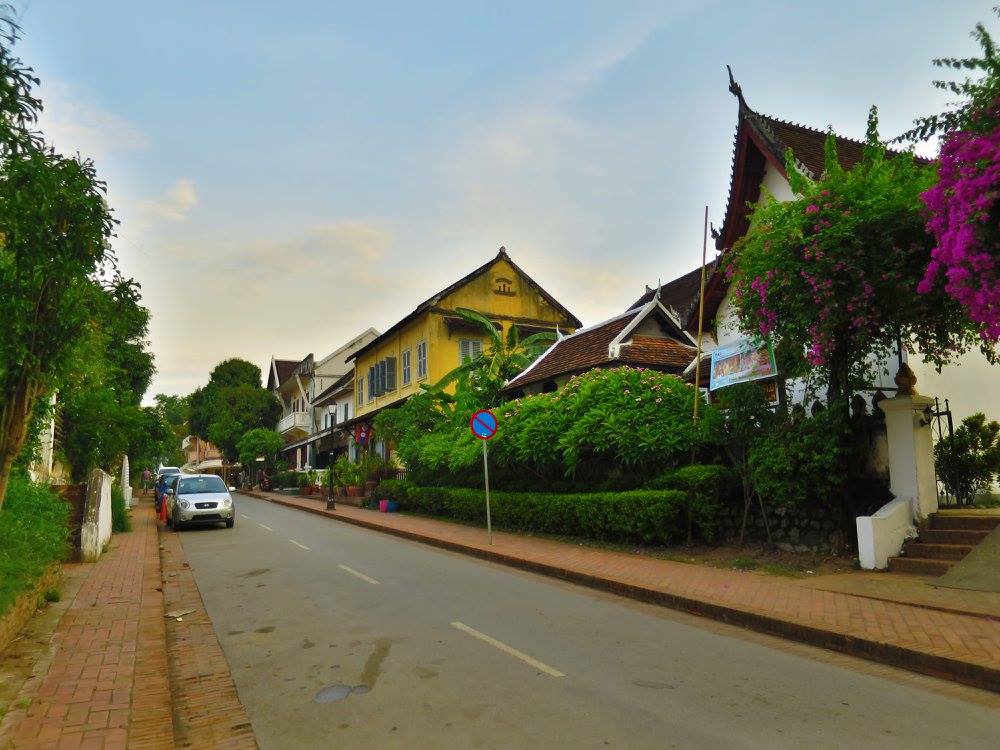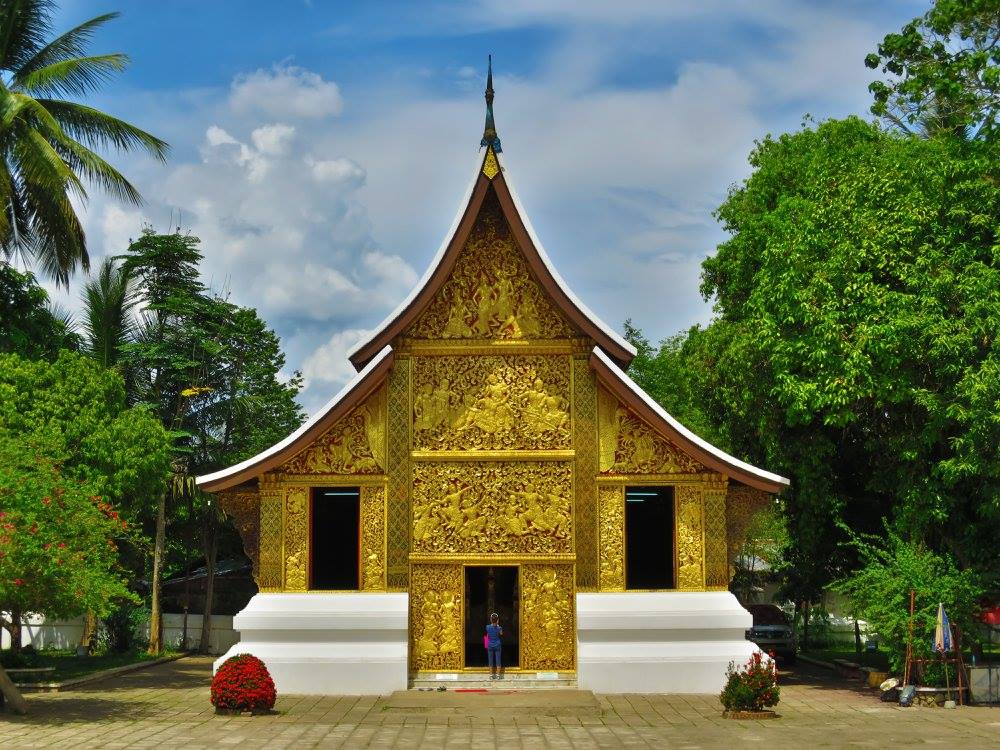 Every dry season (November to April), the villagers on the other side of the Nam Khan construct two bamboo bridges over the river. It costs 5,000 Kip (round trip) to cross either of them. If you're adventurous enough, you can walk around the village too. By June, the currents in the river are too strong to support the bridges.
There's a daily screening of the 1927 silent film Chang: A Drama of the Wilderness at two venues: Sanctuary Hotel (6.30 p.m.) and Victoria Xieng Thong Palace (7 p.m.). The story revolves around a Lao family living in the jungles just across the present-day Thai border. While admission is free, decent people will buy a drink or a snack there.
The night market takes place every evening (5 to 10 p.m.) along the western half of the Old Town's main street. The said street is easy to find – it runs atop the ridge, parallel to the Mekong River. Have a gander and make a mental note of the things that you like. If you can't find better prices or quality elsewhere, you can always return.
Day 2 – Markets, waterfalls and sunset vistas
Suffering a sleepless night? Get up and witness the tak bat at 5.30 a.m. Every morning, groups of Buddhist monks in saffron robes walk through Luang Prabang and receive food offerings from locals. The practice allows the latter to make merit. While it's quite a sight, getting in the way of the monks is very rude. If you want to participate, do so with a local and don't buy food from people trying to make a fast buck from this. If you plan on being a bystander, you may take photos from the other side of the street.
You can walk through the morning market after that. It takes place along the alleys between the main street and the Mekong river bank. All sorts of groceries will be on display, and then some; I saw a monitor lizard that was hogtied and sold like a chicken. You can get a breakfast dish like congee or Laotian khao soi from a street stall too.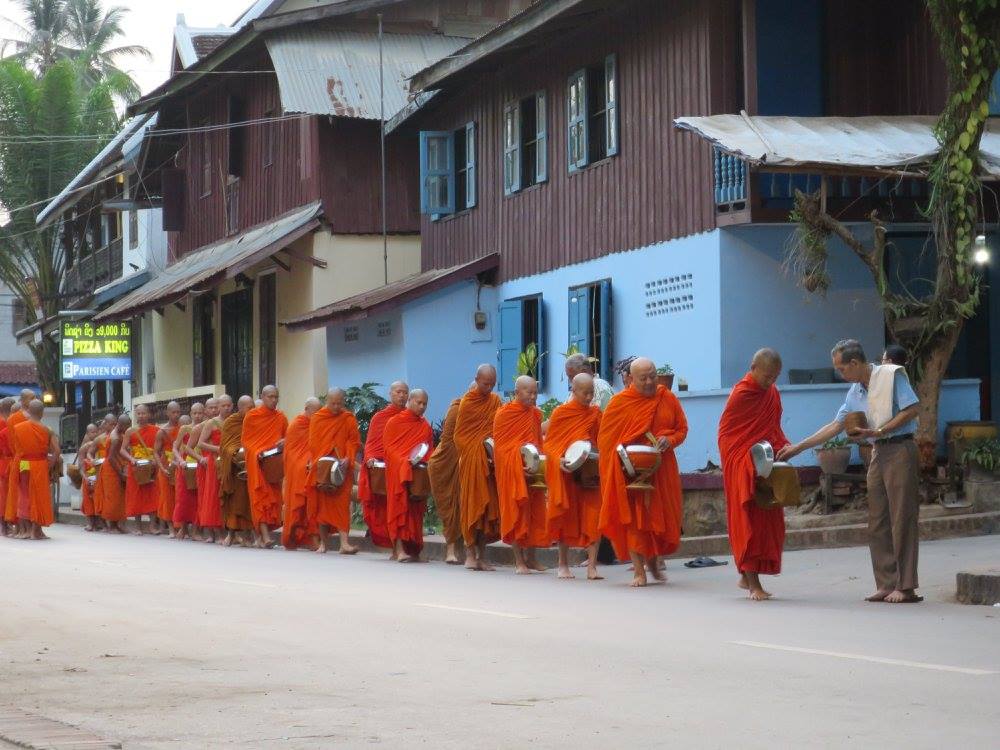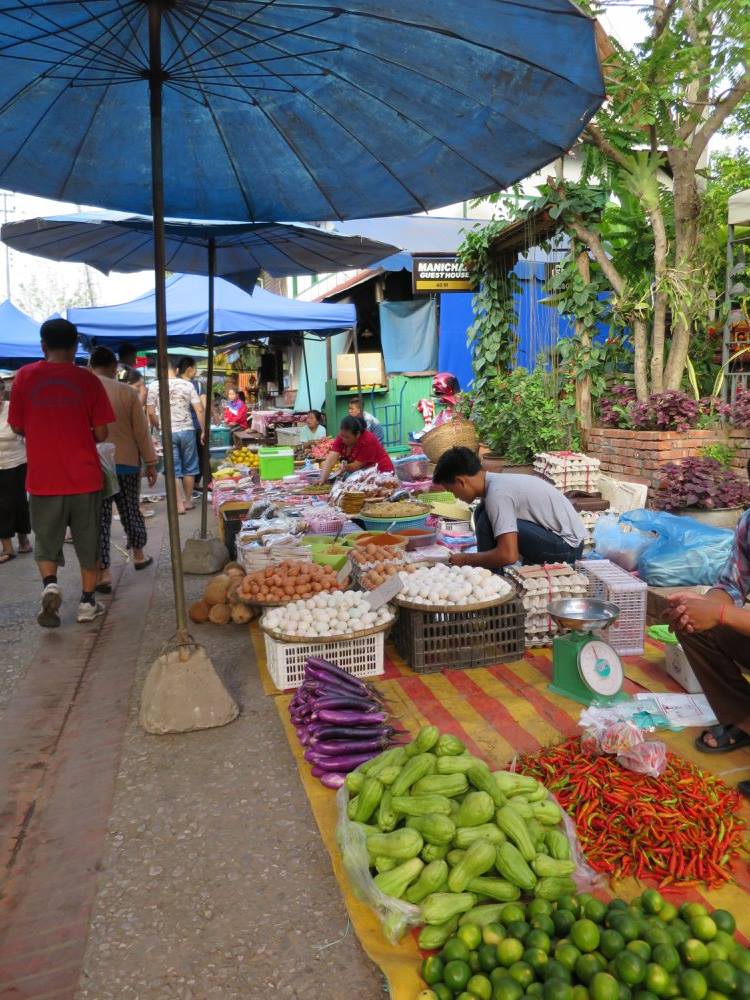 If you still feel sleepy, take a tuk-tuk to Kuang Si Falls to avoid the worst of the crowds. The cold water and the beauty of the place should help. 250,000 Kip should cover the return trip (one hour each way) and 3 hours at the waterfall for everyone in the same vehicle. Your accommodation can also arrange a pick-up by a shared minibus, which costs 40,000 – 60,000 Kip per person. or rent a scooter, which will buy you more time. None of these options will include the 20,000 Kip admission fee or a guide, but you won't need the latter anyway.
Although the moon bear sanctuary is included in the fee, it doesn't get any proceeds from ticket sales. It relies on donations and merchandise sales to maintain the rescue centre. The butterfly park is a separate facility with its own entrance fee but it was closed when I visited in May 2017. If you arrived by minivan or tuk-tuk, don't spend too much time at the waterfall if you want to see all three in the time you're given. You can also check out the secret part of Kuang Si Falls that locals chill out at for free.
Note that during the rainy season, the waterfall turns into a raging torrent of brown water that's too dangerous to swim in. During the dry season, however, the minerals in the cold water make it appear turquoise, just like at Lake Tekapo in New Zealand.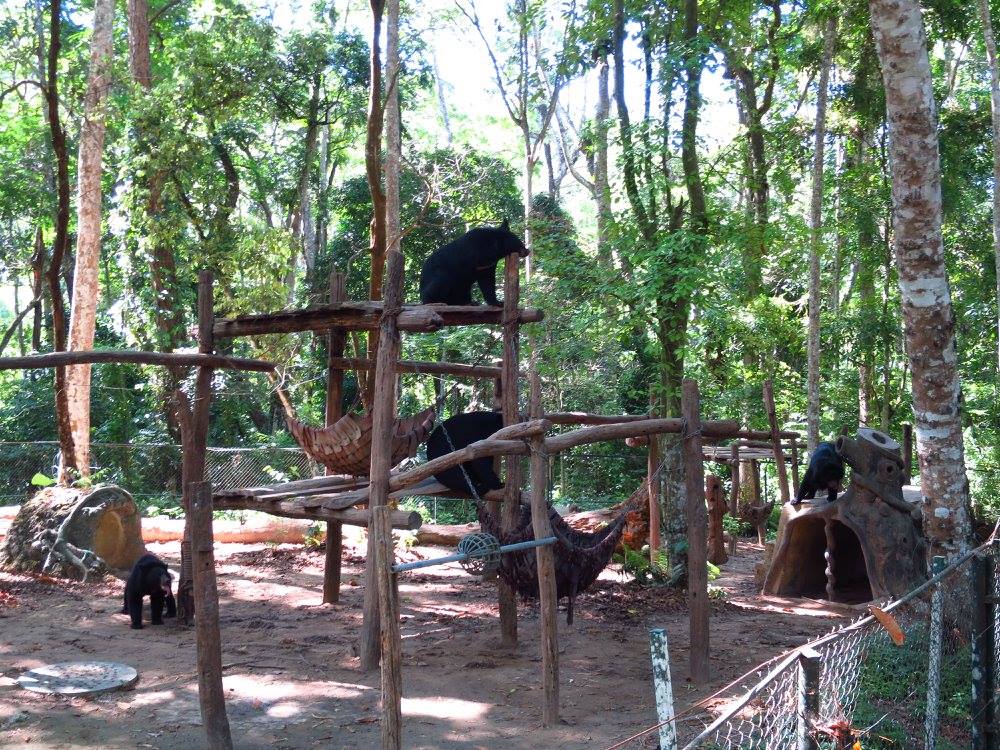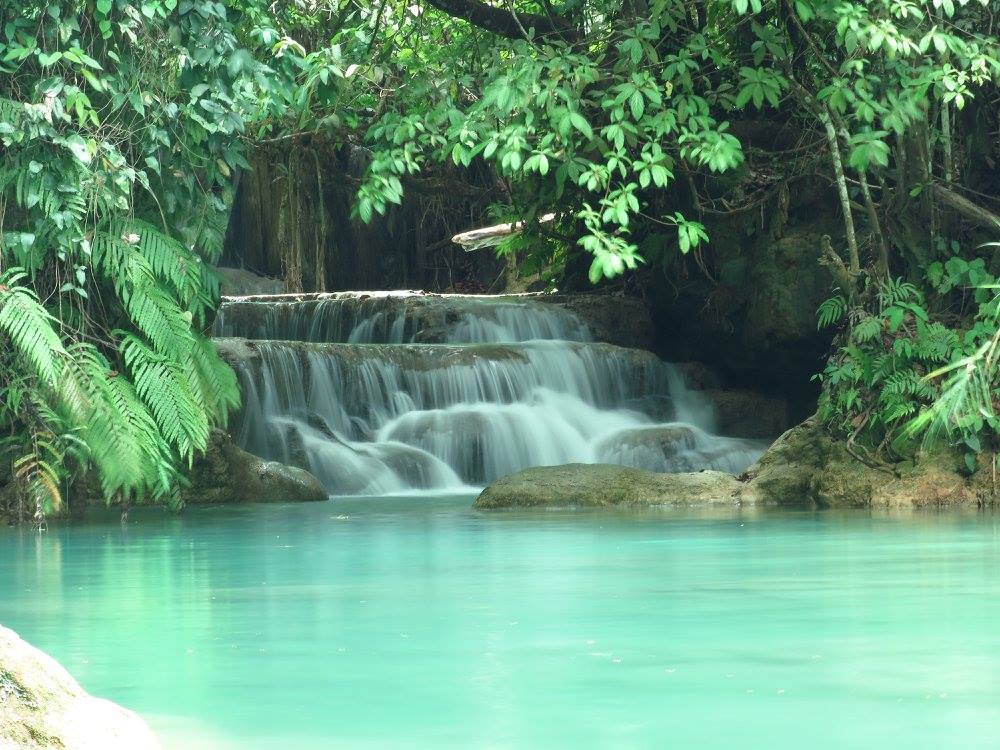 On your return to the old town, visit the Traditional Arts and Ethnology Centre to learn about the costumes and crafts of Laos' various ethnic groups. A ticket costs 25,000 Kip and includes a guided tour on Friday afternoon. It can also be reserved in advance at other times.
At 5 p.m., make your way to the top of Phousi hill to watch the sunset. Access is via the main street in front of the Royal Palace or from the Nam Khan and costs 20,000 Kip. It will be crowded at the peak and there will be more mosquitoes than the dragonflies can catch, but the 360-degree view of Luang Prabang is worth it.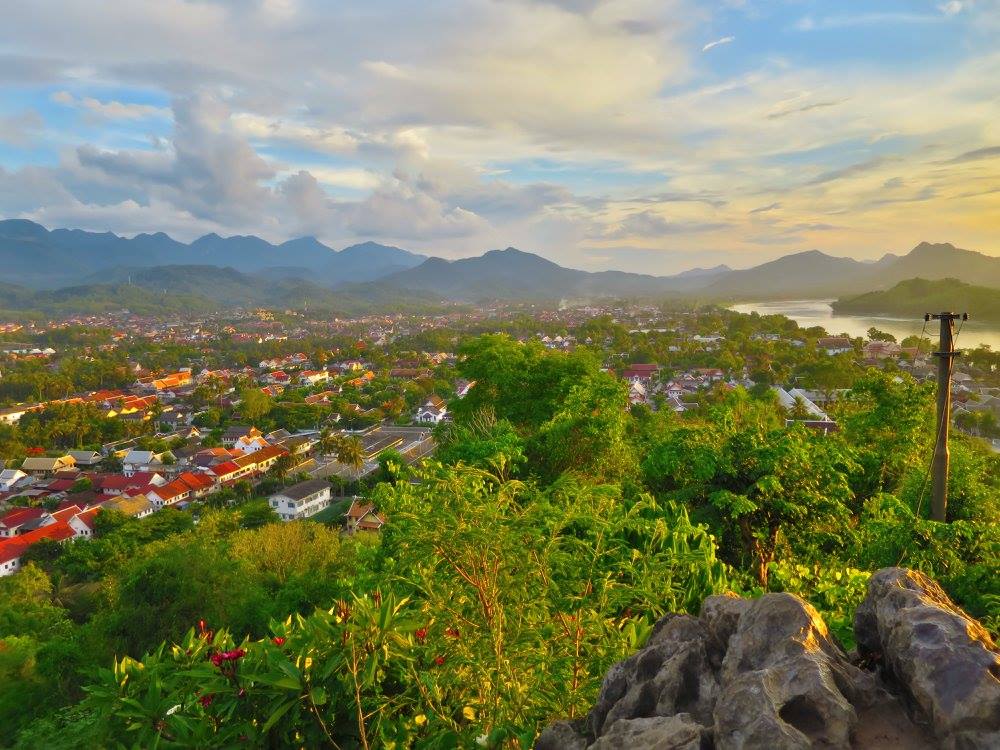 Day 3 – Caves and stories
Make your way to Saffron Coffee for breakfast and to enjoy the locally-grown coffee. There's no Vietnamese-style drip coffee but I really enjoyed the gingerbread pancakes and the cold brew made from their blonde roast. They can also arrange visits to their plantation if you're interested.
The cafe is also right in front of the ticket counter for river taxis to Pak Ou. Ticket sales start at 8 a.m. and the boats leave at 8.30 a.m. – this is the only departure time for those who want to pay for individual seats (65,000 Kip). At other times, you need to hire the entire boat.
The ride to Pak Ou takes two hours (one hour less on the way back) and includes a brief stop in Ban Xiang Hai, a.k.a. the "whisky village". You won't learn anything about the manufacturing process but you'll see shops hawking garments and bottles of rice spirit filled with creepy crawlies. Along the way, the boat passes swathes of jungle punctuated by the occasional village or construction site.
The Tam Ting caves are the highlight of the boat ride. Admission is 80,000 Kip and includes both the upper and lower caves, which are filled with thousands of statues of the Lord Buddha in the various mudra (stances). Devotees in the region consider it inauspicious to dispose of old and damaged statues, so they are left in caves. If you have the entire boat to yourself, you can also make a trip to Pak Ou on the opposite bank. As with Kuang Si Falls, you can explore the place on your own.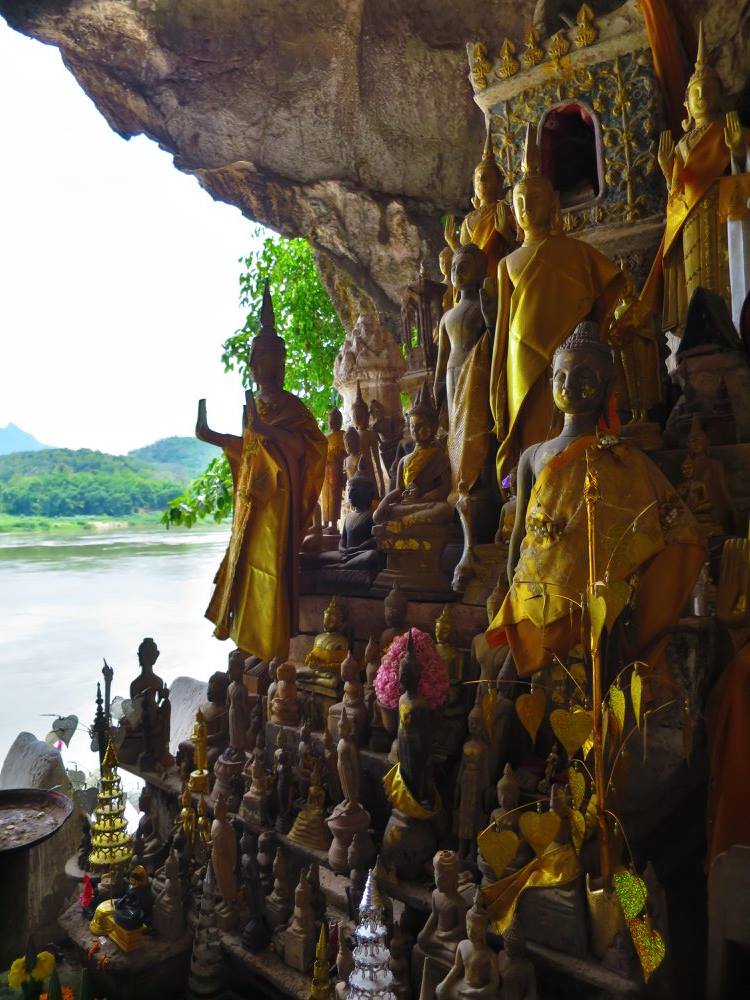 After lunch, take it easy by browsing the handmade crafts at Ock Pop Tok's boutique. Find out more about their workshops and classes while you're at it. You can also see how Laotian royalty used to live in the Royal Palace, which stands opposite on the opposite side of the main street to Phousi. Tickets cost 30,000 Kip and there are free lockers for personal belongings – cameras are forbidden inside.
I highly recommend going to Garavek storytelling theatre for the show at 6.30 p.m. Every evening, a raconteur regales an audience of 30 with folk tales and the legends surrounding Luang Prabang's landmarks. Due to the theatre's small size (and its powerful air-conditioning), you may need to get your tickets (50,000 Kip) the day before in the peak season. In contrast, you can rock up just before showtime in the low season, but the performance only starts if there is an audience of at least five.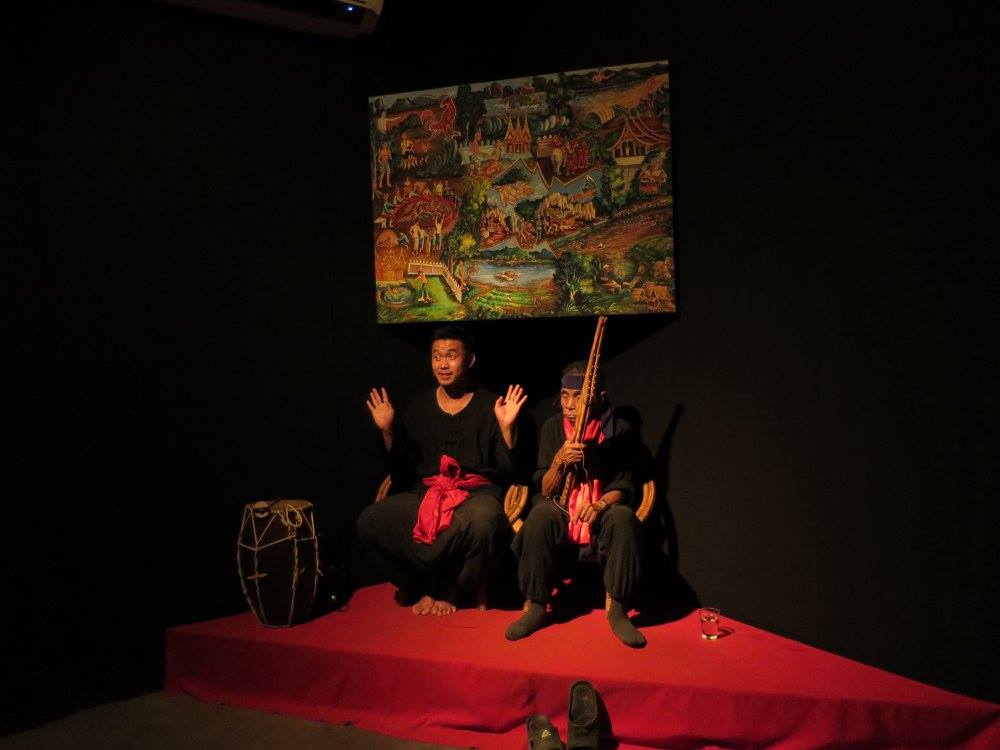 Days 4 and 5 (and beyond)
By now, you would've covered all the major sights in Luang Prabang. You can use the rest of the time to do a few of the following meaningful things (or extend your stay and do all of them). While I spread the abovementioned activities over the course of my 5-day stay and didn't sample the items on this list, my friends who did strongly recommended them:
Yoga by the river at Utopia.
Handicraft classes at Ock Pop Tok's living crafts centre (don't forget to book ahead). Although I didn't take the classes, I had a look around. It's a beautiful place by the Mekong where you can watch the weavers and their children at work. Take the free tuk-tuk from the downtown boutique.
Cooking classes at Tamarind restaurant or Amantaka, depending on the size of your budget. The morning classes usually include a visit to the market. Amantaka's takes place in the middle of their organic farm.
A visit to Living Land's rice paddies or Saffron Coffee's plantation.
A trip to the less-visited Tad Sae falls.
You can even go on a trek into the forest with one of the local tour companies and stay with the villagers. One of the friends I made on the trip did so with Green Discovery, and there are others.
If you're missing some interaction with locals, head to Big Brother Mouse at 9 a.m. or 5 p.m. There, you can spend a couple of hours practising conversational English with teenagers and young adults for free. Of all the things I did, this was the most fun, even more so than the waterfalls. If you want to donate books or toys, check their website for what they need.
Food and accommodation in Luang Prabang
Where to stay
I can recommend Manichan Guesthouse (because I stayed there) and there are plenty of options in this small town.
Where to eat in Luang Prabang
I'm not normally averse to street food but Luang Prabang was the first place that made me wary of it. At the night market, there are several cai png/buffet-style stalls which offer cheap grub, but houseflies swarm any rubbish and exposed food in terrifying numbers. I ended up patronising just the barbeque, hot noodle and omelette stalls.
The rest of my meals were in restaurants that served refined versions of local dishes. They're great value for money and I'd readily recommend them to anyone:
Le Banneton (breakfast, lunch – the pastries, galettes and crepes are incredibly good)
Khaiphaen (lunch, dinner; it's part of the Friends network of training restaurants)
Tamarind (lunch, dinner; try the platters if you can't decide on one dish)
Joma Bakery (breakfast, lunch, dinner; go for the bagels)
Le Cafe Ban Vat Sene (breakfast, lunch, dinner)
Cafe Toui (lunch, dinner)
These are some local delicacies that you can try:
Khaiphaen (fried river weed that looks like seaweed strips)
Bamboo chips seasoned with kaffir lime leaves
Rice porridge with buffalo jerky
Sausages (including sour fermented ones)
Or lam (buffalo, chicken or pork stew with 'pepperwood'; this is a Luang Prabang speciality)
The local khao soi and laksa are different from the Thai and Singaporean versions
Beerlao brewed with sticky rice
Bael fruit tea
A map of Luang Prabang
You can use this map to find your way around if you don't like to handle paper ones:
Other LP tips
Despite the layover in Kuala Lumpur, I flew with AirAsia from Singapore instead of SilkAir due to the better arrival time (2 p.m. vs 5 p.m.). Most Southeast Asian nationals (including Singaporeans) do not need a visa for short visits.
Luang Prabang International Airport is really close to the city, so if you're catching a flight, you can leave 1.5 hours before departure.
Laotian Kip is impossible to get outside the country but there are money changers throughout the old town. The rates at the airport are better, though, contrary to popular belief.
You may have noticed a dearth of things to do after dark, due to a midnight curfew. Nonetheless, there's a bowling alley outside the town centre that opens and serves alcohol until 1.30 a.m.
Looking to get wasted with all the young ones? Walk around until you see a place that plays South Park, Family Guy or Friends on the TV. Not a personal recommendation, though.
Have fun and leave some feedback if you find these tips useful!