Mendut, Pawon and Tempeh: What's Fun Around Borobudur
By the time I was done with sunrise at Borobudur, it was still only 6.30 a.m. People in Singapore only start waking up around that time for work but the crowds were already streaming into the park. My bus back to Yogyakarta wouldn't leave for another five hours, so after inhaling a plate of mi goreng for breakfast at the Saraswati, I rented a bicycle across the road from my hotel to find the other sights around Borobudur.
Candi Pawon
Pawon was the closest to my starting point. I headed east on the main road from Borobudur, cycled through the village and there it was in a clearing. I was surprised by how quiet it was, given its proximity to Borobudur. Perhaps most of the tourists weren't still battling their way out of the market at that site.
It's a pretty structure with rich bas-reliefs on all three walls and stupas on its roof. Despite the perimeter fence, it was still possible to get close without crossing it. It didn't seem like anyone was selling or checking tickets either (they would've covered both Pawon and Mendut). Besides, the interior was empty. There are two theories as to what was inside – a royal weapon or an unknown king's cremated remains.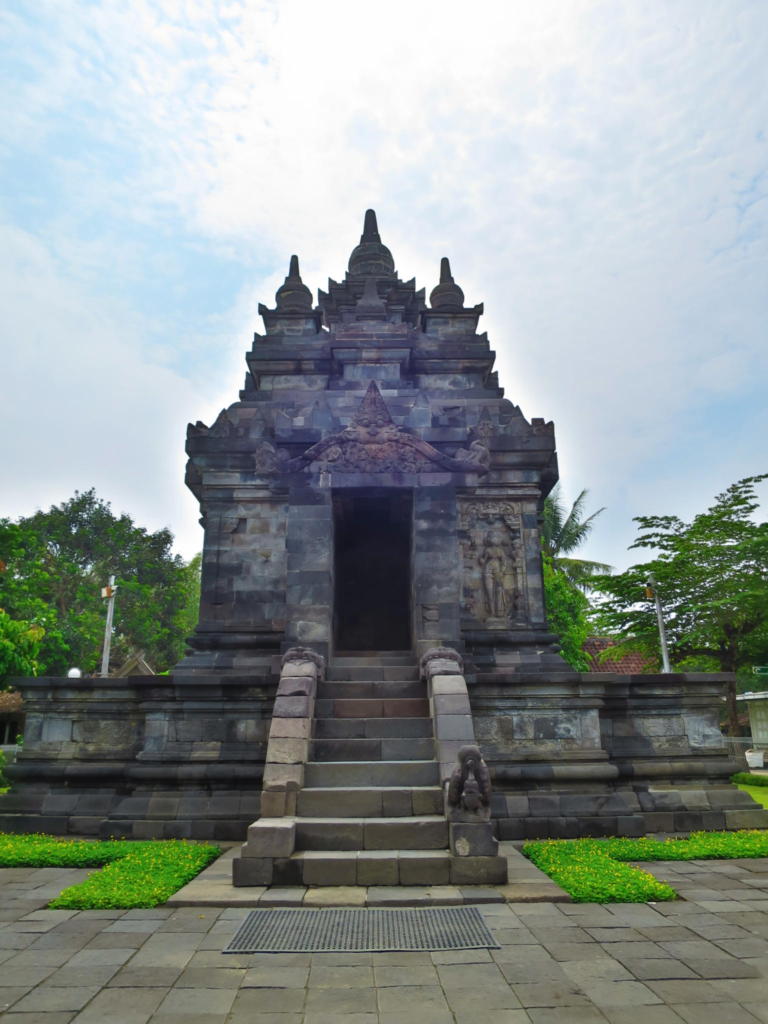 Little shops selling snacks surrounded the shrine instead of the usual stalls and pushcarts; just one girl came over to invite me to view the souvenirs in her shop while other boys from the village played among themselves. At this point, I noticed another tourist checking the place out. I invited her to join me and off we went on our bikes. We took a more scenic route through the village to get back to the main road, passing houses, cats and fruit trees along the way.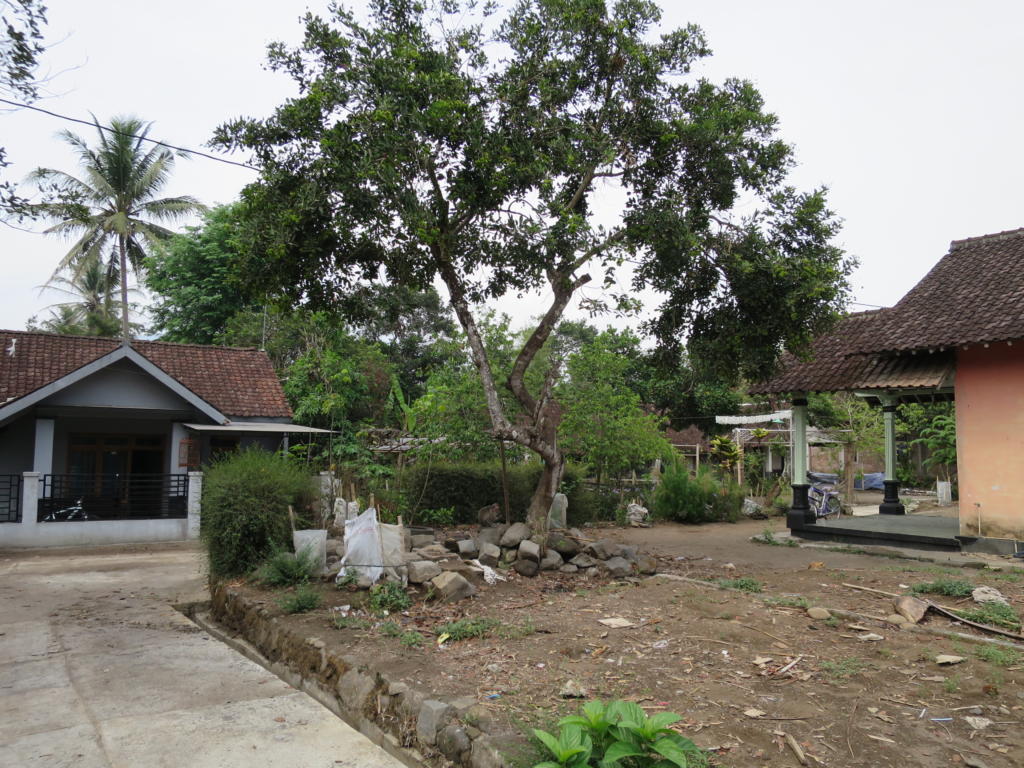 Candi Mendut
While the traffic around Borobudur was nowhere as heavy as in downtown 'Jogja', it's still quite pretty busy during the daylight hours. There was quite an incline east of the bridge that separated us from our next stop but it was no sweat for my newfound friend, who turned out to be Dutch. As we got close to Mendut, hawkers lined the narrow road, thrusting sarongs and Borobudur miniatures in our faces in the hope that we'd buy one. It wasn't easy to avoid them and the tourists in such a small space.
Of the three major shrines in the immediate area, Mendut is the oldest, dating back to the early 9th Century. All of them lie on a straight line that runs east to west. If we'd been there on Vesak night, we would've seen the candlelight procession that starts here and ends at Borobudur.
Unlike Pawon, the fence around Mendut kept us far from the shrine and unable to take a closer look. We'd already checked-off the former, so we weren't that keen on paying for the 3,500-rupiah ticket that permitted us to see the Buddha and bodhisattva sculptures within.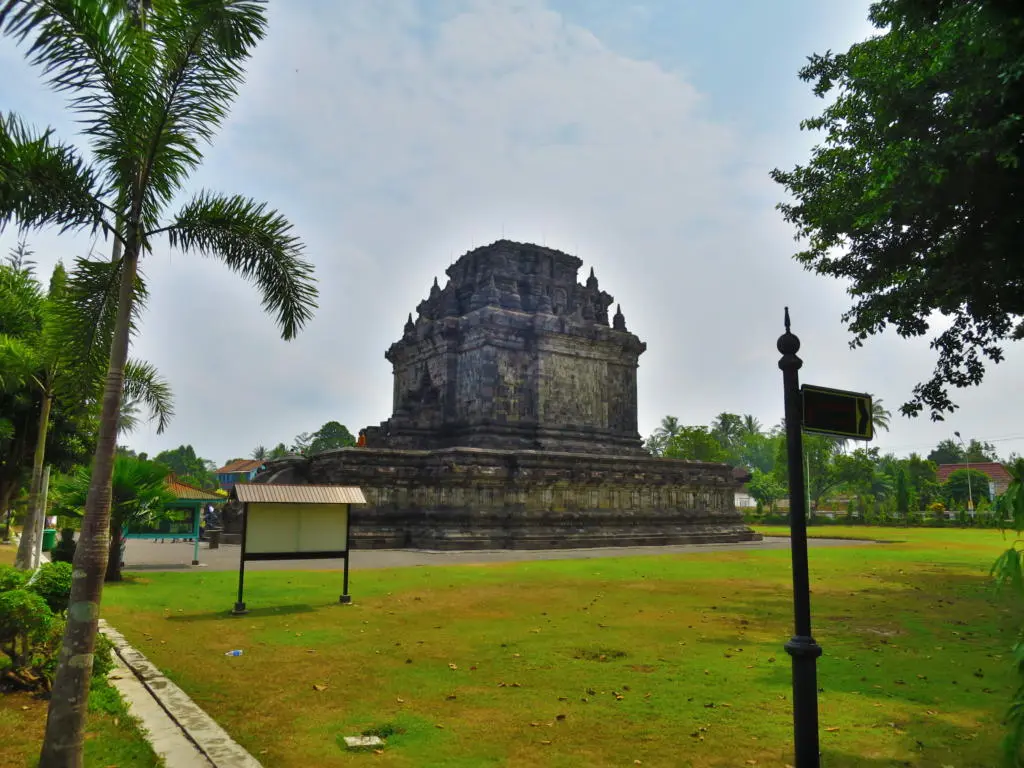 A stone's throw away, there was a more modern-looking monastery. We took a barefoot walk around the compound and its lotus ponds for a moment before returning to the pandemonium outside.
A black-and-white map that my hotel gave indicated three different factories somewhere in the nearby countryside: a chocolate factory, a tobacco factory and a tempeh factory. It shouldn't surprise you that we picked the latter – we were in Indonesia, after all.
Tempeh factory
In our search for the tempeh factory, we cycled past farms and paddy fields in the shadow of Merapi, Indonesia's most active volcano. It must be terrifying to live in its shadow with the constant threat of evacuation, whereas I only had to deal with flight delays (another volcano on Java erupted that week).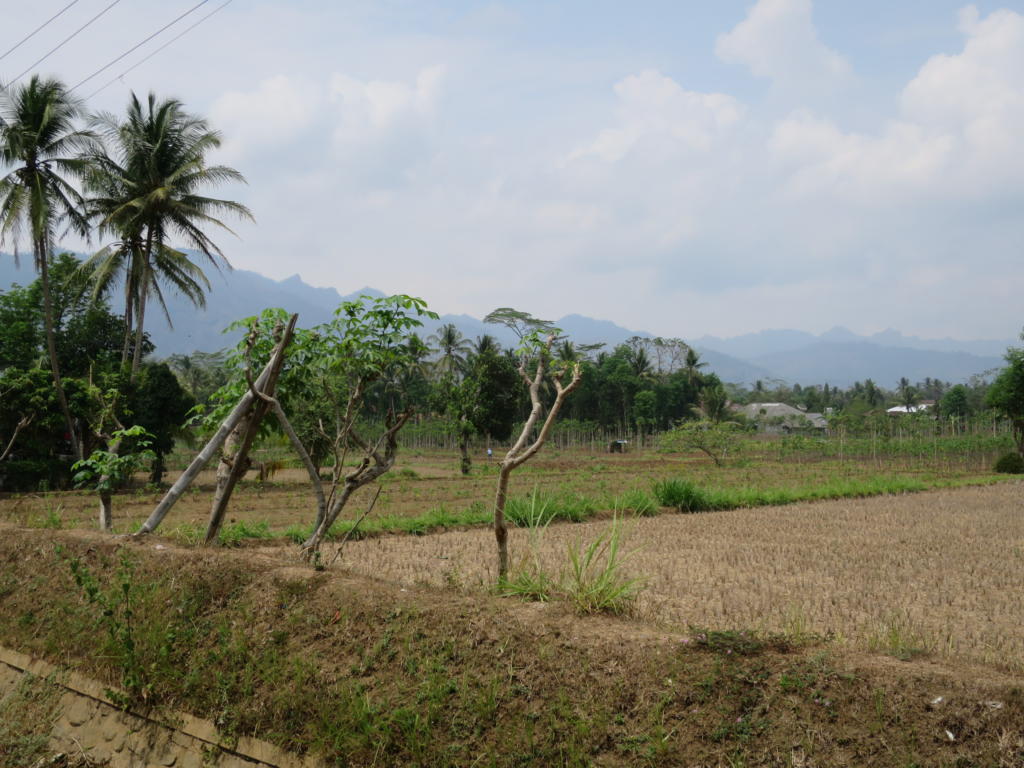 Despite the signs, we still took a few wrong turns in the woods. Eventually, we found the factory in a rustic brick house. It took a stretch to imagine soybeans arriving in a place like this from the United States for processing, and the resulting tempeh ending up in the plates of vegans and hipsters around the world. Well, this is how food is made, folks.
A young lad spoke simple English as he showed us around but it was enough to understand that soybeans were cooked and strained in the vats and trays before us. Leading us to a shady room, he invited us to make tempeh. How could we say no to that? Squatting over a pile of boiled beans on the wooden floor, we scooped spoonfuls into banana leaves before sealing them with toothpicks. The packs were then left on the shelves for a week to ferment spontaneously; in that time, a fuzzy layer of fungus grows on the beans and bonds them to form a cake.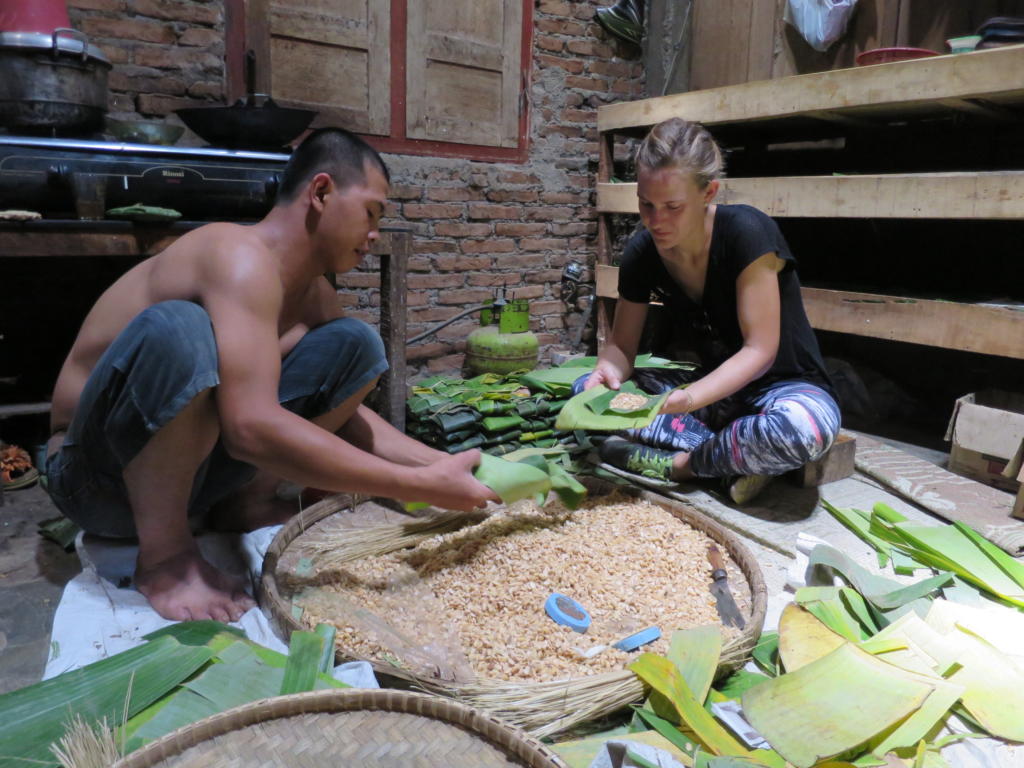 To thank our host, we paid a small token and bought some cooked tempeh to snack on. By the time we rode back to Borobudur, it was nearly time to catch my bus. My Dutch friend and I parted ways after I sent her my photos of our tour. While I missed the other factories and rafting down the river in the middle of town but I can say I used the hours I had effectively to explore the area around Borobudur.
Looking for other things to eat in Yogyakarta? Try gudeg in a lesehan.
Getting there
You can take AirAsia flights to Yogyakarta from Jakarta, KL, Medan Singapore and Denpasar. It's not difficult to get cheap air tickets on other carriers too. From the city, it's a 90-minute ride to Borobudur. There are plenty of hotels and a few guesthouses to choose from; if you choose not to rent a bicycle, you can get a driver to take you to the above places.
This post was created in a partnership with Traveloka. I paid my way for this experience and my opinion of it is my own.