15 Easy Tips on How to Choose Craft Beer and Enjoy it
My first taste of craft beer all those years ago opened my eyes to how good beer could be. However, even though the scene in Singapore has grown massively, many people have yet to discover craft beer. With so many choices out there today, it can be very intimidating for someone who is used to paying a lot less for mass-market alcohol.
That's where this post comes in. If you don't know how to choose craft beer but want to venture into it (or introduce it to a friend), this post is for you. I daresay that there is a beer for everyone, even the person who claims to dislike beer (but drinks other types of booze), and the guide will make it easier to find it. But first…
What is craft beer?
Generally, we think of craft beer as the alternative to mass-market beer (or "macro beer") like Budweiser, Tiger and Heineken. That's even though they're empirically the same–beverages produced by fermenting malted grain, water and hops. However, defining "craft" is a lot trickier:
Is it better in quality? While many brewers don't stinge on speciality malts and hops, there are some poorly-executed examples out there.
Is it produced in limited quantities? Some breweries that started out as "craft" produce millions of barrels today.
Is it produced using traditional methods? There are breweries that have been doing this for centuries in Europe, while others are using tech and experimentation to push the boundaries of flavour and aroma.
Is it made by independent breweries? Macro breweries and funds have bought over craft breweries (e.g. Ballast Point and Little Creatures) and started or revived their own brands (Archipelago and Blue Moon come to mind), so that line has been blurred.
I'll leave a technical definition to someone else who's better qualified to talk about it. However, I'd say that "craft" is more than just a marketing label; it doesn't play safe, whether it's by sticking to arcane rules and recipes, creating bold products and flavours, or putting a spin on forgotten styles of beer. I think that sums up the spirit of craft brewing nicely.
Why choose craft beer?
Beer suffers from an image problem of being a cheap beverage, and the high prices of craft beer will put off some people initially. Why is it expensive and yet worth buying? In most craft beers, a large quantity of boutique hops and malt goes into brewing each batch. Many craft brewers don't adulterate by using cheaper substitutes for these ingredients. In addition, they conduct plenty of experimentation to bring new products and flavours to the market. Sometimes, that involves using new hop hybrids. All of these account for the high cost. By buying craft beer, you're supporting the craft and the small independent farms, producers, brewers, restauranteurs, stockists and distributors throughout the chain.
How to choose craft beer
Stepping into a craft beer bar or a bottle shop can be overwhelming for a newcomer.
If you have no idea how to choose craft beer off the menu or the shelf, even after reading the style descriptions below, UnTappd and BeerAdvocate are places where you can read other people's comments about a beer. Don't take the ratings too seriously; seasoned drinkers score double and triple IPAs very highly but I wouldn't recommend them to most newcomers!
Reading the description of a beer off the label or the bar menu? You may find the names of hops such as Cascade, Citra, Mosaic, Nelson Sauvin, Sabro or Strata, particularly for pale ales and IPAs. Checking the hop comparison tool on a website like Beer Maverick can give you an idea of the aromas and flavours you can expect.
Choosing the beer for your friends? You can anticipate what they like based on their tastes and the style descriptions below. If you don't know them well enough, ask them. For newcomers, starting with something lighter and not too punchy usually works. You can introduce a hoppy IPA, a roasty stout or even a funky wild ale later. Drinkers of wine and spirits will probably take to barrel-aged stouts, though, so you can order those earlier.
If you're no closer to deciding what to drink based on the information above, talk to the staff and get their recommendations.
Styles of beer
At almost all the bars I've visited, there's usually a selection of the following general beer styles. In Singapore, you'll find the commonly available examples in even some ordinary cafes and restaurants.
Without getting too technical, this is what you can generally expect from the styles of beer you'll see most often. If you already know the lexicon and food pairing suggestions, you can skip to the other tips on enjoying craft beer in the next section.
Lager/Pilsner
Not all beer is lager, but this is the style of most macro beers like Bud, Carlsberg, Heineken and Tiger. Pilsner is a Czech variant of this style that incorporates more hops. These are generally clean and refreshing, with spicy, floral hops that add a firm bitterness. Other types of lager include Rauchbier (smoked beer), Bock/Doppelbock and Octoberfest beers–the different malts that are used give each style distinct flavours like breadiness, caramel or smoke.
| | |
| --- | --- |
| Commonly available examples | Garage Project "Beer", Hofbrau Original, Pilsner Urquell |
| Food pairing suggestions | Lighter lagers can go with fish and chips, pasta aglio e olio, tempura, fried rice and Hokkien mee, and the darker, sweeter ones with roast meats and sausages of both Western and Asian origin. |
| Good for | Those who say, "beer should taste like beer" (even though almost style in this post is beer) |
Pale Ale/India Pale Ale (IPA)
Pale ales and their hoppier IPA cousins are among the most popular and widely available styles. 'Pale' just refers to the use of pale malt. These tend to be fruitier in flavour even before the addition of hops for flavour, bitterness and aroma. If you see a pale ale or IPA described as 'New England-style', don't be surprised if it's hazy or even murky. It will have a juice-like mouthfeel and tend to be less bitter. Depending on the hops, you can expect flavours like citrus fruits, passion fruit, mango, pine needles and resin, even weed. The lactose-intolerant should avoid milkshake IPAs, however.
| | |
| --- | --- |
| Commonly available examples | Stone & Wood Pacific Ale, Brooklyn Shackmeister Ale (pale ales), Stone IPA, Brewdog Punk (classic bitter, piney and citrusy American IPAs), Brewlander Love (a fruitier sort of IPA), Heretic Make America Juicy Again (hazy IPA) |
| Food pairing suggestions | They stand up well to the strong flavours of Indian, Malay, Thai and Vietnamese food. Pizzas and burgers are also time-tested companions. However, double, triple and milkshake IPAs can be overwhelming and are best drunk on their own. |
| Good for | Those who like bold stuff and find mass-market beer lacking in flavour |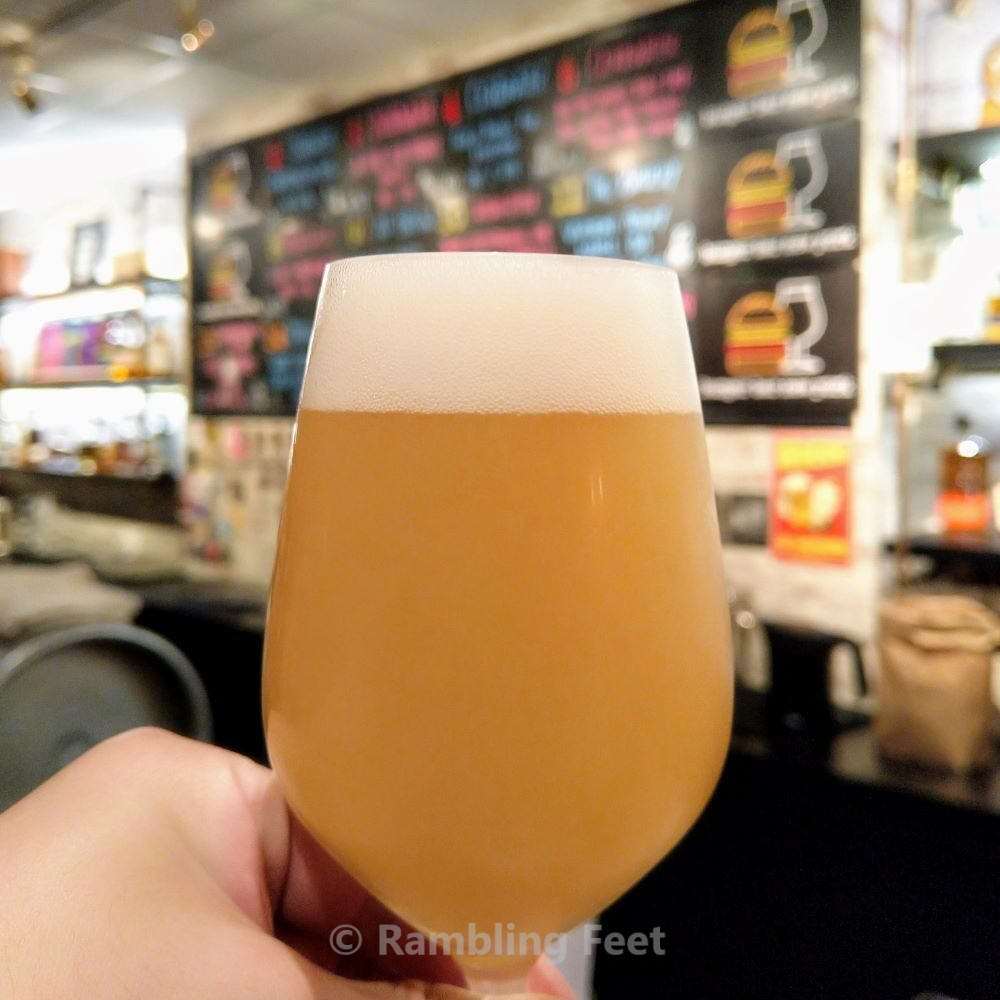 Wheat beer: Hefeweizen/Weißbier, Witbier & Saison
Ales brewed with a good chunk of wheat mixed with the malted barley. You may get banana, bubblegum and clove-like notes in the case of German styles, or orange peel and coriander seeds with Dutch and Belgian styles. Saisons will come across floral, dry and sometimes funky and tart. They are more accurately known as farmhouse styles and may overlap with the next category.
| | |
| --- | --- |
| Commonly available examples | Schneider Weisse's entire range comprises German-style wheat beers; Hitachino Nest White Ale (witbier), Saison Dupont |
| Food pairing suggestions | These are versatile (especially saisons) and are good with most foods, but I like hard cheese, salmon that's not smoked and other seafood. Have fun pairing gamey meats, e.g. witbier with roast duck, or saison and lamb. |
| Good for | Those who have a sweet tooth and find the lagers and IPAs too bitter/resinous/dank |
Sour beer
The same bacteria that go into yoghurt give these ales a sour flavour. Berliner Weiße and Gose are German wheat ales that have gone through this, and the latter has a touch of salt added to it. In lambic beers, wild yeast also produces strong, funky flavours. If you worry about how acidic it's going to be, start with those that are brewed with fruit.
| | |
| --- | --- |
| Commonly available examples | Garage Project White Mischief, Young Master Cha Chaan Teng Gose, Duchesse de Bourgogne (a Flanders red ale), Lindemann's Kriek |
| Food pairing suggestions | These can cut right through a classic cheesecake, sweets and soft cheese |
| Good for | Those who like fruits, and in the case of the stronger sours, the adventurous who think beer is boring and can handle acidity and unexpected flavours |
Blond, golden, red and brown ales
Of the eight beverage types I'm highlighting, there's a chance you won't see blond/golden/red/brown ales at the bar. Even though they are not so popular among seasoned craft beer geeks, their heritage cannot be ignored. The malt flavours range from bread and crackers to caramel and toffee (with much less sugar sweetness), depending on the colour, while the hops are usually floral and light-to-moderately bitter. Trappist ales are often based on these styles and have candy sugar, spicy and fruity notes.
| | |
| --- | --- |
| Commonly available examples | Trappist ales (Achel, Chimay, La Trappe, Orval, Rochefort, Westmalle), Alive Brewing One Night in Cologne (a Kölsch), Rogue Hazelnut Brown Nectar (a hazelnut-infused brown ale), Anderson Valley Boont (an amber ale) |
| Food pairing suggestions | These are versatile beers that are great with all sorts of Asian cuisines. Lighter coloured food with lighter coloured ale, while those that are roasted or soy sauce-heavy can go with the darker ales. Trappist beers will also complement Indian curries. |
| Good for | Normal ales are great for those who want something easy to drink, while you can introduce Trappist ales to those looking for something that's different and steeped in history and tradition. |
Stout and porter
These are ales brewed with heavily-roasted malts, and Guinness exemplifies the style. They tend to taste and smell like chocolate, coffee or toasted bread. Sometimes, the brewer adds lactose to give it sweetness and a creamier body, making a milk stout.
| | |
| --- | --- |
| Commonly available examples | Anderson Valley Barney Flats (oatmeal stout), North Coast Old Rasputin (Imperial stout), Brewlander Respect (porter) |
| Food pairing suggestions | Dry stouts and porters go well with clam chowder and cheesecakes, while soft, creamy and strong cheese works with barrel-aged stouts. Those that are sweet are perfect on their own. |
| Good for | People who like their chocolate and coffee; in the case of barrel-aged stouts, those who like the body of wines or neat spirits, and those who say that beer is too gassy |
Cider and mead
Fermented apple juice and honey respectively. These are not beers but you will encounter them frequently in craft establishments, and they even have their own styles (acerglyn, braggot, graf, ice cider, melomel, etc), mostly differentiated by the adjuncts that are added. They can be fizzy or still, dry, sweet, barrel-aged, funky and everything in between.
| | |
| --- | --- |
| Commonly available examples | Zeffer Apple Crumble Cider, Lion City Meadery Classic/Spiced Mead, Gosnell's Citra Sea Mead |
| Food pairing suggestions | These are good on their own but also work with a pork chop; I've even enjoyed them with Indian cuisine |
| Good for | Those who have a sweet tooth will like the sweeter varieties, and celiacs and the gout-afflicted don't have to miss out here |
Glossary
A few other terms you might encounter are:
ABV: That's "alcohol by volume", the concentration of alcohol as a percentage of the volume of the beverage.
Adjuncts are grains other than malted barley. Sometimes, they're used to cut costs (corn and rice in mass-market beer), but they may also be used to impart different flavours (rye and wheat) or add body (oats). They also refer to added ingredients that impart flavour, like coffee, fruit, chocolate, vanilla, etc.
As with wines and spirits, stronger beers may be aged to produce more complex flavours. If aged in barrels, they tend to take on notes of the wood and any spirit or wine that they used to hold.
Hops: the flower cones of hop vines are used to give beers aromas, bitterness and other flavours to balance the sweetness of the malt. Popular varieties include Saaz (a "Noble hop" that makes lagers spicy and floral), Citra (citrus-like aroma and flavour), Mosaic (pungent tropical mango and berries), Galaxy (passion fruit) and Nelson Sauvin (white wine and gooseberries). I like to use the Beer Maverick Hop Comparison Tool to find out what flavours I can expect from the hops that are listed on the label.
Draft/draught: The beer is poured from a tap that's connected to a keg. Is it better than canned or bottled beer? All are good as long as the beer is stored and transported in the right conditions and consumed at the appropriate time.
Dry-hopped: The hops are steeped in the beer after it has been boiled and cooled, extracting the flavours in a gentler manner and reducing the bitterness.
IBU: International Bitterness Units, a measurement of the amount of bittering acids in a beer. The higher the number, the more bitter, but a well-balanced brew will still be drinkable.
Imperial stouts and IPAs are stronger than their regular counterparts in alcohol content and flavour.
Malt: Barley that is activated by warming and soaking. The process reduces the starches in the grain to fermentable sugars. Roasting stops the process and the malt is boiled to extract the sugars.
Session beers tend to be lighter in body and alcohol content (less than 5.0%) to make it easier to drink large quantities continuously.
Trappist beer: Beer brewed by Cistercian monks to support their way of life. Derived from the name of La Trappe Abbey. There are currently 12 beer-producing Trappist monasteries in Belgium, the Netherlands, Austria, Italy, England and the United States. See the description for blond, golden, red and brown ales above.
How to appreciate your craft beer
When you've decided to take the plunge yourself or visit one of these Singapore craft beer bars with your friends, you're going to want to make sure you extract maximum pleasure from every hard-earned dollar you're going to spend. These 12 tips (and the three earlier ones–I count the emphases) will help you do just that; while they won't make you an overnight beer expert, you might get lucky, and someone's life might even change forever.
Tips on buying craft beer
Many craft beer bars that serve craft beer on tap will offer different serving sizes, but a US pint (473 ml) is the most common. Some even offer flights of 4 to 5 200ml glasses, allowing you to try a few different beers at once. Of course, the trade-off is that the smaller servings are usually less value for money. If you have a *healthy* friend or two, get a few different beers to share.
Unless you're at a brewery, if you plan on returning to the same venue in the future, however, don't expect to see all the same beers again. Most craft beer bars in Singapore operate on a "rotating tap" basis—as soon as one beer runs out, the next available beer in storage is tapped. The fun part is having something new to try.
Sometimes, bars hold tap takeover events where you can try several beers from a particular guest brewery. You can get a general profile of its products by trying several offerings from the same stable.
Tips for packaged craft beer
Which is better: bottled or canned beer? Don't worry about it! Contrary to popular belief, canned beer is not an inferior product. Cans block out light completely and oxygen much better than glass bottles, and the plastic lining all around ensures the liquid has no contact with metal.
Whether you're buying bottled or canned craft beer from a bar, supermarket or bottle shop, keep it away from sunlight or else it will stink in no time. Drink it fresh, especially if it has lots of aroma hops because those components fade quickly (you can taste the difference over a few weeks). Otherwise, keep the beer at the back of the fridge and not in the door, particularly if it's an IPA or a lager. This minimises temperature fluctuations and physical movements—both will cause your beer's carbonation and flavour to deteriorate faster.
(I know, some strong, sweet and sour beers can be aged in the right conditions, but this post is for newcomers!)
One thing you should always do is pour packaged beer into a glass. While a bowl or tulip-shaped glass is ideal, even a cup is fine. Your nose should be able to smell the aroma so that you can appreciate the beer in full. A gentle pour (starting with the glass and bottle/can at the twenty-past-eight position) should minimise foaming over. It will also keep most of any yeast and protein sediments in the package. They're common in Belgian-style beers and some IPAs, and while unsightly, they're not inedible.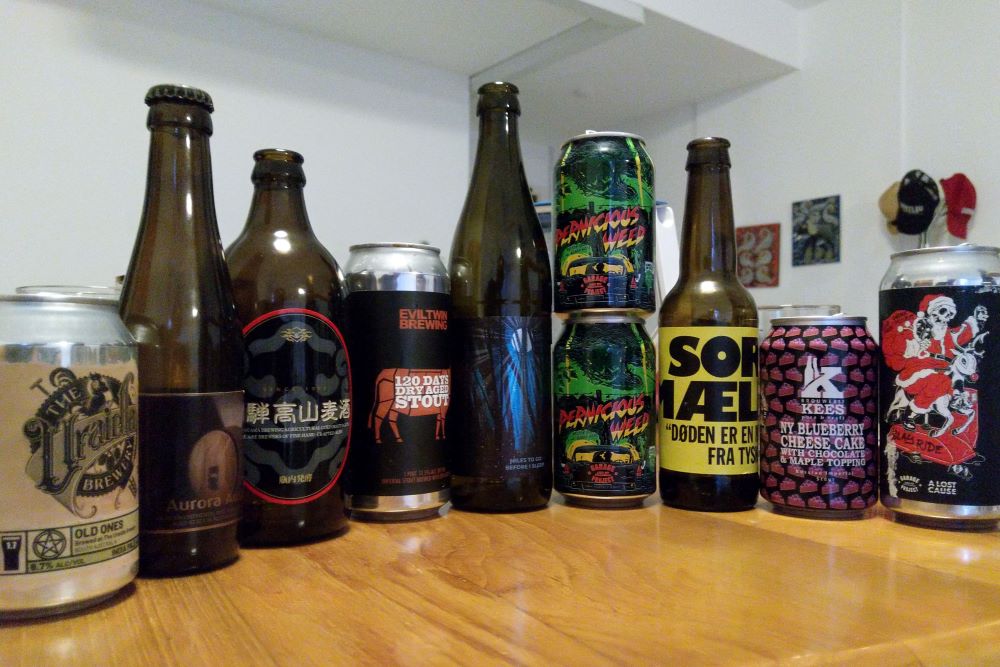 Enjoying craft beer the best way possible
When your beer is poured, savour it. Look at its colour and clarity/haziness, smell it, take a mouthful and note how it finishes after you swallow it. Different beers may remind you of fruits, coffee, chocolate, bubblegum, spices, resin, pine trees, woollen socks, gunny sacks, flowers, bread, biscuits, toffee, toast, grass, your favourite dessert and many other things. Some beers will go down smoothly while others are more astringent or warming. Some will be light on the mouthfeel, while others are closer to juice, cream or syrup. Some will be very bubbly, while others will pour flat. Any combination of these is possible.
It's rare to taste flaws in the brewing process but more common to taste faults that occur during packaging or transport. If the beer tastes sour or leathery when it's not meant to be fermented with lactic acid bacteria or "brett"/wild yeast, it's infected. If a bottle of beer smells like rotten eggs, someone left it in the sun when they shouldn't. I don't condone flipping tables but you should raise the matter with the staff.
There's no need to rush to chug craft beer, and you wouldn't want to do that to something that's 10% ABV or more. It doesn't need to be ice cold throughout; in fact, as it warms, you can better discern the aroma. Some imperial stouts reach their best just under room temperature; if you have a bottle, don't be afraid to let it sit outside the fridge for a while before opening it.
Hopefully, this guide will prove helpful on your next outing or on a trip to a foreign brewery! Next, you can check out where in the world I've had craft beer.
TL;DR: Choose beer with an open mind, keep it cold and in the dark, and savour it leisurely with your senses of taste and smell.
Lastly…
Beer brewing is a resource-intensive process, so let's minimise our impact on the only planet we have. Please recycle your bottles and cans. As for reusing, at least one Singapore brewery takes back, cleans and reuses its bottles. If you got a can or bottle carrier with your order, do return it to the shop that gave it.
This last line is to acknowledge fellow fans like Isaac, Stefan and Timothy who contributed additional tips.