Oman on a Budget: Solo Travel Tips for a Luxury Destination
Oman isn't particularly kind to budget and solo travellers at the moment, as I found out while researching my trip. In a land of luxury beach resorts and desert camps, there are no hostels, trains are still years away, bus routes are not conducive to tourism, and no scheduled group excursions. It's all very nice and there's an audience for that, but when you're visiting Oman on a budget, it makes no sense to pay for two persons just to venture beyond Muscat.
This was how I kept my Oman budget for a week under S$1,000 (US$730), excluding international flights. I'm not saying it's easy, so strap in.
What You Should Know About Money in Oman
The Omani Rial (OMR) is one of the world's strongest currencies. How much was 1 rial worth in July 2019?
2.31 EUR
2.60 USD
3.53 SGD
9.46 QAR (Qatari Rial)
9.54 AED (UAE Dirham)
That means even the smallest coin- 5 baisas, or 0.005 OMR – is still valuable, a 2-rial lunch is not that cheap, and you could be giving away a lot more than you expect to when you round-up prices. In Singapore, you can get some Omani rials at The Arcade, then change euros or US dollars for more rials when you reach Oman. In some parts like Musandam, dirhams are accepted, albeit at an unfavourable rate of 1 rial to 10 dirhams. It's fine if you're just visiting from Dubai – more on that in a moment.
Cheap and Free Attractions in Oman
You came all the way here to see exotic sights. The good news is that budget travel in Oman doesn't preclude that! All you need to pay to see these places is the cost of getting there:
Mutrah Souq
Muscat Royal Opera House
Sultan Qaboos Grand Mosque
Bimmah Sinkhole
Dhow boatyards in Sur
Wadi Bani Khalid
Nizwa Souq
Al Ayn beehive tombs
Misfat al Abriyeen
Khor Najd
Meanwhile, you pay peanuts to enter the following places:
Wadi Shab (1 OMR for the return boat ride)
Bahla and Jabrin forts (500 baisas each)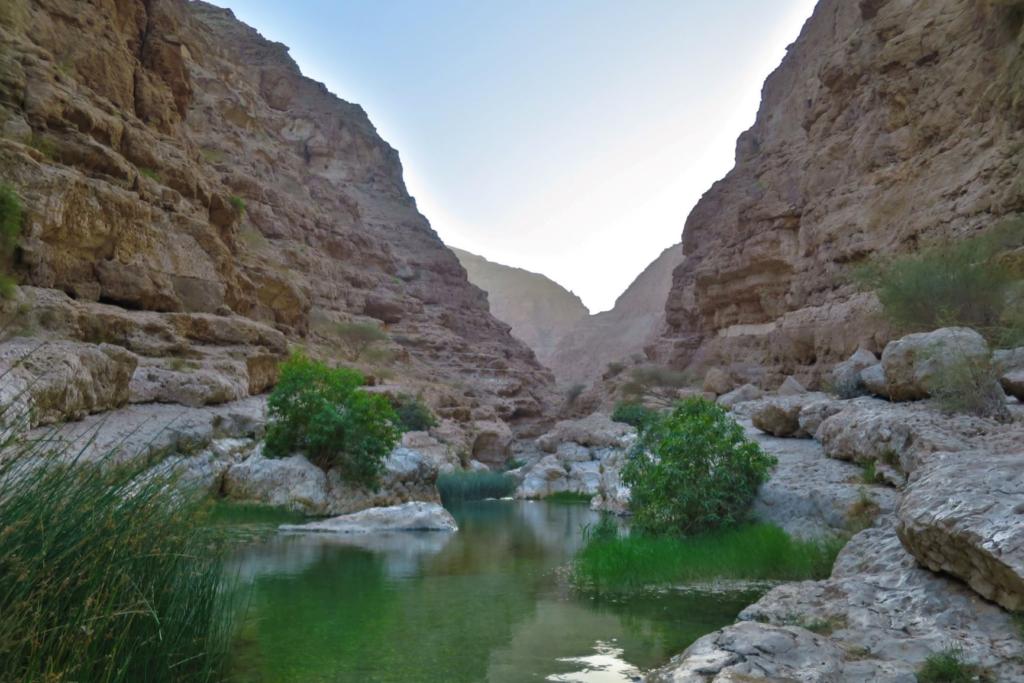 One exception is Nizwa fort, which costs 5 OMR to enter. If you go at the right time, you get to see cultural performances; these and the rich displays make up somewhat for the higher entrance fee.
Now, the bad news: all these places are difficult to get to without personal transport. As for tours, a half-day cruise around fiord-like Musandam's should set you back 15 OMR per person (though I've been offered 10 OMR on a slow day), and that's it for reasonably-priced options.
As I mentioned earlier, I was unable to find any regularly-scheduled tours from Muscat. The private tours to see Wadi Shab, Sharqiyah Sands and Nizwa required at least two people to go. Each would've cost me a couple of hundred dollars (or 60 OMR) and I'd have to do it more than once.
Getting Around Oman on a Budget
In the end, since I could drive, I did a road trip around Oman on my own to get around paying for tours. Renting a small saloon for five days with basic insurance and 250 km a day set me back 50+ OMR or 190 SGD. Petrol costs 12 OMR for a full tank, of which I needed two, and parking is free in many places. I went over the mileage limit but I paid only another 5 OMR for 100 km – it was still worth it. The car was also where I spent the nights, so that's where I saved money – more on that in the next section.
It's tempting to pay more – in rent and in fuel – for an SUV so that you can go off-road at Jebel Shams and Jebel Akhdar. I wouldn't recommend it if you're inexperienced, though, or if your rental contract forbids you from doing so. On the other hand, if you have a companion and you're both sleeping inside, the extra space is worth it.
Tip: Save 2 rials for a car wash and interior grooming at a petrol station before returning it, otherwise the rental company will charge you way more for the same thing.
For more on getting to and around the Musandam peninsula, refer to the section What if I Don't Drive?
How to Find Cheap Rides in Muscat
Forget using public transport in Muscat. Connectivity on the bus routes is terrible. Instead, download the Otaxi app and use it as you would with Uber, Lyft and Grab (payment in cash). You can even take it from Muscat International Airport if you prefer not to drive immediately on arrival – set the pick-up point to the multistorey car park and walk past the taxi rank confidently. You'll pay one-third of the typical taxi fare.
Sleeping in Oman on a Budget
As I mentioned earlier, if you're driving, you can consider sleeping in the rental car. Unlike New Zealand, there aren't laws against freedom camping in Oman – just don't park outside mosques and other public buildings. There are campsites all over the country and some beaches, such as Bassa Beach in Khasab, have toilets and showers. Going by the information I found online, I shouldn't have parked in the Nizwa souq car park but it turned out to be fine. That turned out to be ideal since I could not find affordable accommodation there.
Oman is a hot country, so take a pack of body wet wipes with you. Alternatively, if you find a clean toilet, you can make use of the bum gun. When I felt too sticky, that's what I used when there wasn't a public shower facility. If you're planning to pitch a tent, don't count on buying a cheap one from the hypermarket. If the strong winds don't rip them apart, the wild goats will. Look up reviews online and see if you can get them from the car rental company instead.
Forget finding hostel dorms, because there aren't any on the usual online travel agents. When you do want to stay in a room with a hot shower, there are business hotels all over Muscat. While they're basic and feel a bit dated, they're clean, equipped with free wifi and reasonably-priced. For solo travel in Oman, a couple of nights at 20 OMR each wasn't too much for me to pay. For your reference, I stayed at Bowshar International Hotel (near Oman Avenues Mall and Muscat Grand Mall) and Mutrah Hotel (in Mutrah).
And, of course, there's always Couchsurfing. I was also fortunate enough to experience the renown Arab hospitality from complete strangers.
Where to Eat Cheaply in Oman
There's plenty of American fast food in Muscat's malls. If you want to be satisfied for as little as possible, you can get a wrap from the food court, or a dish at an Indian restaurant, for 1 OMR. You can try Iranian and Afghan food as well for similar prices. Sadly, local food is rarely found outside homes and mid-range restaurants.
Water is 375 baisas for five litres at the hypermarket. Take the time to find the brand with the lowest total dissolved salt content: it will be more palatable. You can count on drinking at least two litres a day per person on a road trip.
What if I Don't Drive?
If you don't drive, there is still one way you can see Oman meaningfully. Several companies offer group tours from Dubai to visit the Musandam peninsula, complete with pick-up and drop-off from your doorstep. Half-day tours typically involve either a cruise around the bay (with snorkelling stops) or a 4×4 mountain safari; full-day tours include both, and overnight stays usually mean camping and on a beach. As mentioned earlier, you won't need to change your dirhams for rials too.
It's less practical to do a Musandam excursion from Muscat because a 45-minute daily morning flight is the only practical way to get there. Return flights cost 58 OMR – or more than 20% of my budget – but these were one of my few extravagances. In addition, there are no taxis in that territory, so you'll need to stay in a resort in order for someone to pick you up from Khasab airport.
And there you have it, that's the Rambling Feet guide to visiting Oman cheaply. If you have any questions or additional tips, let me know in the comments.