Every Hailstorm I've Been Through
Incredibly, I've seen hail on more occasions than I've seen snow – 4 times versus 3, and it could have been 5 if I hadn't been away when a hailstorm hit Singapore last year.
I find hailstorms more fascinating than more frequent weather phenomena: so far it's only happened to me in the summer (and one Mediterranean winter), a season the uninitiated (like me) would least expect frozen things to fall from the sky. The rain and howling gale that often precedes hail can be terrifying for someone who has not been in a cyclone, but thankfully I haven't been harmed. There was one very close call though…
Northern hemisphere hailstorms
Hailstorm No. 1: Warsaw, Poland
"It's been raining a lot lately, but it looks like you're lucky," Gosia remarked on my arrival in Poland
The day started out gloriously and I managed to cover Warsaw's Old Town and Royal Castle before meeting my friend in Łazienki Park. It was a pleasant hour's walk around the lakes, the palace and the amphitheatre but the storm clouds moved in stealthily.
The skies grew dark in the space of fifteen minutes and we were soon caught in the middle of a thunderstorm. Luckily I had an umbrella with me. We kept moving and hoped that the lightning did not strike us or a branch above, but I managed to take one photo of the Chopin monument that I'd been looking forward to seeing.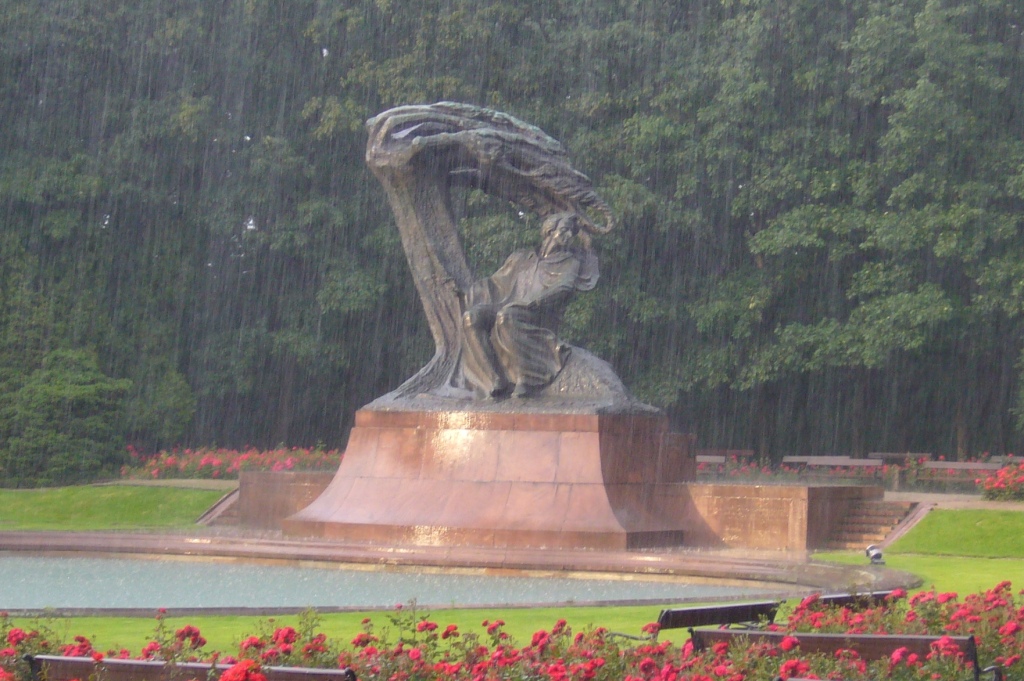 We sought refuge in a Vietnamese bistro back in the city centre where she was a regular. A bowl of hot pho never felt so good. The rain outside grew noisier than I ever remembered rain could be, and it was impossible to contain my curiosity. I turned around to face the shop window and lo, in the darkness, bits of ice were melting in the puddles outside.
That was my first hailstorm, and I'd sat it out.
Hailstorm No. 2: San Diego, USA
Barely six months after since that trip to Poland, I found myself in San Diego on a student exchange. It was winter, of course, but in that part of the States, the temperature did not drop below 6 degrees (or is that 43 degrees?).
Coincidentally, I was carrying the same foldable umbrella that served me in Warsaw, and my housemates and I were also on our way to another Vietnamese joint. Our group of five became four when Tasha needed to run an errand at another shop.
Bad move. And she did not have a brolly.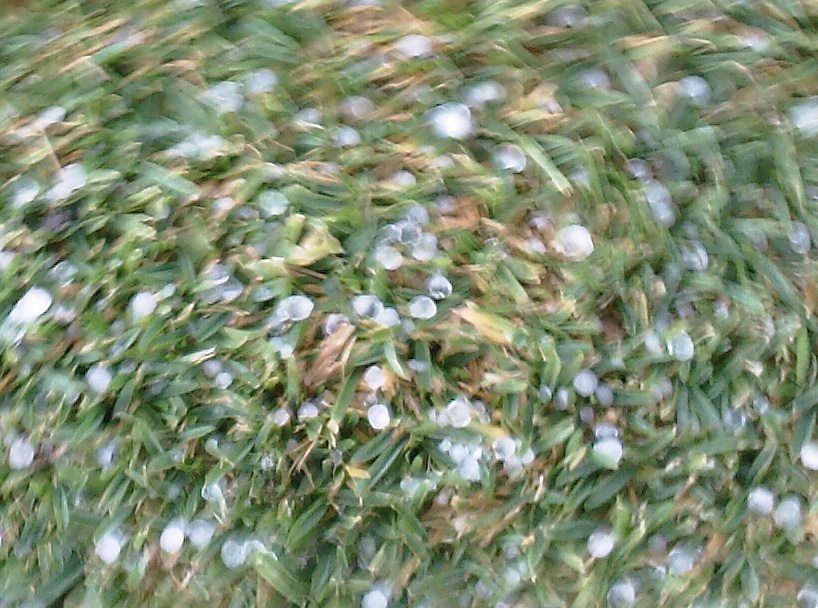 It started to rain as soon as we parted ways. I thought no more of it until the two people who were sharing one umbrella started making faces. They were pelted wherever they were exposed, and the video recording was hilarious.
"It looks like it's raining but it's not!"
"So painful! The lights wouldn't change fast enough!" Tasha would say when she joined us later.
The grass seemed to keep the pea-sized hailstones frozen longer than the puddles on the sidewalk, so I whipped out my camera and snapped away. The other housemates who were at class did not miss out; another hailstorm struck that evening on their way home.
Southern hemisphere hailstorms
Hailstorm No. 3: Christchurch, New Zealand
Another brilliant day did not last long this past February, and it had to be the day that we held a staff barbecue at the Christchurch hostel where I worked. The rain and the thunder started while we were cooking out on the front lawn. We kept it going precariously just under the awning, hoping that the smoke alarm did not go off as the front door was open mere feet away.
At least the burgers were cooked through. Then that vaguely familiar roar of frozen peas hitting the building started.
It was enough to kill the lantern festival in Hagley Park that we had planned to see that evening. There were people checking out the decorations like us, but every stall under the gazebos had vanished. On the plus side, we ended up enjoying some lovely tapas along Victoria Street.
Hailstorm No. 4: Dunedin, New Zealand
After I was done at the hostel I went on a road trip around the rest of the South Island, and "Gigatown" Dunedin was my second overnight stop. The hailstorm there came the closest to killing me.
The pelting started just after I viewed the world's only mainland albatross colony on the Otago Peninsula. The rain did not mar the experience as we were inside a bunker, but the drive back was treacherous. Harrington Point and Portobello Roads are relatively level, which was good for my fuel consumption, but they are sandwiched by rock faces on one side and the sea on the other, and tortoiseshells divided the lanes.
And then rain and ice were added to the mix. Putt–plat–tap-tok they went. What a nightmare.
Somewhere on the tortuous drive, the back of the car stepped out in the middle of a bend. The boot and its contents (my luggage) headed towards the rock wall. An instinctive jerk, a dose of opposite lock and it was over in a second.
The car emerged unscathed and tracked true once again, although my hands had flicked the wipers and the high beams. That was close, and I got the car certified roadworthy mere hours later.
Thanks for reading. You may want to see my photos of famous places in bad weather next or my funny street photos.