The 6 Best Things to do on Stewart Island
Stewart Island, also known as Rakiura, lies off the southern end of New Zealand. It feels wild, rugged and remote compared to the rest of the country, especially when mobile coverage is limited. (Tip: Don't use 2Degrees if you plan to be there)
Most of the people who arrive are either cruise ship tourists or trampers planning to tackle two of NZ's great walks – the Rakiura track (29km) and the North West circuit (125km). For folks who aren't keen on getting their feet muddy, the $155 return trip from Bluff can seem like a waste of money. I found several things that made my 4-day stay absolutely worthwhile.
The Best Things to do on Stewart Island
Bird Spotting
Pack your binoculars – this place is an ornithologist's dream. All sorts of flying and flightless birds inhabit Stewart Island – kaka, penguins, bellbirds, muttonbirds and the famous but elusive kiwis. Here's a full list.
Even a non-enthusiast can appreciate waking up to the birdsong every morning. Kaka are frequent visitors to the backpacker hostels in the late afternoons. They are not shy about opening windows and gate-crashing barbeques to get an easy treat.
There are late night tours to Mason Bay to spot one or more of the 20,000 kiwi birds that roam the island. Forget that. Your chances are just as good if you grab a red torchlight and walk the bush that surrounds the village. Just don't disturb the neighbours on the way there.
A water taxi takes visitors to nearby Ulva Island, a predator-free sanctuary for rare and endangered birds native birds. The calls of bellbirds, tui and more fill the air, and Stewart Island robins often follow people around the trails. You can even spot kiwis in the daytime too.
Underwater Life
Boats can be chartered for dives although one will need to bring equipment to the island as there are no dive shops. There are plenty of kelp beds around the island teeming with marine life. Where there is cold water and kelp, fur seals and sea lions live and breed. And where there are seals and sea lions, great white sharks can also be found.
Don't let that put you off visiting the Stewart Island, though! It'd take either a freak accident or sheer stupidity to get hurt. Two companies conduct and provide the equipment for cage dives in the chilly waters of the Foveaux Strait, but the locals are not particularly happy about that. If you want to go ahead, you can read about my experience here.
Shark conservationist Ocean Ramsey has also written about her visit and observations from around the same time on her website. Great whites are not the only species of shark that has made these waters its home…
Seafood
What good is an island destination that does not boast great seafood? Rakiura does not disappoint in this respect. The two fine dining restaurants on the island serve up succulent Big Glory Bay oysters and salmon that are farmed nearby. They don't come cheap, of course.
(Probably closed) For those who prefer to prepare their own meals, hot smoked salmon was cured and sold at 11 Miro Crescent, just a 15-minute walk from the pier. I first tried it at the Christchurch Farmers Market (where it sells for a few dollars more) and it won me over. The flesh is not too salty and it has a nice firmness, unlike the usual smoked salmon varieties.
Fishing charters are also available (with a minimum two on the boat to go) and even a beginner can catch some blue cod for dinner. The people on board will even scale, gut, fillet and pack the fish for the trip back to hotel/hostel kitchen. My friend Bryony went on such a trip.
Beach Combing
There are plenty of sandy beaches around the island, and it's possible to spend an entire day alone on one of these with just a book.
Okay, not really. It'll be just you and the bloodsucking sandflies – pack some insect repellent!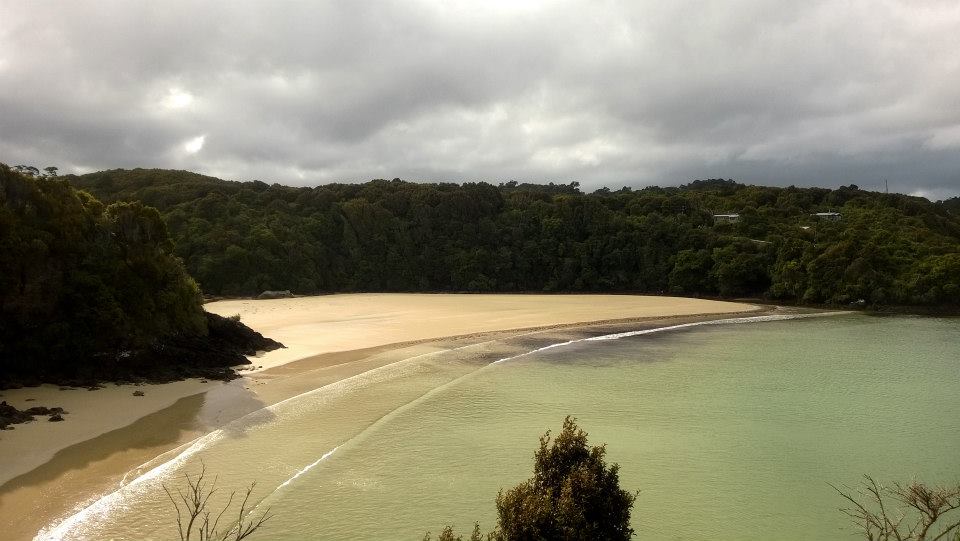 Stargazing
There is very little light pollution as you move away from the centre of the Oban town. On a clear and dark night, you might even spot the elusive Aurora Australis, otherwise known as the Southern Lights. They are the result of the same phenomenon as the Northern Lights. They're harder to spot, though, because New Zealand is quite far from the South Pole. I wasn't lucky enough to be there during a strong magnetic storm. If you give it a try, however, it will be quite comfortable compared to freezing your butt off in the snow in Lapland.
Take It Easy
On the rare occasion that the weather stays fine for a few hours (it changes very quickly here), take a walk around Oban, the only settlement on Stewart Island. Little swimming coves and remnants of its whaling history can be found all along the coast.
When there are only two places to bond with other people in the evenings (the hostel fireplace and the pub at the South Sea), it's also a great place to get to know them on the backpacking circuit. When I was at Bunkers, most of the guests stayed a few days to make the most of the cost of getting there. I also met the same faces before and after their treks, so one gets to know them a little better than in other parts of the country.
As for the residents, In a town of just 400, everyone knows everyone else, including the long-term travellers. There are no secrets, and it shows.
Getting there
If you drive you can park your car at the Bluff ferry terminal. Parking charges and departure times can be checked at Stewart Island Experience; check-in starts 30 minutes prior to departure and closes 20 minutes later. It takes about 1 hour for the ferry to cross the Foveaux Strait. If you don't drive, don't fret; there are buses from Invercargill and Te Anau to Bluff. You can book with Catch-A-Bus South or with Stewart Island Experience.