How Climate Change Has Ruined NZ Glaciers for Everyone
There was a time not so long ago when you could climb glaciers in New Zealand for NZD120. No expensive helicopters were needed. All it took was a coach ride into the Fox Glacier valley, a coat and rented crampons. You didn't have to worry about not having enough people to go on the tours either – they were almost always full.
The Decline of Fox and Franz Josef Glaciers
There were obvious signs in 2014 that all was not well.
Our group had to walk two kilometres along the valley floor to reach the terminal face. Only five years prior, ice covered the gravel we tread on. It wasn't difficult to imagine how much of it there was; it was indicated tens of yards above us, where the foliage had stopped growing on the slopes.
Fox Glacier had a terminal face that only Mother Nature could love. Forget images of bluish-white ice cliffs that you may have seen in photos of glaciers elsewhere. Instead, mounds of ice were buried under slate-grey debris called moraine. The ice that brought the moraine there from the top of the Southern Alps had long disappeared down the streams and into the Tasman Sea.
All around us, off-duty ice guides were busy hacking steps into the ice for us. With the surface changing every minute, their work never ceased. A few tourists passed snarky comments about themselves about how "inauthentic" it was. Hypocrites. If they wanted "authentic", they shouldn't even be here. Pay more if you want ropes and a greater risk of death, you beggars can't be choosers.
Climbing ice with crampons was still no mean feat for beginners. The gait that I had to adopt and the extra heft on my feet nearly did my knees in.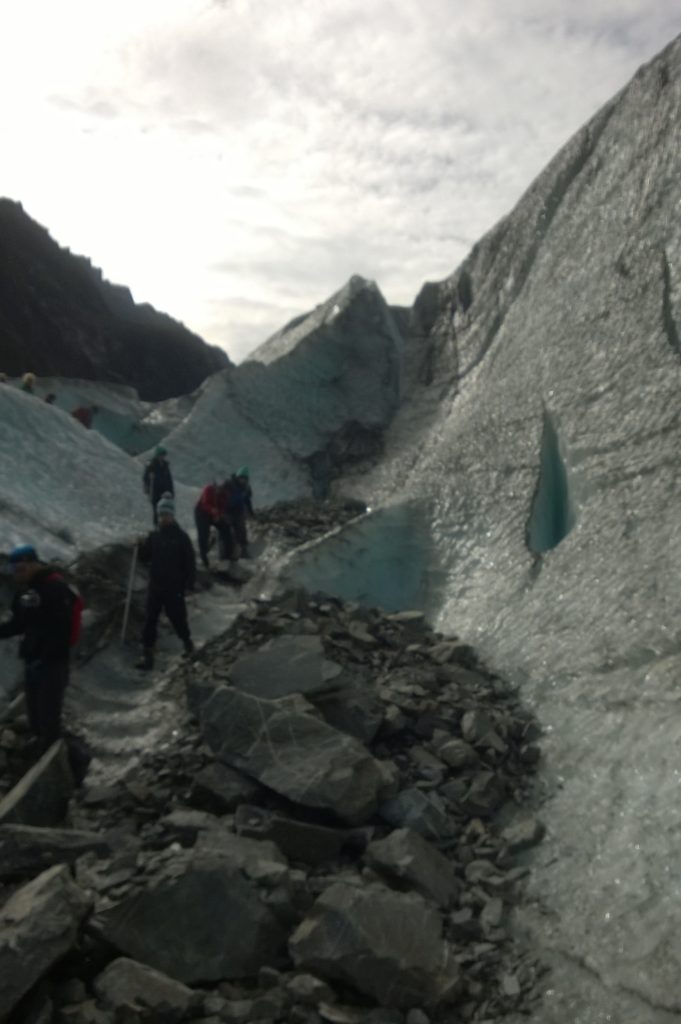 There were a still a few pretty spots, like this moulin. It's not surprising that ice doesn't stay frozen very long this close to the sea and sea level, but there isn't enough of it to replace whatever's melted. It was practically raining in there.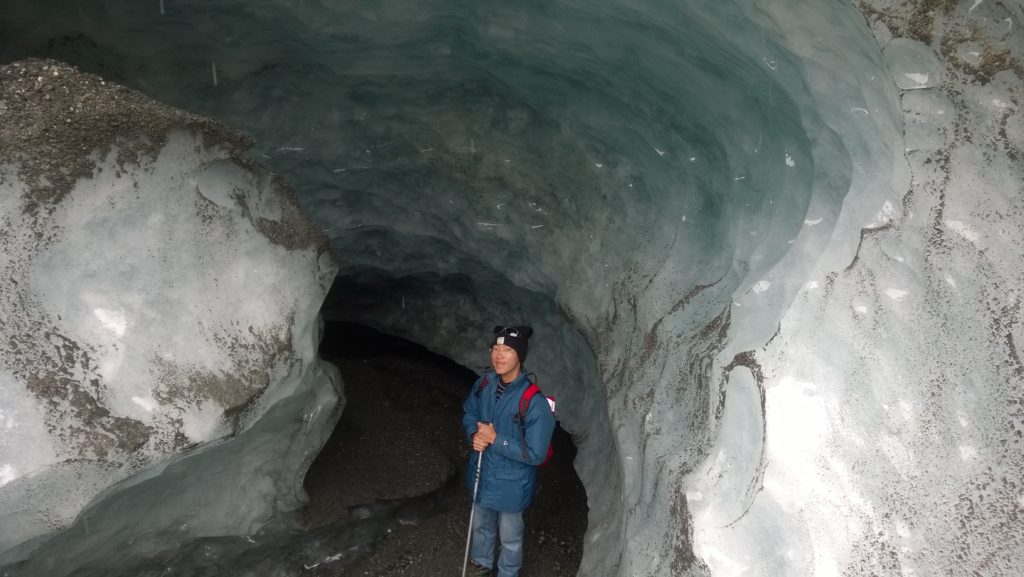 In less than two years, all the ice you see in these photos has disappeared
You can't scale the terminal face anymore. To set foot on the ice, you'll need to cough up at least NZD300 per person for a helicopter ride to the top – and that's with a generous Bookme discount. I wonder what all those guides who took people on the terminal face walks are doing today, now that they aren't needed.
Things are worse at nearby Franz Josef Glacier
Terminal face climbs at Franz Josef stopped ages ago. Once upon a time, you could see the glacier reflected in Peter's Pool; now, it's just another kettle lake in the valley with a quirky history. The glacier has receded so high up the mountains that I had to skydive to view it. A helicopter would've landed me on the ice for a similar price, but walking in crampons no longer appealed to me.
I know it seems childish to whine about climate change ruining tourist attractions. After all, it's causing more serious problems elsewhere, like displacing people from their homes in Alaska and the Pacific Islands. There is a link, though: the melting of these glaciers contributes partly to rising sea levels. There have been years where the glaciers advanced due to favourable weather, but the Southern Alps range has lost a third of its ice in the last 40 years. Guess where all the water went?
Most of the readers of this blog are probably fortunate enough not to experience climate change-linked displacement. If it takes the loss of jobs and natural wonders to make some people notice what is happening to the world, however, then that loss would not be in vain. Travelling slower and making other choices may not save the glaciers, but we'd be able to say we tried to do less harm.
About 10 hours away in NZ: Cruising Milford Sound