Rally Mexico Memories
The year Mexico celebrated its bicentenary, I was in California for a semester and swine flu wasn't as scary as it was when it first broke out. Furthermore, Rally Mexico in Leon was as far from the drug cartels as one could get. It was my chance to catch up with friends working in the business and get close to racing drivers once again.
Barely 9 months had passed since I last attended a WRC event but a few exciting changes had taken place. Former champ Petter Solberg got his hands on a current car and was in a position to challenge for wins again. Kimi Raikkonen had just made his switch from Formula 1. A certain shoe salesman was making his WRC debut and fans of his 'Gymkhana' videos were watching.
My flight arrived on Friday morning, so I missed Thursday night's ceremonial start in historic Guanajuato. Tens of thousands of people cram the streets every year to see the drivers blast through the city's mural-lined tunnels.
The region is arid and mountainous. It took us 2 hours to reach the Derramadero stage on Saturday and everywhere I looked there were prickly pears and thorny shrubs. The mornings start off really chilly but the temperatures don't take long to reach 27 degrees. While I hadn't felt such warmth since I left Singapore for America, it was still hardly a hospitable place.
The drivers race at altitudes of up to 2,700m and that is the highest they reach all season. Starved of oxygen, the cars punch out less power. Cue flat-out driving and engines bouncing off the rev limiter, inches from some very steep drops. The latter caught Raikkonen out on Friday.
The thin air also does other things. I forgot that Leon, where the rally is based, sits on a plateau 1600m above sea level and my toothpaste emptied itself.
If one wasn't able to travel far from the rally base, it's nothing to worry about. Plenty of people were happy to line up outside the Poliforum to see the drivers leave the service park for the mountains. No tickets required for that.
More autograph hunting back at the Poliforum:
There was plenty of racing too, with a popular temporary street circuit just outside the service park on Friday. The super special takes place at the Leon Autodromo where competitors go head-to-head over artificially created jumps and water splashes.
It was easy to watch all the action on such a small circuit but the dust was a hazard. It gets into everything – it was on faces, in beer and on tamales. It was still in my ears when I returned to San Diego.
In 2010 it was the final stage of the rally and Solberg went wild when he narrowly pipped Sebastien Ogier (who is now a double world champion) to second place.
And then there was the podium ceremony in the Foro del Lago. There were sombreros, there was loud music, there were models in spandex and there was, of course, tequila. Every driver waited in line to be presented to the crowd and it was ridiculously easy to chat with them while they waited for their turn.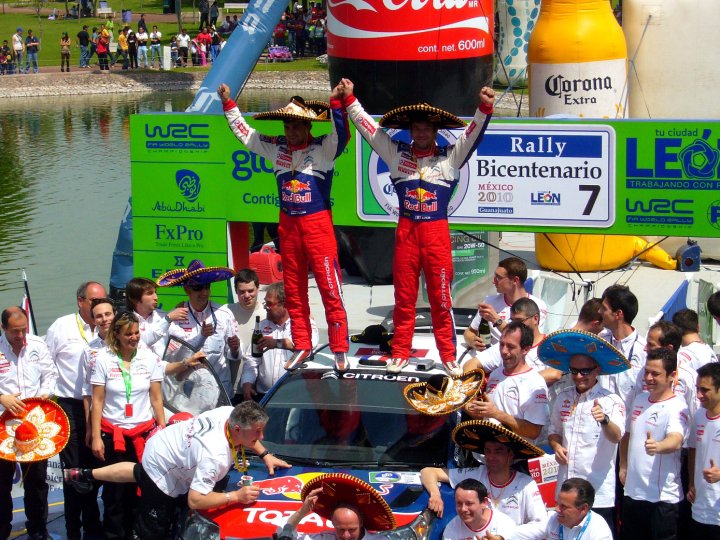 One of the most popular drivers after Solberg was, believe it or not, Bill Caswell. That's the bloke who bought a BMW for $500 on Craigslist, drove it across the border and ended up third in class. We had a wee chat about racing in Malaysia.
My best memories of the rally though were of the local fans. When the cars raced past they cheered their hearts out. When Solberg wept tears of joy as he celebrated, they wept too. When the politicians appeared, they made their feelings known. When I was lost amid all the announcements in Spanish, they tried their best to help. Most of all, in a place far from home, they felt like family.