Finnair A350 Business Class and Economy Comfort Review (2015)
You know that annoying person who posts pictures of their business class experiences on social media? Sorry, I'm about to become one of them for this post #blessed. It's about my first business class flight aboard a Finnair Airbus A350-900. Please forgive me for not being able to compare it with business class on other airlines, it took this peasant a while to earn this privilege.
*Note that this is the 2015 product; Finnair launched new cabin products in 2022.
Cost of my flights – should you upgrade on Finnair too?
I'm not a pro at this miles-hacking game but hey, I got my seats. I decided to take a closer look at how much it costs to get a business class seat in other ways, and to my surprise, I didn't get a bad deal.
If I wanted to redeem a business class flight between Singapore and Finland, it would have cost 97,000 points one-way and 160,000 return. That's more than even Singapore Airlines and not particularly great value. Upgrading a paid ticket from economy to business class costs 50,000 points. It doesn't seem attractive either, but get this: all fare classes are eligible for upgrades, even sale fares.
When Finnair held a sale for Finnair Plus points. I purchased 32,000 points for 412.00 euros and received an additional 8,000 for free. Considering that's a little over a cent per mile, that was a good deal. I already had 10,000 points from my earlier flights, so I had enough to upgrade myself on one intercontinental leg.
See also: The cons of using miles for "free" flights
A few months later, I snagged economy class tickets to Rome via Helsinki for a promotional price of S$799.00. After checking the availability on this page on the Finnair website, I performed the business class upgrade on the HEL – SIN leg; to my surprise and delight, Finnair also upgraded my flight out of Rome for free.
For some reason, business class upgrades from Singapore to Helsinki were never available. That's alright, though, because I wouldn't have got to try the special menu on that leg – more on that later. Instead, I opted for Economy Comfort for an additional 85 euros.
Before we get to my amateur review of business class on the Finnair A350, I'll also quickly talk about the Economy Comfort product on the same plane and business on the airline's Airbus A320 aircraft, so that we have a point of reference.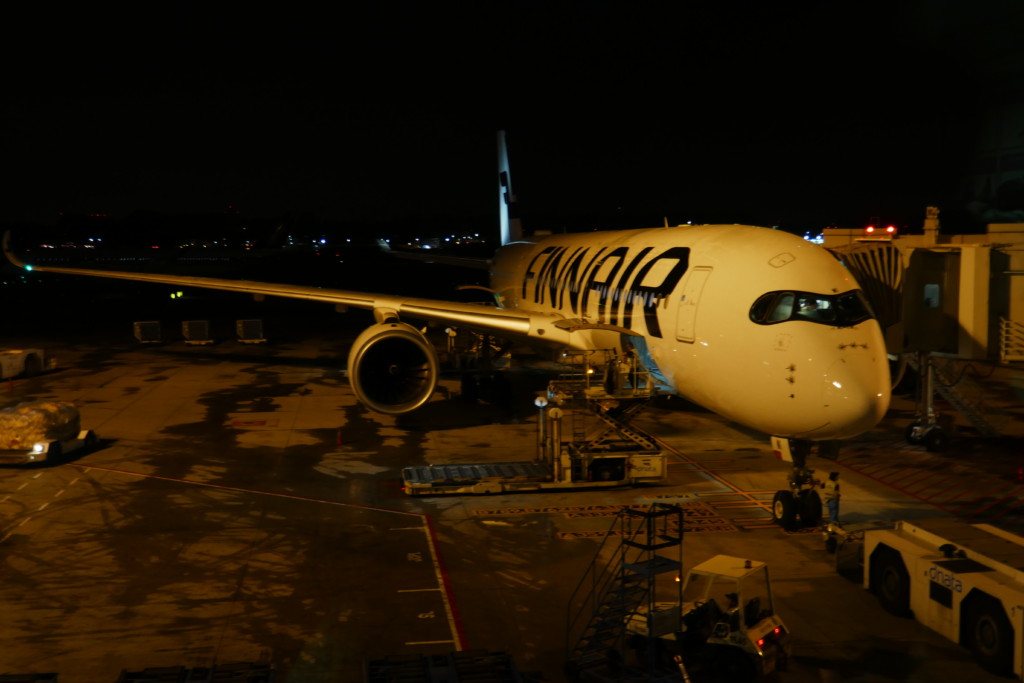 AY132 (SIN – HEL) A350 Economy Comfort
Since I started flying Finnair again in February 2017 (the last time was on my first solo trip), I've always upgraded myself from standard economy to Economy Comfort. While it's the same type of seat at the front of the same cabin, the 85 euros gets you more legroom, noise-cancelling headphones and a Marimekko-designed amenity kit. Products by Finnish design houses are everywhere and you can buy them on board too.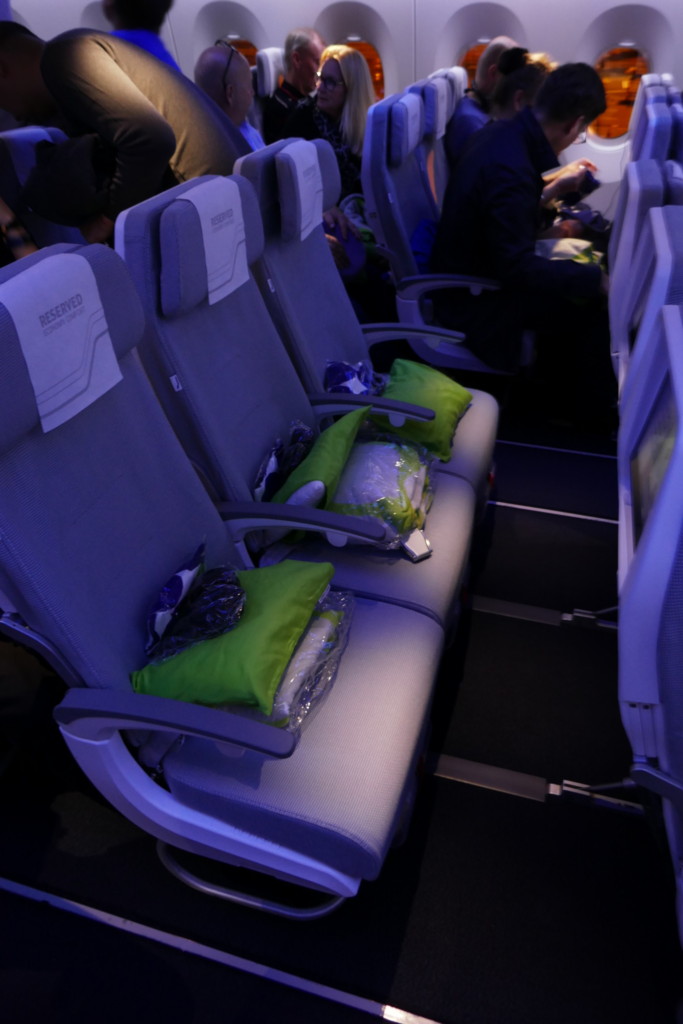 On flights to and from Singapore Changi Airport, all the cabin crew are Singaporean and there are no Finnish or Swedish on-board announcements. I found their service attentive; that and Economy Comfort niceties made it feel almost like a flight from the 1990s. Unfortunately, that also extends to the food.
AY132 departs Singapore at 11.45 p.m. but you still get a full supper after take-off. Now I can't be the only person who feels that the standard of SATS's in-flight catering has declined and my observations aren't limited to this flight. The nicest thing about supper was probably the mango mousse; the beef lacked tenderness and flavour. Don't get me started on the rubbery boiled eggs and gelatinous yoghurt for breakfast. Thank goodness for the blueberry juice that's on all Finnair flights.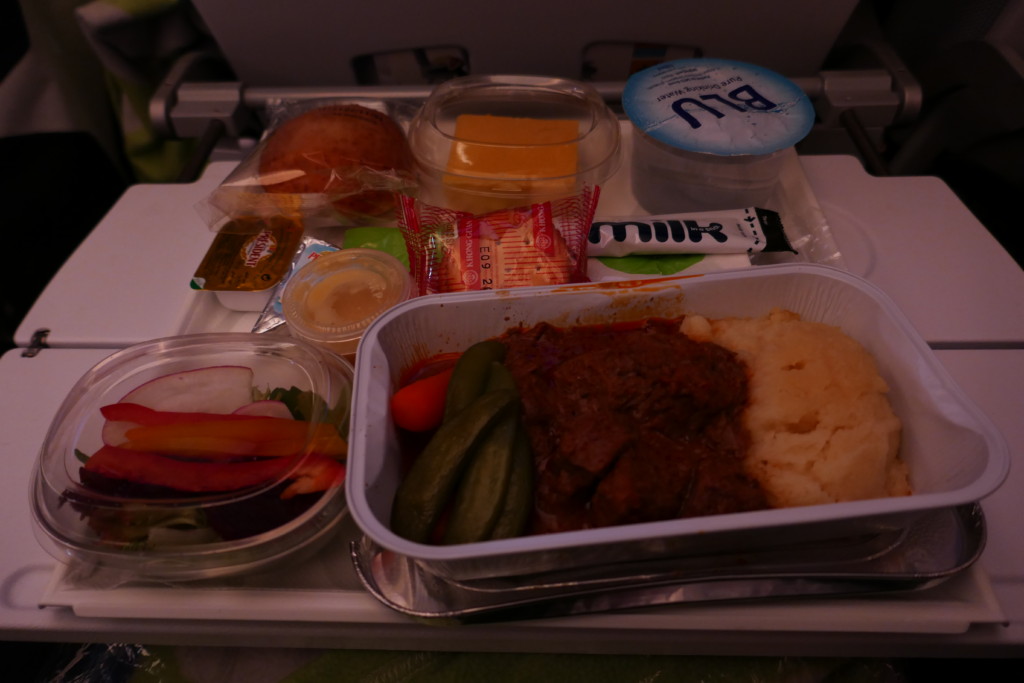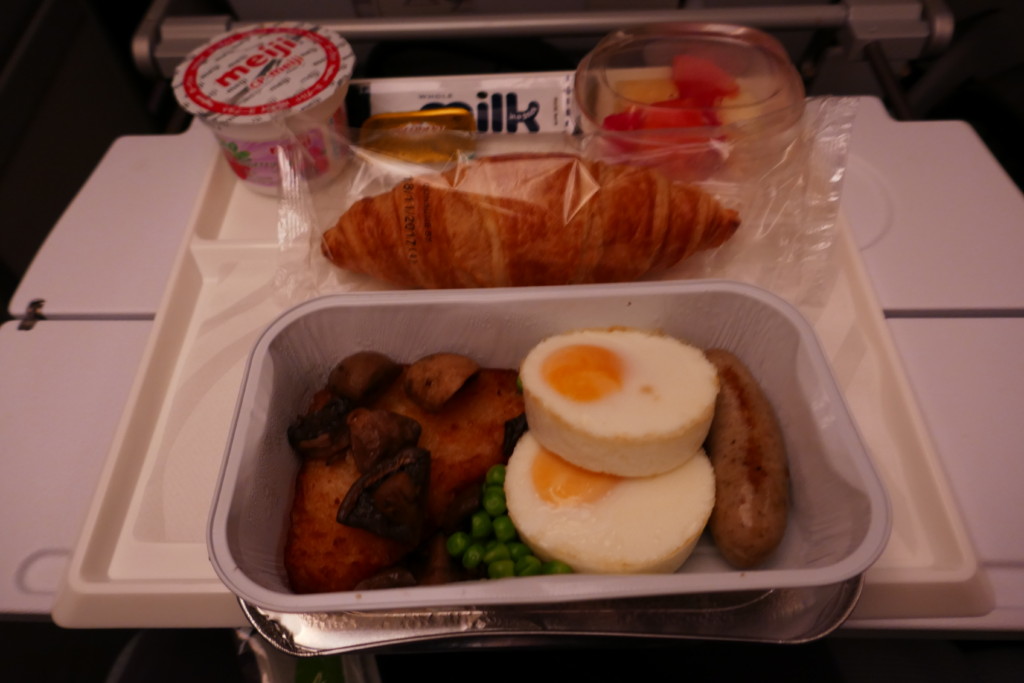 Some other pointers
Economy Comfort was close enough to the rear Business Class toilets that the cabin flight turned a blind eye to us slipping past the curtains to use them. Those toilets are smaller than the ones at the front anyway.
The headphones were effective at turning the boom of the engines (and the cabin is already quieter than most other aircraft) to a hum.
The amenity kit is quite simple: An eye mask, earplugs, socks and a toothbrush kit. (I didn't take a photo of the contents but they're the blue-and-white pouches on the seats)
I didn't watch any films but I do remember that there were just seven to choose from on this particular flight, which was weirdly meagre.
Even in standard economy class, everyone gets a 500ml bottle of drinking water and some Karl Fazer chocolates.
An hour of onboard wifi is free for Business and Economy Comfort passengers and payable for everyone else. However, you can use it on only one device and all in one go.
Finnair's A350 boasts a funky feature: adjustable mood lighting. It changes from blue during boarding to red just before bedtime and an 'aurora mode' just before landing in Helsinki. Programming green lights to dance along the length of the ceiling doesn't come close to the real thing but it's still fun to watch.
After landing: Ideas for a long Helsinki layover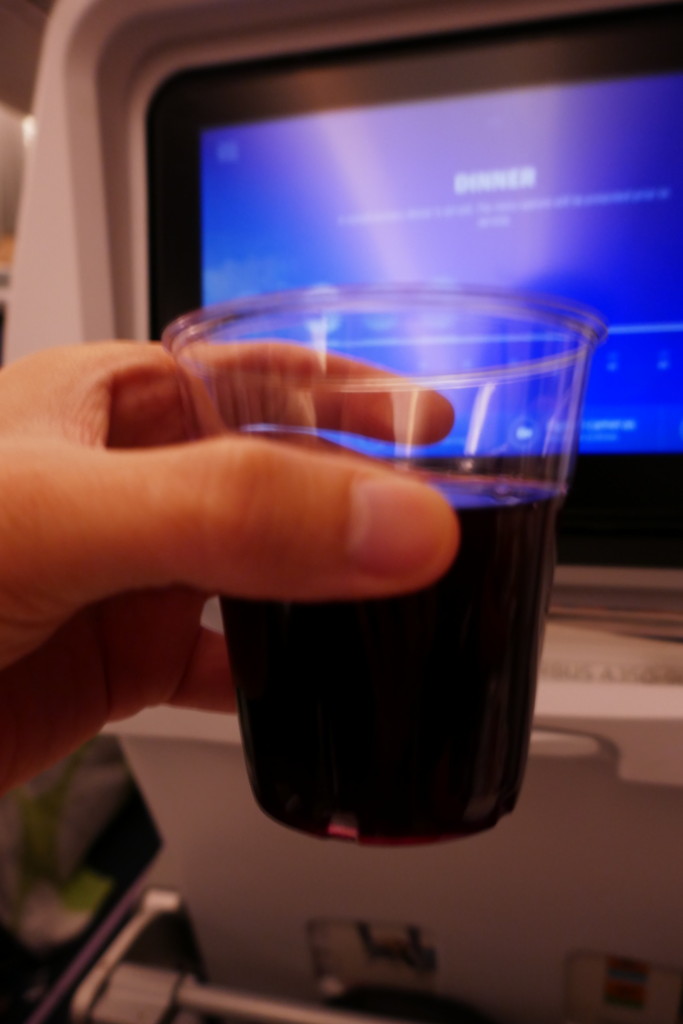 AY1769 (HEL – FCO) A320 Economy
My flight to Rome took off 10 hours after I landed, so after a quick shower in the Almost@Home lounge, I visited Helsinki. (My credit card came with Priority Pass membership, hence the access I had.) When I returned in the afternoon, the Schengen terminal in Helsinki-Vantaa Airport was packed and there's barely any room to sit at the cafes and the gates. I wasn't able to use the Finnair lounge on that side but it looked a nightmare from the outside too.
There isn't very much to say about this intra-Europe A320 flight. The seats are cut from the same cloth as those on the A350 and the crew are Finnish, but there are no free meals, internet connections or films. For a 3.5-hour flight, it was just bearable. I also got as much blueberry juice as I wanted in paper cups bearing the Marimekko Kivet (pebble) design.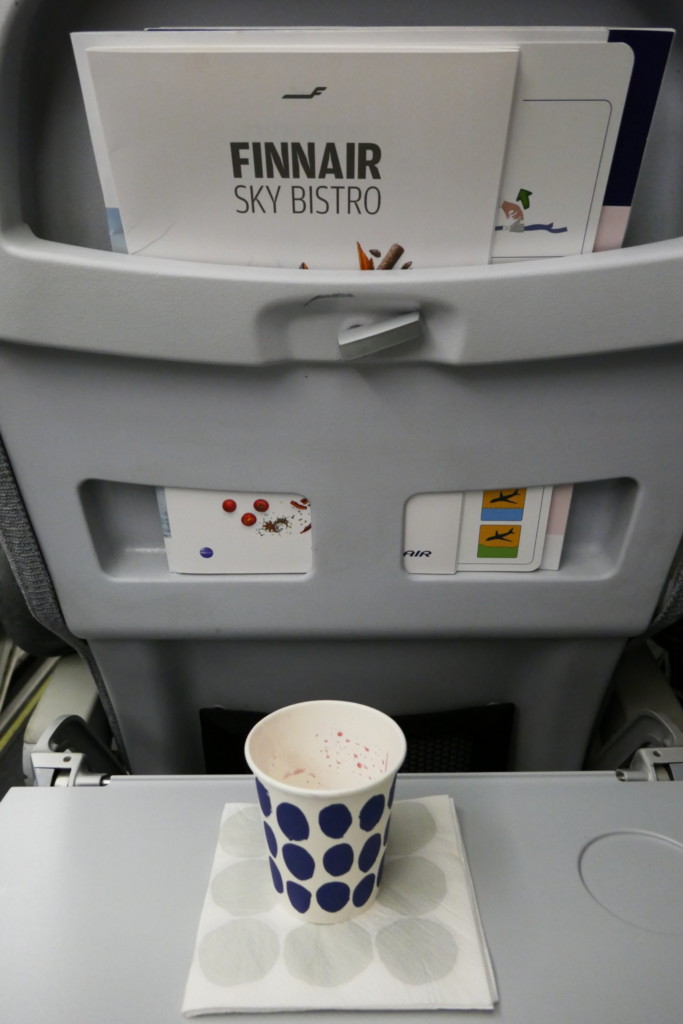 AY1770 (FCO – HEL) A320 Business
I enjoyed Rome very much and would've dreaded leaving even more if I didn't have a maiden business-class trip ahead of me. The free upgrade came with the usual pre-flight niceties like priority queues and access to the Avia lounge at Fiumicino Airport. Who goes on in the contract lounge is, of course, out of the airline's control but I enjoyed a hot breakfast for a change.
There were only three of us in business class on that flight, so the curtains separating us from the other passengers were pretty far forward. We got a lot of attention from the two flight attendants on our side. The seats are the same throughout the aircraft but Finnair leaves the middle seats unoccupied. It didn't matter since I had the entire row to myself. A pity, then, that I took the first row and denied myself the chance to stretch out on the short hop.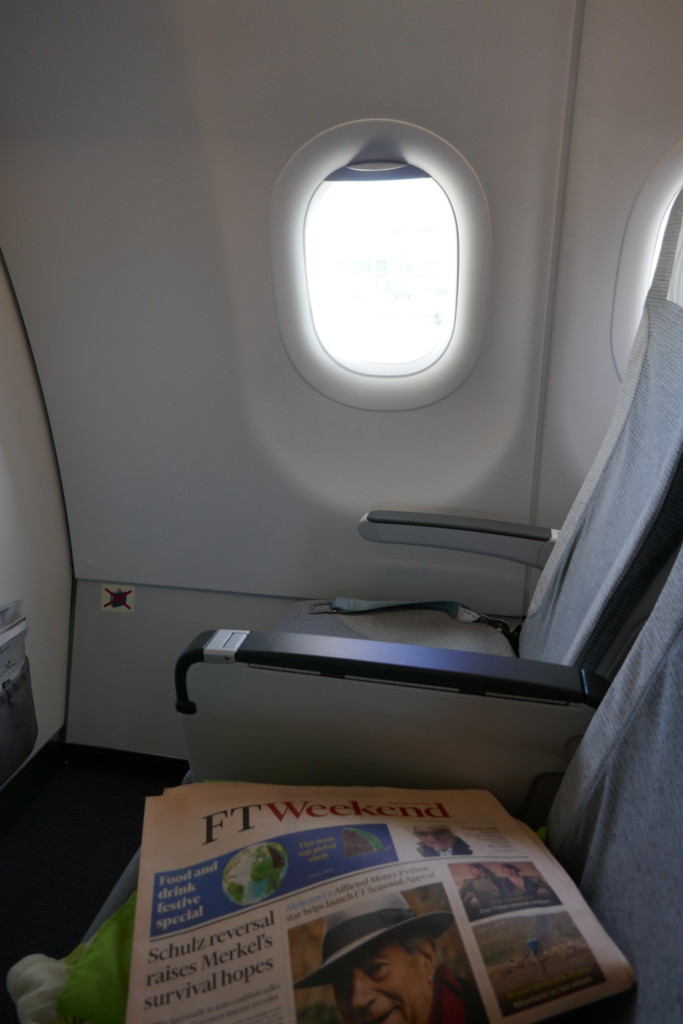 I was spoiled with a choice of newspapers and, surprisingly, hot food. Not just a sandwich, but a tender chicken breast in red wine gravy and mustard potatoes in a ceramic dish, herring mousse with lumpfish caviar, and snacks in Iittala glasses. The choice of warm bread was irrelevant: I was always going to opt for the black bread. I could've opted for alcohol as well at no cost but I was saving myself for later. Instead, I may have drunk the aircraft's entire supply of blueberry juice…
That was the most satisfying short-haul flight I'd been on and the knowledge of the free upgrade made it even more so. It was the same aircraft but a whole world apart from my ride in economy class only a couple of weeks earlier.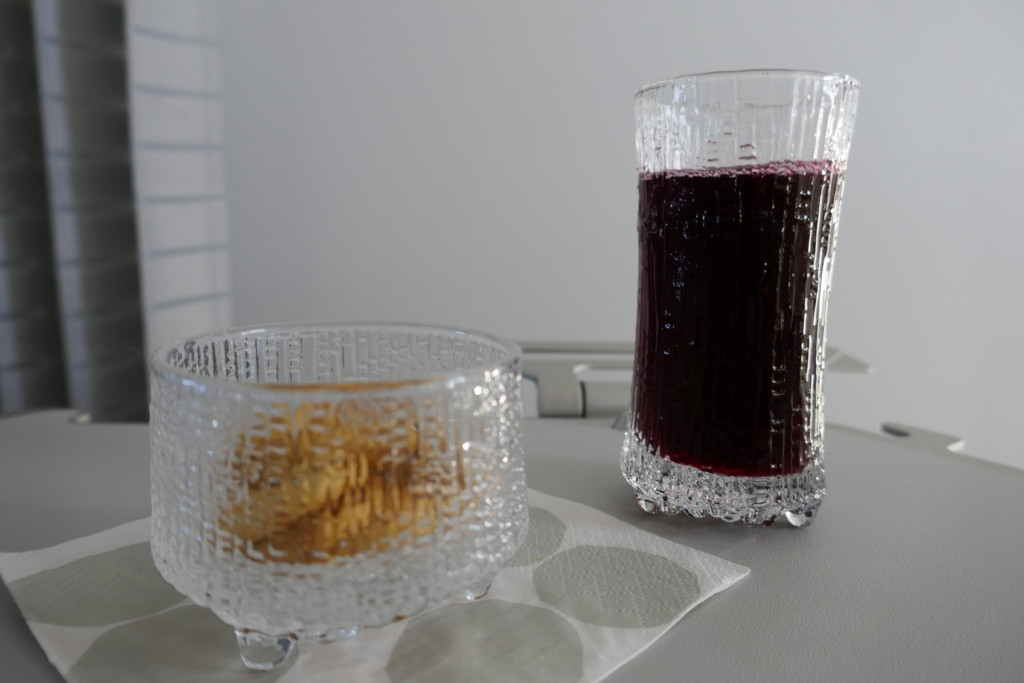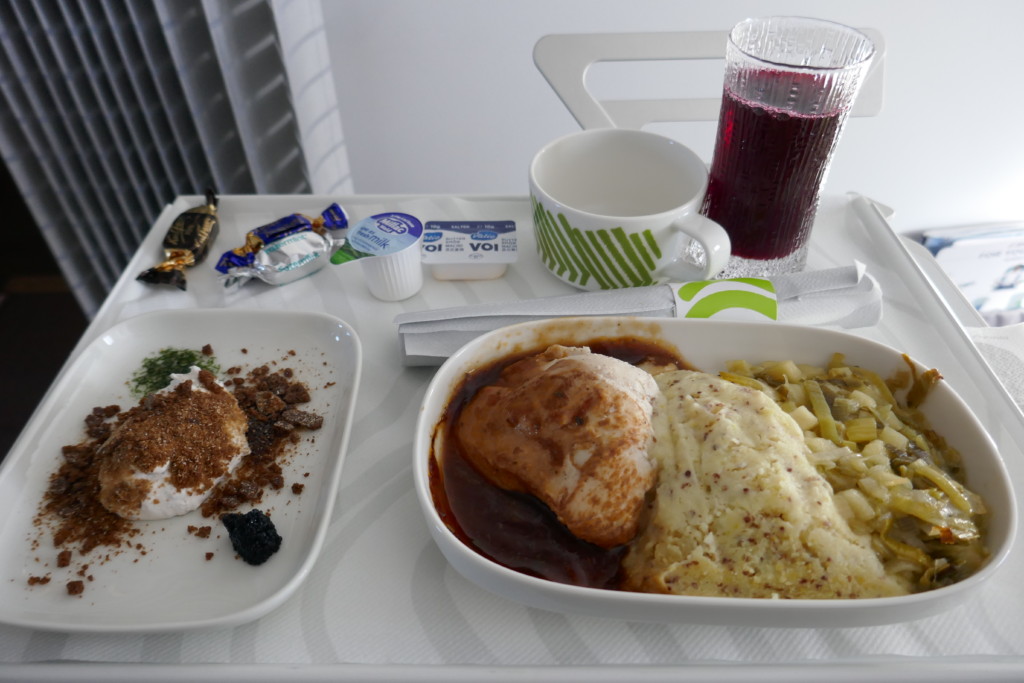 AY131 (HEL – SIN) A350 Business
Finnair Lounge
At 9 p.m., there were perhaps 10 people in the Finnair lounge on the non-Schengen side of Helsinki-Vantaa Airport. It was nothing like its Schengen counterpart a few afternoons ago – perhaps it had something to do with late autumn not being a popular time for Asians to visit or transit in Finland. The chicken pizza wasn't appetising (probably blasphemous to Italians too) but the pumpkin soup and quinoa salad were alright. Folks could help themselves to the wine and the draft beer as well – it's Lapin Kulta, so not great.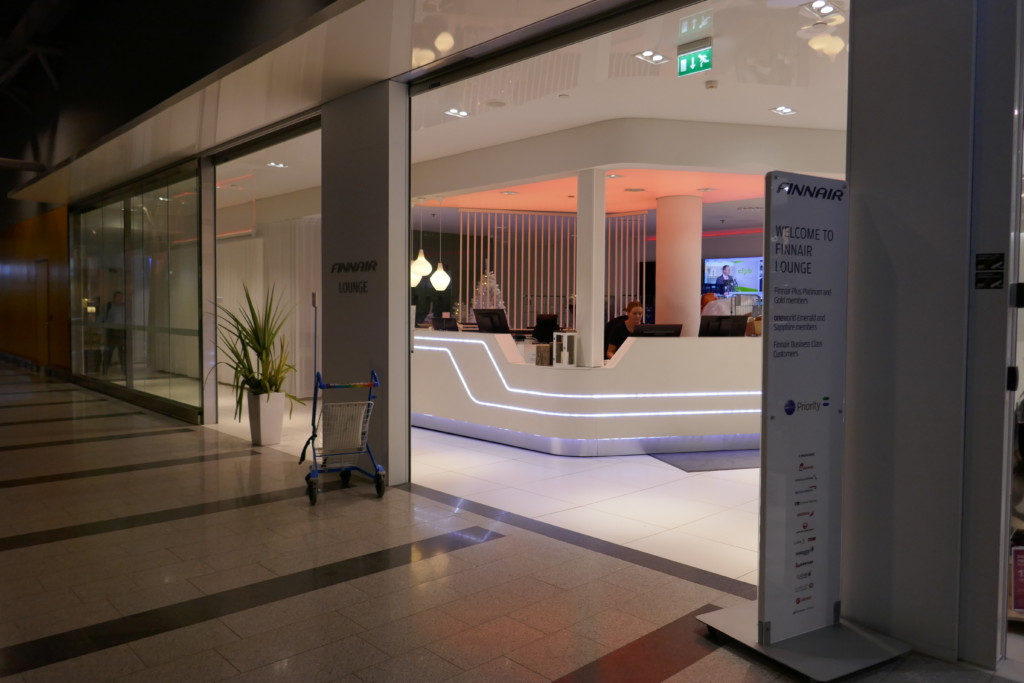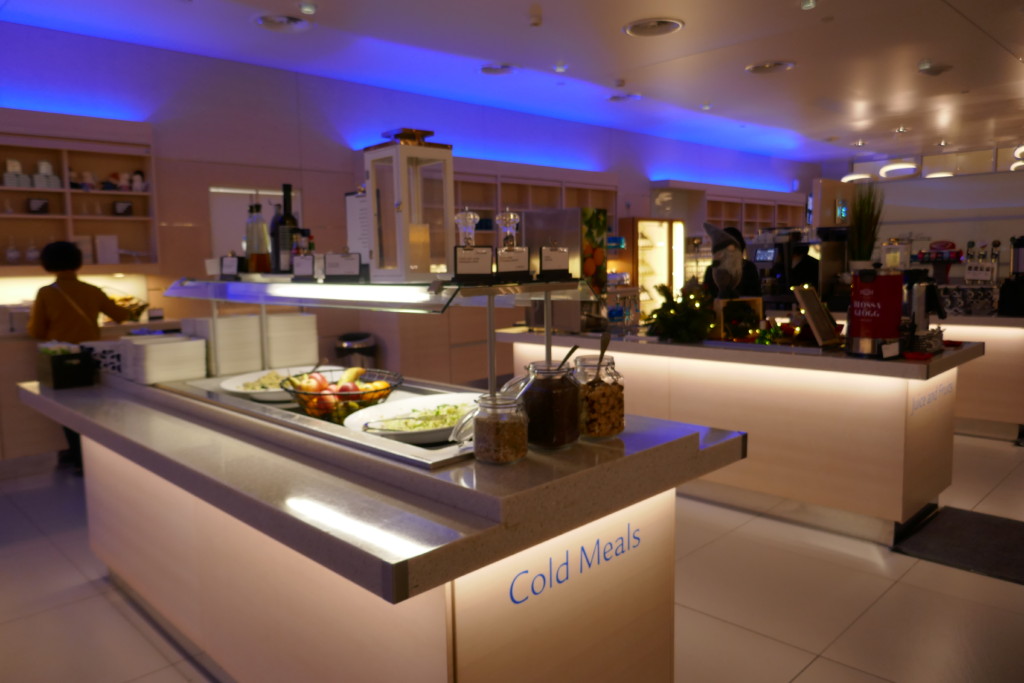 Besides the typical tables and the chairs, there were also sleep pods in the lounge. I didn't try those because I had one other thing to check out and I didn't want to risk oversleeping.
No trip to this part of the world would be complete without a visit to a sauna. If you don't get the chance to before heading home, the Finnair Lounge has you covered. While it's not your traditional smoke sauna, the walls and benches are clad in wood, there are a couple of lockers to store possessions and clothes, and all the towels and toiletries you might need are provided in the private showers. There is no clock, however, so don't lose track of time!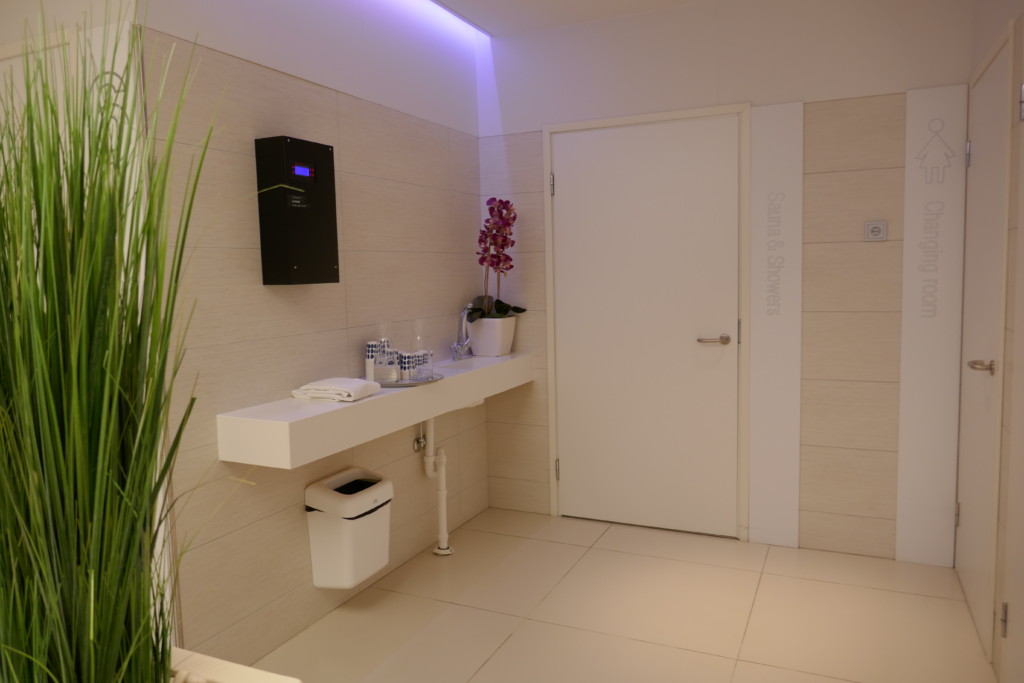 Business class seat features on the Finnair A350 XWB
Onboard the Finnair A350, each row in Business consists of four seats (1+2+1) arranged in a herringbone pattern. Everyone thus gets unhindered aisle access. Each seat tilts away from the aisle and has its own shell, so you can't see anyone else from your seat. The middle passengers can lower the partition between them if they wish to see each other, though.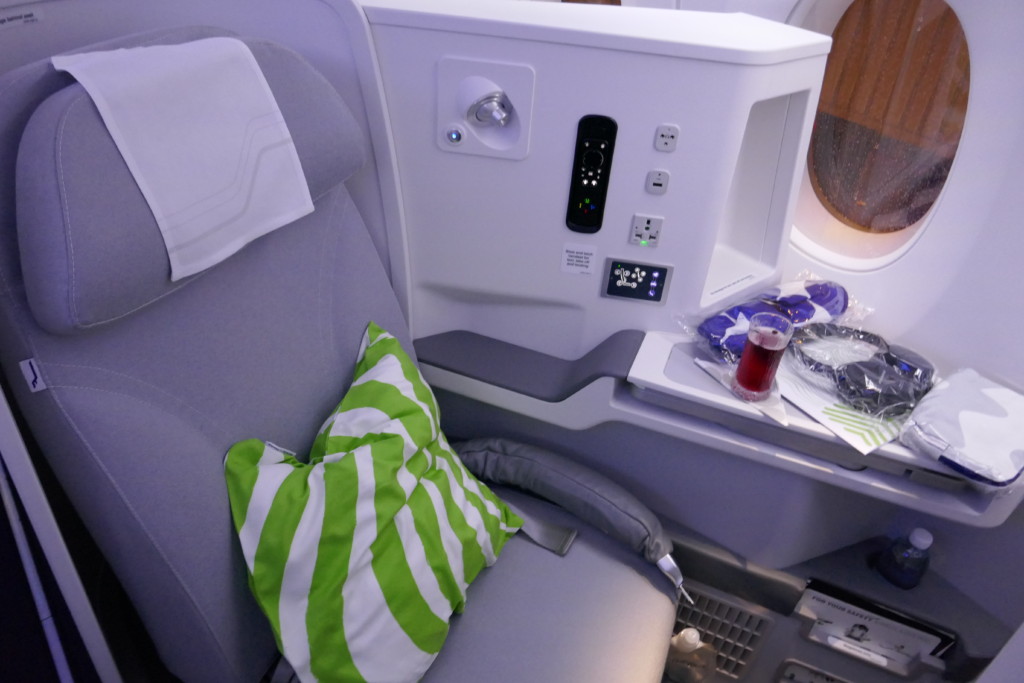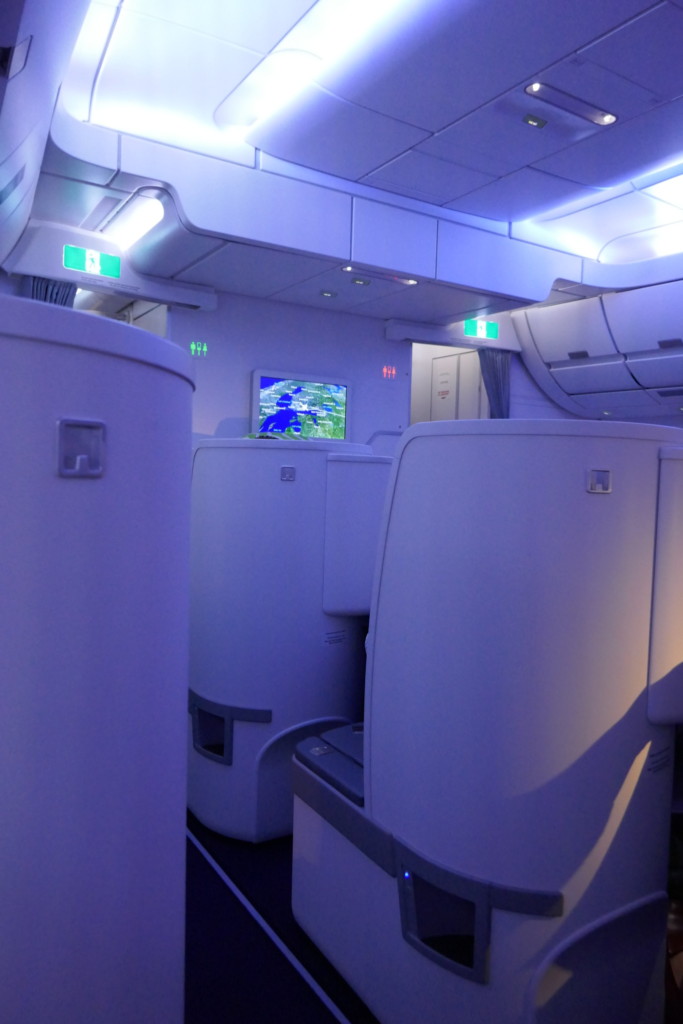 These were the things I found waiting in my seat:
A bottle of water.
The same effective noise-cancelling headphones as in Economy Comfort.
An improved Marimekko amenity kit in one of four different patterns. It contains an eye mask, a toothbrush kit, earplugs and an L'Occitane lip balm and "Fabulous Serum".
Slippers in the Marimekko Kivet print.
Immigration and customs forms.
A slip to select breakfast (light or full) from.
Pillow and quilt (rather than the woollen blanket in Economy).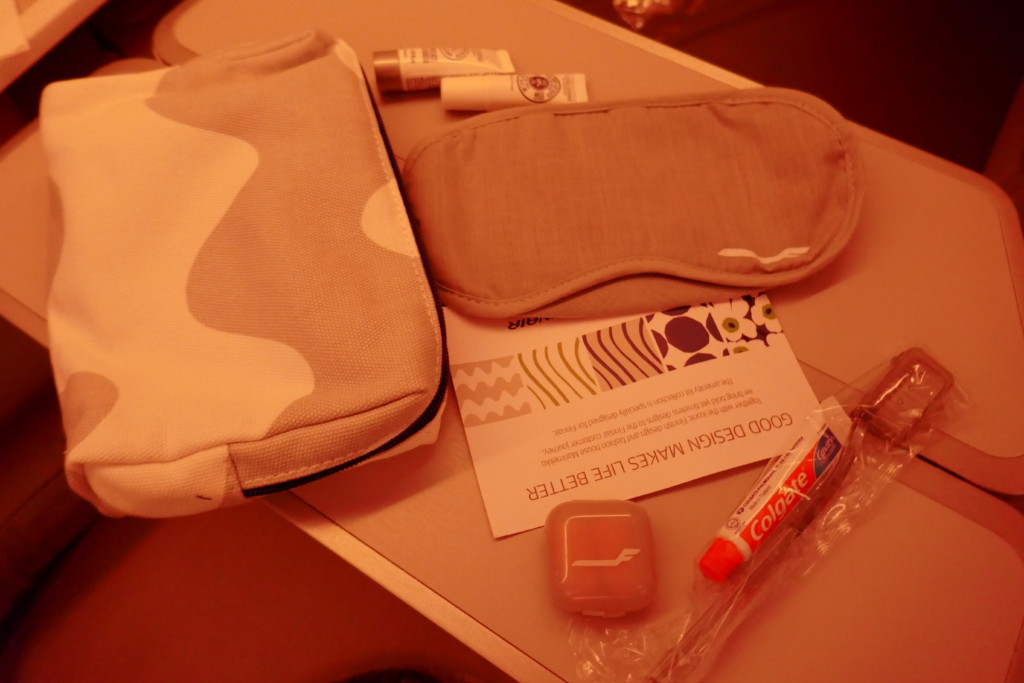 The seat itself can be configured three ways: bolt upright for take-off and landing, reclined like a chaise lounge at other times, and fully-flat where it joins up with the ottoman to form a 2-metre bed. I'm the size of a gymnast, so I had no issues with space. Larger people might find it narrow and the triangular footwell a little tight, however. The quilt works well as a comforter too, if you feel as warm as I did after a couple of drinks. There are a couple of cubbyholes to store loose possessions, as well as a hook for stowing the headphones mid-flight.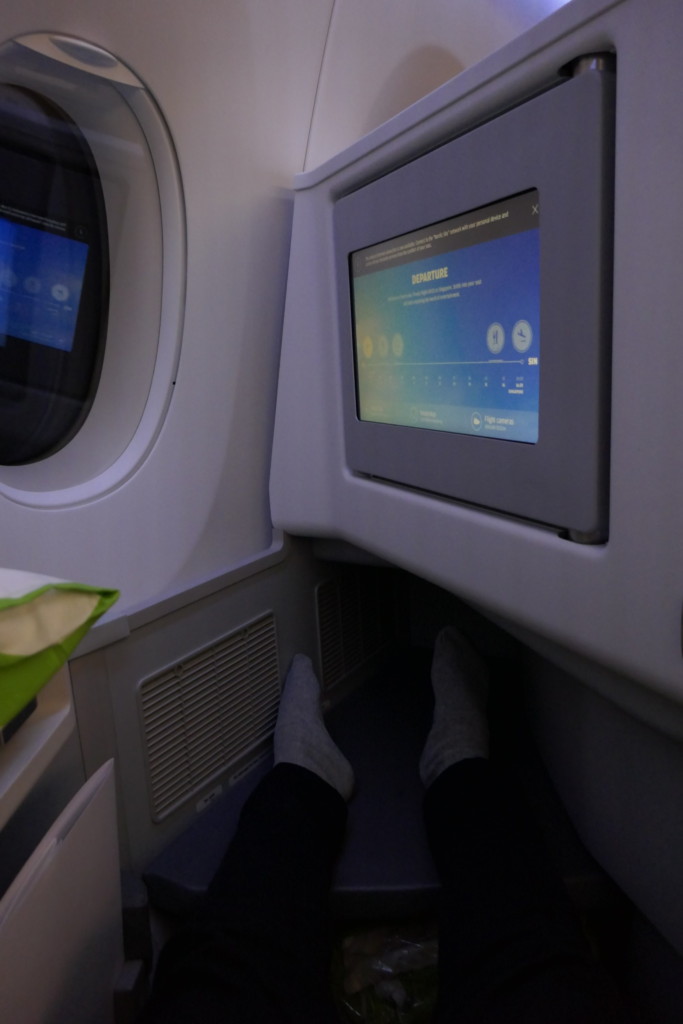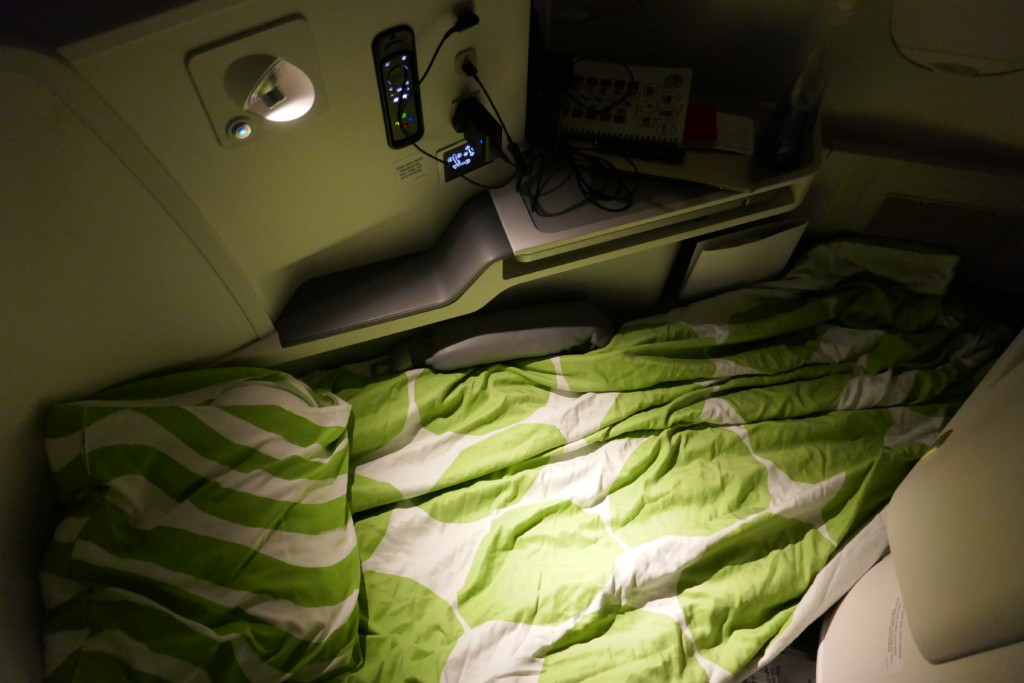 The only difference between the toilets at the front and those closer to Economy Comfort was the presence of a window; otherwise, both had a couple of bottles of lotion and a little shrubbery.
The flight experience in Finnair A350 long haul J
The cabin crew offered a choice of either blueberry juice or champagne as a welcome drink once I settled down. I think I caught them off-guard when I asked for 'Sky Blue', Finnair's signature mixture of the two drinks. I eventually got mine after everyone else was served.
Although it was a red-eye flight, I wasn't going to pass up a special supper. Besides the onboard choices, one can also choose a 'Wellness and Energy' meal, a 'Food Lover's Treat', or the 'Chef's Gourmet' at least 72 hours before the flight. The latter is usually a reindeer dish (when I flew it was reindeer entrecote with barley risotto, porcini, roasted artichoke and thyme sauce) and that saved me a trip to Zetor in downtown Helsinki.
Everything arrived on a single tray (in ceramic dishes and Iittala glasses, of course), saving some time for sleep. As for the bread basket, I could even choose a warm Karelian pie that was (I'm serious about this) way better than what I had at Strindberg just hours earlier. After all that and a glass of Napue and tonic water, I was stuffed and gave the pine ice-cream a miss.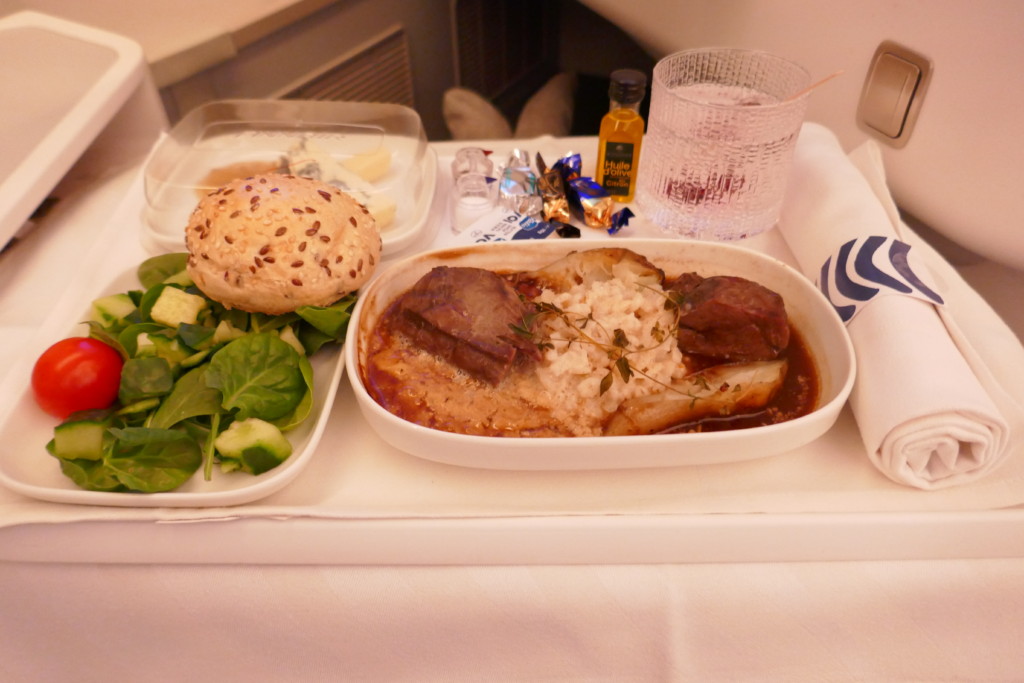 Before going to bed, I picked a full breakfast from the slip that was in my seat and handed it to the crew. I'd never slept better on a flight, not even when I had an entire row to myself in economy class. The omelette I received when I woke up put SATS's rubbery eggs to shame.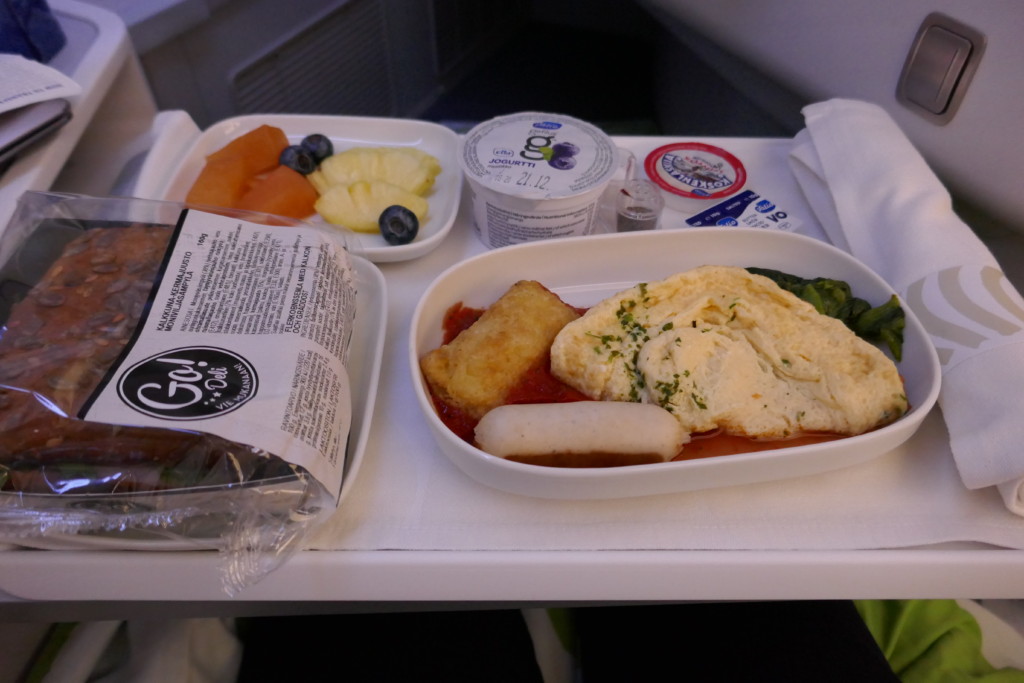 As far as I know, you don't get to pick your mealtimes on Finnair's business class flights. If I had the choice, I would've swapped both meals around since take-off was just before breakfast time in Singapore.
I've already outlined my gripes with the wifi earlier in this article and they apply here too. Thankfully, there were many more in-flight entertainment choices this time. I watched The Revenant before switching to the tail camera for landing. You can tell that this is a special plane: it's the eleventh and newest Finnair A350, in that Kivet print that you're (hopefully not) already sick of seeing.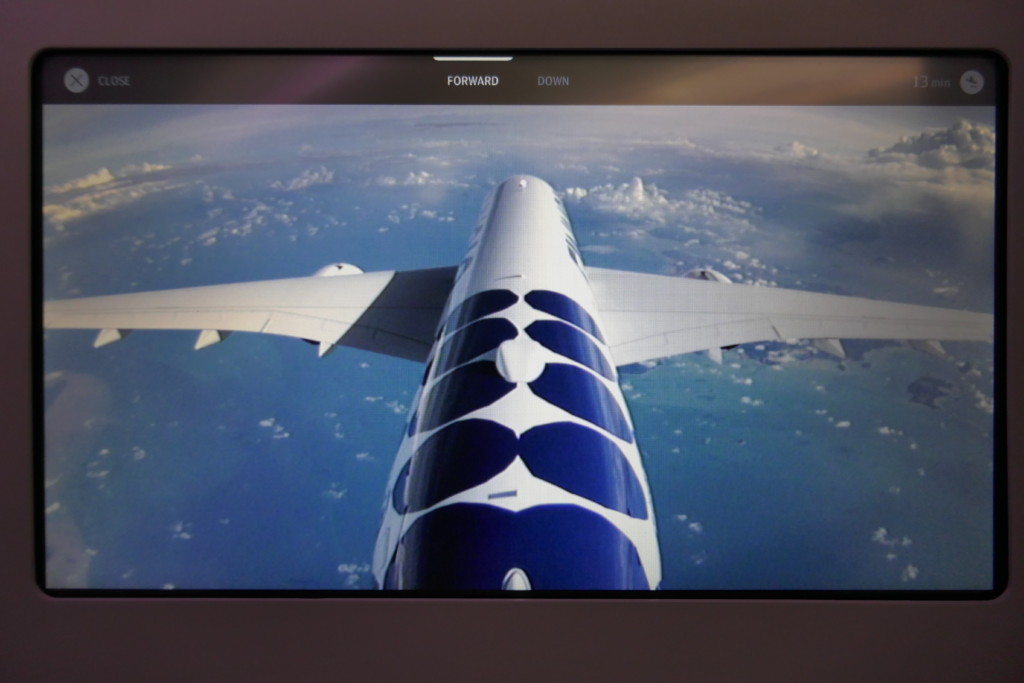 Final thoughts
I used to scoff at paying more for business class when the money could be better used on the trip. However, after arriving in Singapore fresher than I'd ever been after a long-haul flight, I now understand why people hack cards and miles to bag such privileges.
Finnair's A350 may not have all the luxuries of the Gulf carriers but it was a very good introduction for this newcomer. It may be a while before I get to turn left when boarding an aircraft again, but if I get a deal like what I enjoyed, I'd repeat it in a heartbeat. There's one thing I'd do differently: if I get another automatic upgrade for the European journey, I'd try it again on a London Heathrow – Helsinki – Singapore journey that involves the A350 all the way.
Pin this: